News
TMC Rolls Out All-Wheel-Drive Compass and Gemini Models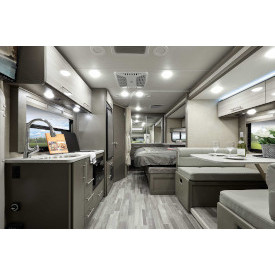 Thor Motor Coach announces a refresh of these two popular models.
Elkhart, Ind.-based Thor Motor Coach says that its Gemini AWD and Compass AWD have received a model year refresh, centered on drivability and modern conveniences for 2021.
TMC says that the motorhomes, which are built exclusively on the new Ford Transit chassis, feature a host of modern electronics and four-season weather capability; all-wheel-drive capability; a 3.5L EcoBoost engine that delivers 306-horsepower and 400-pound-feet of torque; and modern safety features that include hill start assist, AdvanceTrac roll stability, side-wind stabilization, lane departure warning, and pre-collision assist with emergency braking.
The company also notes that fuel efficiency is a driving factor in its selection of the Transit chassis, as the 10-speed transmission and auto start/stop function work together to reduce greenhouse gases and emissions.
On the interior, Thor Motor Coach says, "A new modern interior décor package is available as part of the 'Home Collection,' featuring fresh fabric colors with residential cabinets. The cockpit has dual swivel seats, allowing the chairs to become part of the living space when parked. An 8-inch touch screen, Sync 3 audio system, provides navigation with voice recognition along with Apple CarPlay or Android Auto."
The exterior features large cab-over glass; HD-MAX fiberglass exterior; a 100-watt solar panel; and a higher-capacity house battery.