RV News
Torklift Releases New Locking Battery Box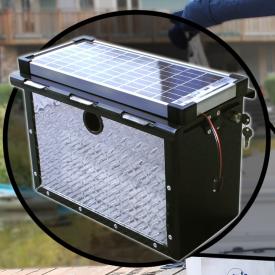 Torklift recently released a new PowerArmor battery box made to house a single battery. The locking battery box is ideal for automotive, work truck, RVs, as well as boat trailers and boats.
As a marine application, it is compact 17 and three-quarter inches in length, keeping a single battery safe from theft, and gives boaters the flexibility of accessing additional battery power while either on the water or while stored on their trailer. The box is available with and without a solar panel.
"With batteries ranging in various sizes, we are continuously getting requests for locking storage boxes to accommodate a single battery," said Torklift President Jack Kay. "The smaller size takes up less space and is completely versatile for a number of applications, especially boats where storage is significantly limited."
Nearly 40 percent of truck camper owners tow watercrafts behind their truck and camper. Extra battery power on a boat allows access to backup power when the engine is powered off. This is significant for nighttime navigation lights, playing music and more.
"A versatile feature of the PowerArmor is the option to add a Zamp Solar solar panel to its lid," said Kay. "The solar feature keeps the battery charged and in optimum condition, dramatically extending the battery life and never leaving you stuck out on the water with no power."
The PowerArmor is built with 100 percent aluminum for maximum longevity, has a high impact powder coated black frame, is lockable to prevent expensive battery theft and has an acid neutralizing battery mat to avoid corrosion from batteries.
The single PowerArmor battery box size is part number A7720R with prices starting at $215.99. Part number A7720RS single PowerArmor box with a 10-watt solar panel mounted to the lid has prices starting at $395.99. An access port allows for electrical wires to pass through the side wall of the box so it easily connects to the circuit system of trailers and trucks.
"The smaller size PowerArmor box is easy to install and perfect for battery storage on boats, trailer tongues, camper bumpers and more," said Kay. "We saw customers struggling with battery storage in limited spaces, especially avid boaters. This security box is designed to make storage easy and secure."