News
Torklift Reveals Doorframe-mounted GlowStep 
This article is from our older website archives. Some content may not be formatted or attributed properly. Please
Contact Us
if you feel it needs to be corrected. Thank you.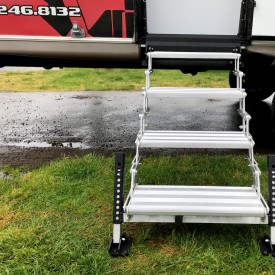 Yesterday marked the final day in the countdown that has been posted on Torklift International's website leading to the announcement of several new products and sponsorship collaborations.
"We really had to put our engineering team to the test to complete the GlowStep Revolution Uprising. It's specifically designed for RVs that do not have a conventional foldout RV step that is externally mounted in a step well below the doorway," said Torklift President Jack Kay. "While we will always have the original GlowStep Revolution, the Uprising edition is designed for folks who wanted to have all the advantages of our step but could not because the RV frame was missing the step well. This model is also designed to work with side-entry truck campers. Our customers have been asking for this step for about a year and we had to work diligently to meet this deadline."
The countdown revealed the release of the PowerArmor lithium locking battery box, the Cannon trailer hitch receiver for 2017 to 2019 Ford Super Duty trucks, the SuperHitch Hero 15k trailer hitch for Ford F150 trucks, and the Universal Dirt Destroyer shoe cleaning attachment for any RV step.
"The PowerArmor Lithium came from the great demand for a way to store lithium batteries due to the cost," said Kay. "The locking battery box holds two lithium batteries that are valued at nearly $3,000. That is not something any of us can afford to have stolen or damaged."
Torklift also revealed two sponsorship collaborations with HillShot Hooligan Co-Founder Joel Crawford and reigning Jiu Jitsu World Champion Ron Boutilier.
"Joel is currently a large influence in the RV industry as a co-founder of a group of several thousand toy-hauler enthusiasts who meet up all over the Pacific Northwest at various sand dunes to play with side-by-sides, ATVs and quads known as the HillShot Hooligans," said Kay.
Ron has been competing in various mixed martial arts and jiu jitsu competitions for years, explained Kay.
"Sponsoring Ron is really fun because he is a world champion and we offer the world champion SuperHitch Towing Series," said Kay. "He is incredibly exceptional, and it has been a great opportunity to work with him and watch him use our heavy duty SuperHitch for weight training."