RV News
Toy Haulers Taking the RV Trade into Cavernous New Territory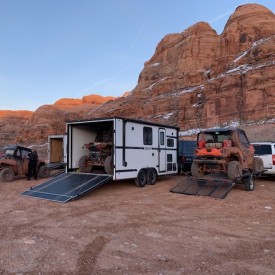 Forbes looks into an RV style that has been growing rapidly in popularity in recent years: the toy hauler.
ATC Trailers started out in 1999 making "everything from 5-by-8-foot trailers for dog groomers to a 53-foot gooseneck car hauler, with custom living quarters," recalled Jason Schlabach, category manager for RVs for the manufacturer based in Nappanee, Ind.
"Then we said, 'Why don't we dive into the RV market?' And we started a dedicated team to start producing RVs, getting in with 'toy haulers.'"
And now, with a start in the category in 2015, ATC Trailers is in deep to the booming toy-hauler trend in the booming RV industry. Recreational vehicles can be expensive enough, but for consumers who want the ultimate in travel convenience or an ability to take their hobbies with them, toy haulers are the answer. A recent survey of U.S. campers by ATC found that 71 percent planned to buy a new RV or toy hauler in the future, and 20 percent said they plan to buy one in the next year; 57 percent of those surveyed didn't own an RV or toy hauler at the time of the survey.
In addition to the living spaces that are conventional in RV trailers and coaches, toy haulers provide a garage on the back end that can be used to stuff all-terrain vehicles, bicycles, golf carts – or just a whole lot of luggage for the extremely high-maintenance traveler. They come with or without a removable partition from the living-area part of the RV and the business part.
"People have realized that toy haulers are more versatile than conventional travel trailers," Schlabach told me. "One customer is an avid collector of antiques and likes to go to auctions with his toy hauler. He travels around, opens up the ramp door and puts his stuff in the trailer."
Click here to see the full story from Dale Buss of Forbes Magazine.