RV News
Trade Deal with China May be Drafted Soon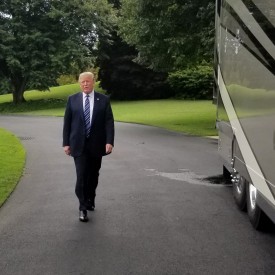 President Donald Trump wants to reach an agreement on trade with Chinese President Xi Jinping at the Group of 20 nations summit in Argentina later this month and has asked key U.S. officials to begin drafting potential terms, according to four people familiar with the matter.
This story by Jenny Leonard, Saleha Mohsin, and Jennifer Jacobs originally appeared in Bloomberg.
The push for a possible deal with China was prompted by the president's telephone call with Xi on Thursday, the people said, requesting anonymity to discuss internal deliberations. Afterward, Trump described the conversation as "long and very good" and said in a tweet that their discussions on trade were "moving along nicely."
Trump asked key cabinet secretaries to have their staff draw up a potential deal to stop an escalating trade conflict, the people said, adding that multiple agencies are involved in drafting the plan. It was unclear if Trump was easing up on U.S. demands that China has resisted, and reaching any accord still faces significant hurdles.
One person said a key sticking point in any potential deal is intellectual property theft, where the Trump administration has sought to take a hard line.
On Thursday, the U.S. charged a Chinese state-owned company with conspiring to steal trade secrets from U.S. chipmaker Micron Technology Inc., part of a Justice Department crackdown against China in cases of suspected economic espionage.
News of constructive talks between Trump and Xi prompted stocks to surge in Hong Kong and China, while the offshore yuan jumped as much as 0.5 percent for the biggest two-day gain since August. The Hang Seng Index rose 4.2 percent, the biggest gain since 2011, and the Shanghai Composite Index climbed 2.7 percent, posting a fourth day of gains for its longest winning streak since February.