News
Transport Companies Stay Ahead of the Curve
This article is from our older website archives. Some content may not be formatted or attributed properly. Please
Contact Us
if you feel it needs to be corrected. Thank you.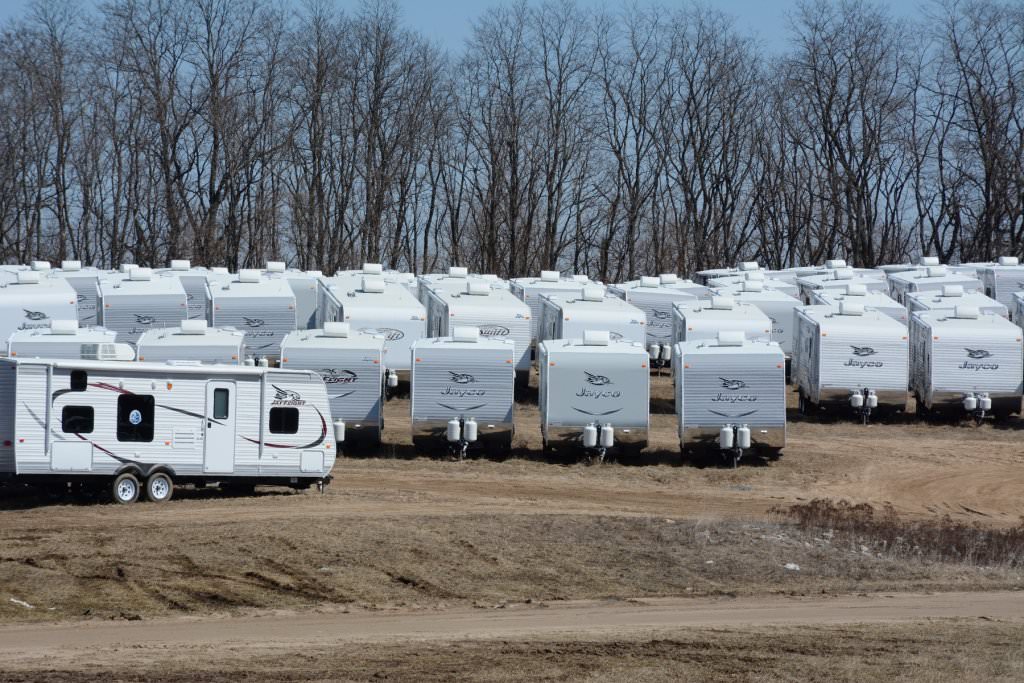 The driver shortage that led to last winter's RV transport back-up in Elkhart County has been curbed thus far this season.
---
Transport companies in the Elkhart area report increased fleet size compared to this point last year, when a driver shortage led to a transport bottleneck in the area.
---
Coupled with more favorable weather in the Elkhart area, transport companies and manufacturers have stayed ahead of the demand, entering the season in much better shape than last year, industry leaders report.
"Product has been flowing," Jayco CEO and RV Industry Association President Derald Bontrager said. "It was out a day or two here and there, that product's not moving (due to weather), but overall as far as we're concerned, there's no backlog in the transportation area right now."
Last year, late winter storms, coupled with an industry-wide shortage of transport drivers, left 25,000 to 30,000 RVs stranded in the Midwest, causing a months-long backup on transport deliveries.
So far, weather in the Elkhart area hasn't caused significant delays in RV transport. Last year's driver shortage was complicated by storms.
To stem that driver shortage, the RV Industry Association formed the Transport Coalition, chaired by B.J. Thompson (B.J. Thompson and Associates) and consisting of manufacturers and RV executives such as Forest River's Doug Gaeddert and Jayco's Bontrager, among others.
The Coalition's manufacturer members implemented a driver procurement bonus, which varies depending on the manufacturer, to help the transportation industry secure and keep drivers.
Manufacturers continue to pay the bonus, and it's had a major impact on helping transportation companies recruit and keep their fleets, according to Goshen, Ind.-based Starfleet Trucking Operations Manager Damon Gleim.
"Normally when the winter comes and the drop-off in shipments comes late in the year, we lose quite a bit of drivers, but we didn't have that big of a drop-off this year, which meant we were in a lot better shape going into 2015 than we were going into 2014," Gleim said, adding that the company's fleet size at this point last year was around 700, compared to about 1,000 this year.
And although weather has been bad in some areas of the Northeast, thus far, it hasn't been comparable to last year in the Elkhart area, according to Skypoint Transit (formerly U-Ship) Co-Owner Brandon Yoder.
"It's been significantly better than last year. … Last winter was a lot worse than this winter, so we've actually started the year off very strong. We've been very happy with it," Yoder said.
Starfleet has noticed a similar reprieve from the weather thus far, according to Gleim, allowing the company to stay on top of demand early this year.
"I think we lost two or three weeks in shipping last year due to weather, and we haven't had that this year," he said.
The workable weather, combined with the boost in fleet size should allow transport companies the ability to keep their lead-times low even as business picks up moving into the spring, according to Skypoint Co-Owner Marc Dume.
"We are a shipping company, not a storage company," Dume said. "We don't want to keep the units too long. … So we've got a strategy in place to move those units faster and keep those dealers happy, and we have started strong this year," Dume said, adding that the next few months are pivotal to how his company – and the transport industry – respond to demand and weather obstacles.
"We'll see," he said. "We've started strong this year, but in September when we talk, I'll let you know how we did."