RV News
Tucson Plays Host to 'Dometic in the Desert'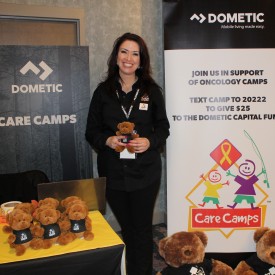 TUCSON, Ariz. – Dometic kicked off its "Dometic in the Desert" event in earnest on Wednesday with a full day of presentations from top executives sharing details about company initiatives and recent product launches. The event also offered Dometic "brand ambassadors" and other end-users to talk about their experiences using the supplier's products.
Dometic this week is hosting about 140 people – including members of the media, social media influencers, select dealers and distributors as well as a few leading-edge suppliers, including Battle Born Batteries, WiFi Ranger and Zamp Solar – at its invitation-only event at the Loews Ventana Resort. Company officials said that with the absence of an RV Industry Association trade show, they felt like they needed another avenue to be able to share company developments.
TO SEE MORE PHOTOS FROM THE EVENT, VIEW THE GALLERY AT THE BOTTOM OF THE ARTICLE.
"This is kind of an experiment for us," Dometic Americas President Scott Nelson acknowledged of the company's event during his opening remarks to attendees.
Nelson subsequently used the opportunity to share a few key developments regarding Dometic Americas since 2016, when he became president of the division. He noted that during that time, thanks to some acquisitions, Dometic Americas has grown from 1,584 team members and $605 million in revenues to 2,563 team members and $981 million in revenues. The company also expanded its presence in the marine market and other non-RV markets in that time.
Dometic Americas in 2019 made some good progress toward its strategic goals, but has been somewhat adversely impacted by tariffs and a negative RV industry cycle, according to Nelson.
Separately, Vice President of Marketing Trey Miller updated attendees on the company's social marketing efforts. He noted that in recent years Dometic has worked to move closer to its customers with a "human-centric" marketing program that includes the use of real-life RVers who act "brand ambassadors" for the company.
Those efforts have paid off for Dometic, according to Miller, pointing to research that shows content from brand ambassadors generates seven times more consumer engagement than content from company brands themselves.
During his presentation, Miller invited Dometic brand ambassadors Jody Morse and Kyle Murphy to the stage to share their experiences using the company's products while roaming the country with their dog, Sophie, in their 140-square-foot Airstream trailer. The couple said they appreciate the opportunity to be able to share their feedback on Dometic products with company representatives.
Other social media influencers and product end-users also took to the stage Wednesday to talk about their positive experience with Dometic products, including the stars of the Discovery Channel TV show "The RVers" and members of "The Mastermind Council," which is comprised of full-time RVers who are charged with brainstorming ideas for new and improved products for Dometic.
The afternoon was capped off with product managers talking in detail about the company's most recent offerings as well as a small trade show where Dometic highlighted many of its products, including portable coolers, ventilation products, RV toilets, refrigerators and other appliances.
Dometic in the Desert continues tomorrow with a series of breakout educational seminars from Cairn Consulting, Crux Expedition Trailers, Zamp Solar, WiFiRanger and others.