News
Vermont's Pete's RV Acquires Pennsylvania Dealer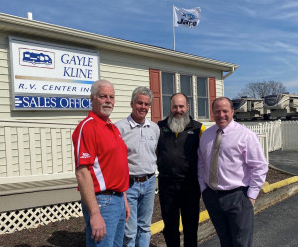 Jeff and Terry Kline are shown in photo above with Pete's RV owners (left to right): Todd McGinnis and Chad Shepard.
Just before the COVID-19 pandemic shut everything down, Vermont-based Pete's RV Center officially assumed ownership of Gayle Kline RV in Mountville, Pa.
"It was unfortunate we could not get fully up and running, but understanding the circumstances surrounding COVID-19, it was necessary to shut down the dealership not long after taking over the business," said Pete's RV co-owner Todd McGinnis. "We're excited to be re-opened, getting employees back to work, and providing our customers with every opportunity to be camping this summer."
A well-respected business since 1963, Gayle Kline served customers from all over central Pennsylvania. Starting out on just a half-acre site, over the years, it grew to its current 16-acre lot with separate buildings for sales, parts and accessories, and an eight-bay service center.
"Following in their father's footsteps, Jeff and Terry Kline took impeccable care of the dealership, their employees, and customers. We look forward to building on their successes and are thrilled to be a participating dealer at Hershey America's Largest RV Show in the fall," added Pete's RV co-owner, Chad Shepard.
Gayle Kline RV is Pete's fifth location, and second Jayco exclusive dealership. The original location in South Burlington, Vt., has been operating since 1952. The dealership's second location in Schererville, Ind., was acquired from Rollin-On RV in May 2011, followed by Van's RV in South Windsor, Conn., in September 2015 (also a Jayco exclusive dealership), and Macdonald's RV in Plainville, Mass., in 2018.