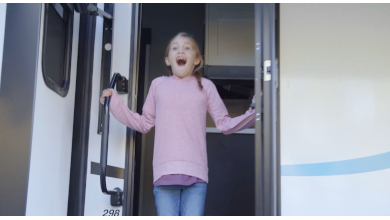 A still from the ad
Elkhart, Ind.-based Forest River has released a new commercial touting its Wildcat line of RVs.
According to Michael A. Terlep, general manager, for 2021, the company revamped the product line with a focus on floorplans, nine in all, and most of them 35 feet or less.
"We do have a mid-bunk floorplan closer to 40 feet, but we really wanted to focus in on a true mid-profile fifth wheel," Terlep said. "It's Forest River's first true mid-profile."
In the ad, titled, "Keep Exploring," a family is featured having all kinds of fun adventures out in the woods with their Wildcat serving as a home away from home.