News
Way Introduces Greystone 24" Gas Range
Elkhart, Ind.-based Way Interglobal announces its Greystone 24-inch Range – which it said is the largest in the RV industry
The Greystone by Way line features a variety of cooking appliances for RVs, and the new high-capacity range and oven is just the latest innovation from the company that's focused on letting you "Take Your Home on the Road," it said.
Way said today's upgraded RV kitchens demand more – more power, more precision, more versatility and more capacity. That's just what the 24-inch range provides, offering more than 8,000 BTUs in the burners and up to 500 degrees in the oven. And 3D cooking allows for faster and more even baking, the company said. As for capacity? Forty percent more than traditional 17-inch ranges, according to Way.
"As one of our flagship brands, it's important to us that we continue to push the envelope with Greystone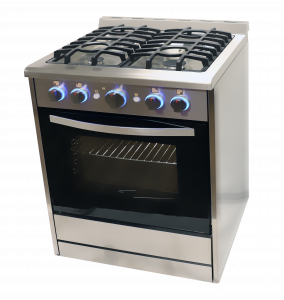 products," said Way CEO Wayne Kaylor. "We've been designing and manufacturing high-quality, good-looking, powerful ranges for years and knew we had to meet the consumer demand for higher capacity. Our new 24-inch range provides that home-cooking feel from your RV with power and size."
As with all products from Way, the new Greystone 24-inch range is specifically designed and manufactured for RVs. The company ensures simple installation – just a gas hook up and 12-volt power connection is all that's needed. The range is CSA-tested and certified for sales across North America.
"OEMs looking for the biggest and best in RV cooking appliances know to turn to Greystone by Way. The new 24-inch range delivers on that promise," said Tom Halbert, head of sales for Way.