RV News
Webasto Introduces Thermo Top Evo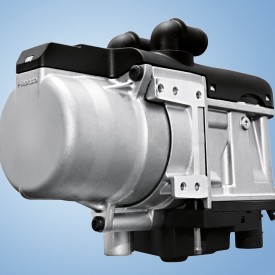 Webasto North America recently introduced the new Thermo Top Evo coolant heater. The Thermo Top Evo is the latest in a long line of engine-off heating technologies from Webasto and operates directly from diesel fuel drawn from the vehicle's primary fuel tank.
"By using the Webasto Thermo Top Evo pre-heater, fleets can save fuel by reducing idling time, warming engines so they start easier and by avoiding extended engine warm-up times," said Don Kanneth, aftermarket sales director for Webasto North America. "Most important, however, is that the Thermo Top Evo helps fleets reduce maintenance by reducing the strain on emission control devices, like DPFs."
The Thermo Top Evo has a range of 8,600 to 17,200 BTU per hour (2.5–5.0 kW), and ultra-low power consumption.
The Thermo Top Evo's compact size and new features make it perfect for installation in vehicles with limited space, according to the company. Its coolant inlet and outlet ports at the top of the heater can rotate up to 180 degrees, offering greater flexibility for routing coolant lines.
The unit comes with a longer fuel line, universal controller harness, and mounting bracket. The Thermo Top Evo also operates at a higher maximum combustion air temperature that allows it to be mounted in more locations within the engine compartment.
The Thermo Top Evo also gives users the ability to read simple fault codes at the controller without the need for ancillary equipment or software. This feature enables the driver to identify the specific fault category while on the road and to make the necessary adjustments. The Thermo Top Evo can be controlled manually or programmed to turn on in advance via Webasto's SmarTemp Control fx 2.0.
"Idling the tractor to warm the engine is not just inefficient; it creates a significant amount of noise pollution," said Kanneth. "The Thermo Top Evo includes advancements in its fuel delivery system design, and its new DP 42 fuel pump utilizes half-stroke technology that makes it up to 20 percent quieter than previous fuel-operated heater systems."