News
Weekend Warrior Toy Haulers Back on Duty
This article is from our older website archives. Some content may not be formatted or attributed properly. Please
Contact Us
if you feel it needs to be corrected. Thank you.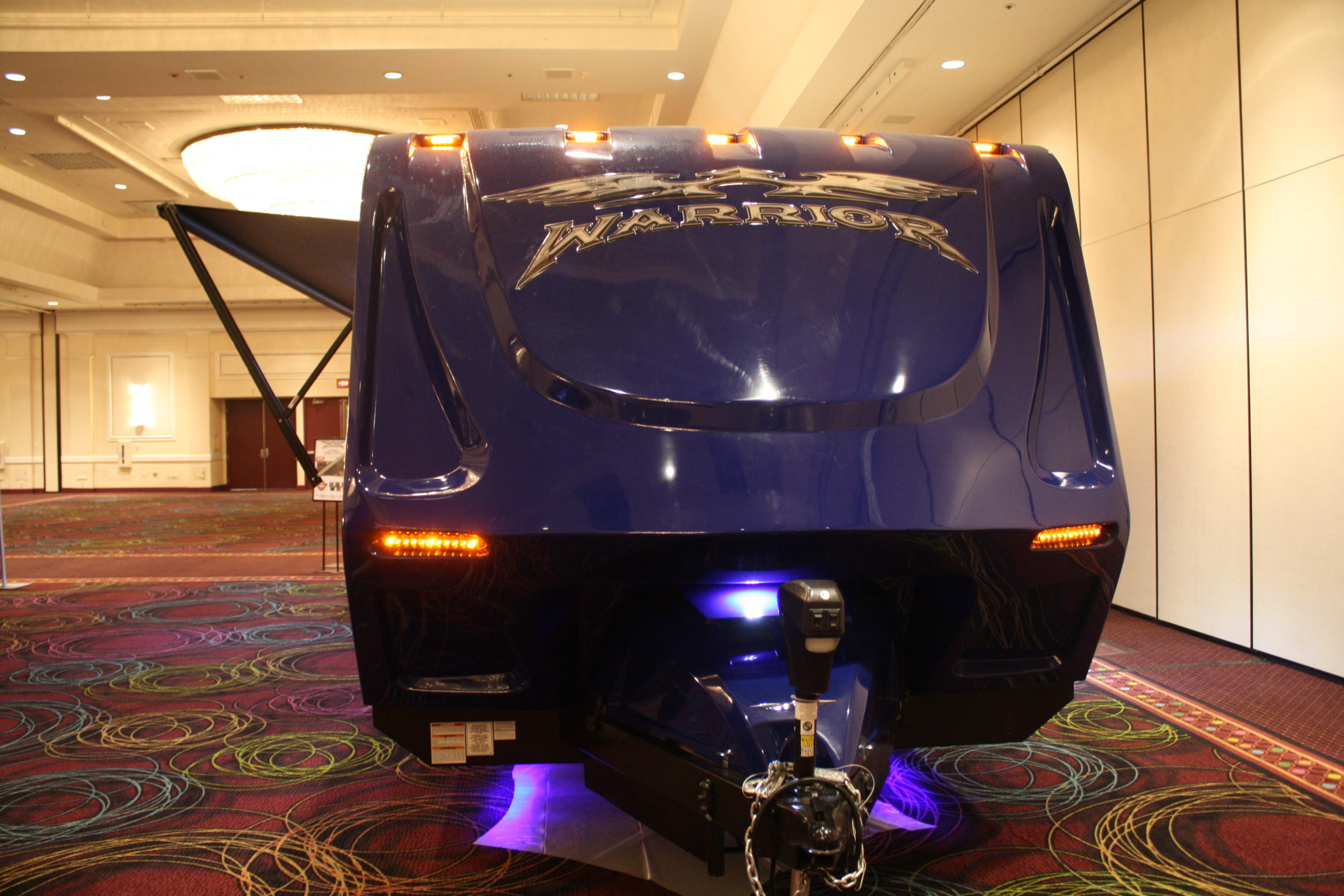 LAS VEGAS – A veteran of the pre-Great Recession RV wars is making a comeback with the same kind of outside-the-box thinking that brought him success the first time around.
Omega RV is the parent company that is breathing new life into the Weekend Warrior toy haulers that carved the first niche that brought the off-road community into the world of RVs.
Don Day is co-owner and general manager of the company and has brought on Weekend Warrior veteran Mark Warmoth as co-owner and product developer to see if he can again capture magic in a bottle.
"If I do a good job of choosing all the components and the price range and weight range that it's in, then lots of people buy the trailer," Warmoth said. "I'm just building the trailer that I want for me and my family. Last time around, that worked very very well. I'm still thinking that's going to work. We're just getting into it, but I'm pretty proud of the coaches. They look very outside the box."
It hasn't been an instant road back to the top for Day and Warmoth. Having their company and factory located in Caldwell, Idaho, puts them far away from the heart of the RV industry.
Some may think of that as a disadvantage, but for Omega RV, it actually is a huge advantage.
Omega initially came out of the gate building small travel trailers, but is now focusing solely on toy haulers. The heart of toy hauler country is the West Coast.
"About 93 percent of the BLM land is in the Western 11 states," Warmoth said. "The desert and places you can ride in the East are either in private land or racetracks, so there really isn't open land where you can go ride except in the Western states. Although toy haulers are used for other things than off-road, the majority of the toy hauler market is used off road."
At this point in the company's life, it has 17 dealers carrying its 10 travel trailer toy hauler products. All of those dealers are in the Western U.S., but Day said he is looking to expand both the number of dealers and the area of the country represented. And those potential dealers should know that the company will be producing fifth wheel toy haulers within the next three months.
"We're filling a niche the guys in Indiana can't touch," he said. "Our customers believe that, too. We're West Coast people building trailers for the West Coast customer. Those guys are from the East Coast building trailers for the West Coast customer. That loses something in the translation. Not to mention $3,000 less freight. The flip side is if we go East, but we're OK with that. We're focusing on the nine Western states, but we would like to cherry pick dealers outside of that."
Looking to make new acquaintances – and in some cases renew old ones – Day and Warmoth brought one of their trailers to put on display at the RV Dealers Association Convention/Expo.
The trailer stands out in stark contrast to the other small trailer, handful of Class B motorhomes and pair of other vehicles on display at the show.
And dealers are noticing, according to Warmoth.
"I feel love," he said. "The product is loved. It's time for this product. We're premier. We're a Jaguar or a BMW in a world of Kias in the trailers. We're bringing some excitement to the pull trailer market."
Among the dealers on hand at Bally's Hotel & Casino are some who carried the Weekend Warrior toy haulers in the early 2000s during their first incarnation.
It is Eastern dealers with these pre-existing relationships that Omega would like to cherry pick to get a foothold in other parts of the U.S. for the new Weekend Warrior.
"We have a great relationship with them," Day said. "They had a lot of success with the product. That's where it comes in cherry picking those dealers. We have a history with them."
But both co-owners want to make sure the dealers they choose have the same mindset when it comes to customer service.
"We want to tie in to dealers that are customer service oriented. It's important that we roll out the red carpet to the off-road community," Warmoth said. "The better the dealer, the less we will have to do."
That attitude also is reflected in the way Omega is designing its new trailers.
Warmoth said his priorities in creating Weekend Warrior are making the trailers light, strong,
easy to work with, inexpensive, stylish and functional.
When it comes to looking for ideas for the design, he goes straight to the source.
Both Day and Warmoth are users of their products. Both have been known to spend time camping in the Oregon Dunes and St. Anthony Dunes while riding off-road vehicles.
"I know that if I make the customer happy, everything else will fall into place," he said. "I go to these shows and these places and just sit back and listen to people talk about what they like and what they don't like. It's nice to sell a coach at the show, but I'm a fly on the wall. I'm looking for weaknesses to shore up and for strengths to carry forward to our next model. I knew a lot before, but the world has changed around me. It's not the same competition any more. There's some pretty good stuff out there. The pull trailers, I don't think are that shiny. There's not a lot of competition. Fifth wheels are a whole different market. There's a lot of cool stuff and a lot of good ideas. Now that we're doing the fifth wheels, I'm excited about getting the first fifth wheel out there and hitting them head-on."
While acknowledging any expansion eastward could make it more difficult for Omega to meet its own strict standards for quality of its vehicles, Warmoth also insists that Weekend Warrior products stand apart from the competition.
"There's no one thing you can put down as the selling point, it's everything you touch is a step above what everybody else is using," he said. "We all have the same appliances and same windows, but we don't have the same tires or same wheels or same wiring or tanks… This trailer is a refined product. It's almost like it's hand-crafted rather than stamped out like a production cookie. It really is a blended, refined unit. It's not just that it looks good, but it functions well. In the pull trailer market, you get what you pay for. The cheap stuff is light duty. For a few cents more, we're heavy duty."