News
What Does It Mean to Be 'Green'?
This article is from our older website archives. Some content may not be formatted or attributed properly. Please
Contact Us
if you feel it needs to be corrected. Thank you.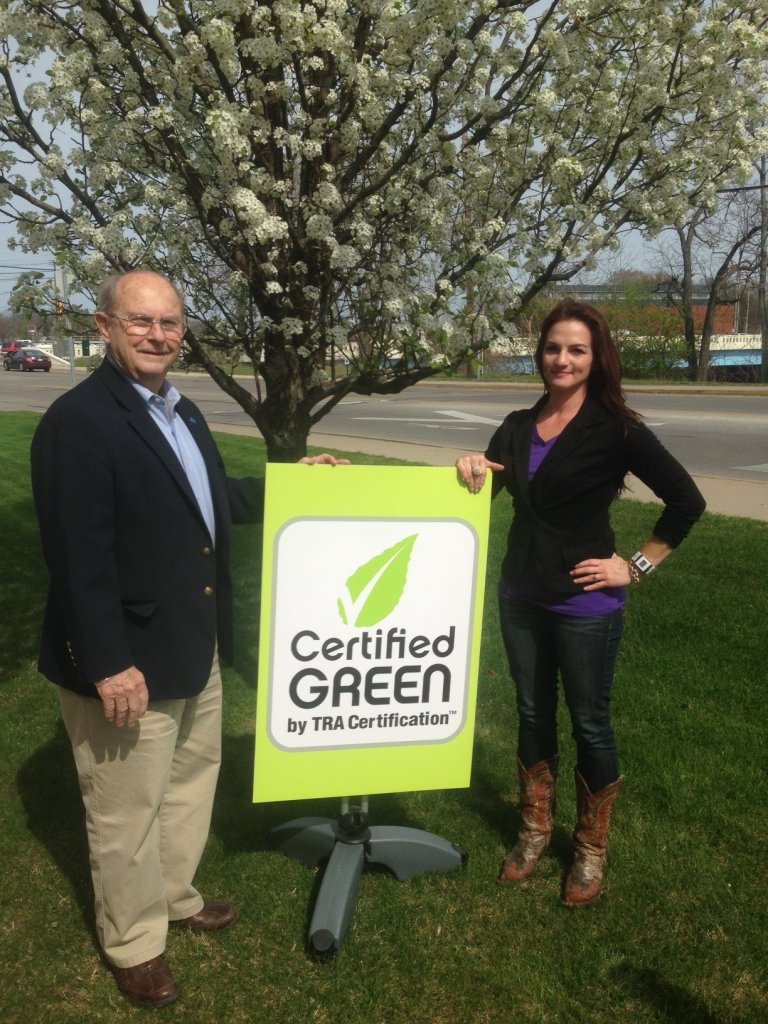 Mandy Leazenby is trying to redefine what people think when they hear that a product is "green."
TRA Certification President Tom Arnold, left, and Mandy Leazenby pose for a photo with the company's "Certified Green" logo.
"People have assumptions about what (green certification) is. It's not that the RV was made by people in Birkenstocks, and it's all bamboo," Leazenby said. "It's water efficiency, energy efficiency, resource efficiency and indoor air quality."
Since 2009 Leazenby's program, Certified Green RVs, has visited manufacturers to observe production processes, understand the materials used, and determine the level of economic efficiency practiced at the plant.
TRA Certification in Elkhart, Ind., awards three levels of certification: bronze, silver, gold and emerald.
In the past, Leazenby said it was difficult for manufacturers to know how close they were to certification, or what specific areas need improvement, but recently, TRA released a checklist of items, showing manufacturers the specific areas they'll be graded on.
"I feel with the rollout of this new rating system, it being transparent, I think that's going to make it an easier sell," Leazenby said. "The way it was before, I created a snapshot, but nobody could see how many points they earned, it wasn't really specific."
Brands offering TRA certified eco-friendly units are Airstream, Coachmen, DRV and Cruiser RV, EverGreen, Forest River, GreenFlex, Gulf Stream, Outlaw Conversions, Renegade and Roadtrek.
While Leazenby believes many consumers understand and value green certification, she isn't convinced that manufacturers and dealers know how to sell the certification to buyers.
"I think sales staff, not only at the OEM level, but at the dealer level, had a hard time understanding it and explaining it because a salesperson, if they don't understand something, they're just not going to talk about it," she said.
By releasing the checklists for everyone to see, Leazenby thinks that salespeople and consumers will have a better understanding of what it means to own or make a "green" RV.
For example, a manufacturer can receive up to 20 points on the checklist, depending on its ratio of recycled materials to waste, or up to 16 points for materials recycled offsite, or five points if the manufacturer pledges to plant a tree for each unit registered.
Several Coachmen Catalina team members pose for a photo after receiving certification recently. 
Conversely, Leazenby said that manufacturers or dealers might claim that an RV is green when it isn't, just to help the sale – a process known as "green washing."
To remedy green washing, TRA numbers and inventories the certification labels sent to manufacturers, and keeps an up-to-date list of all green RV brands on its website (www.certifiedgreenrvs.com).
"Back in the day, I might have said, 'Awesome, this product says its green, I'm buying it.' But now, I want to see who other than the manufacturer, says its green," Leazenby said. "I want to see who's signing off on this."