RV News
Wheelbase Launches in Europe and Australia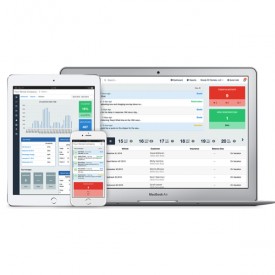 Wheelbase, an RV rental cloud-based software, has announced it is now offering its services in the U.K, Germany, Australia, and New Zealand. The RV fleet management software's plans for expansion are driven in part by Wheelbase's parent company and peer-to-peer RV rental platform Outdoorsy's recent Series C $75 million in raised funding.
With this funding, Wheelbase is extending its software availability into new markets with strong camping and caravan cultures, hiring localized support, improved payment processing, management tools, real-time GPS tracking, and new services to make scaling an RV rental business faster and easier.
Currently, Wheelbase software is being used by more than 600 RV and campervan companies in nine countries, with a 126 percent year-over-year growth in users from 2017 to 2018. Companies range in size from niche start-ups with a few assets to long-standing established dealers with more than 100 units.
"Wheelbase has not only streamlined how we run our business, but it has also exponentially increased our profitability," said Howard Wilkinson, rental manager of Kamper Hire in Southampton, U.K. "We're now welcoming new customers from around the globe, communicating with them quickly and efficiently."
Three new tools Wheelbase unveiled in 2019 to keep up with demand include:
Active Revenue Management: via "rules" allowing for dynamic pricing functionality to maximize revenue during peak periods and optimize for slower ones
E-signatures: Removing the need for paper contracts in an increasingly online world
Trip insurance: New revenue stream for many RV and campervan companies and protects their renters that enables renters to book further out with confidence
"By developing strong relationships with RV dealers, we have created software that is truly designed for the RV rental industry by people passionate about the RV rental industry," said Evan Hopkins, VP of global sales for Wheelbase. "With companies of all sizes and levels of tech competency able to easily leverage our software, we are proud to be supporting them to be more profitable and scale their businesses."
In addition to entering new global markets, Wheelbase is going mobile in 2019.
For more information on Wheelbase, visit http://www.wheelbasepro.com/.