RV News
Wholesale RV Values Decline Across the Board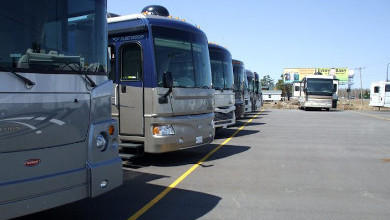 Black Book's most recent monthly report showed declining values of wholesale motorized and towable units.
"For the first time in quite a while, all of the RV market segments we track behaved in a way that would be expected in a 'normal' year, with the values of both motorized and towable units declining at wholesale auction as we head into winter," said Eric Lawrence in his most recent monthly report. "With RV manufacturers setting new production records month after month, it's possible that the supply of used units is finally catching up with the demand.
"Taking a closer look at the markets, we see that the average selling price for motorized units was $79,270, which is down $2,114 (2.6 percent) from the previous month.  Towables came in at $21,405, down $908 (4.1 percent) from last month. One year ago, the average motor home sold for $60,067 and the average towable unit brought $19,346.
"Auction volume was up: motorhomes gained 2.1 percent while towables increased 7.7 percent.
"The average age of motorhomes was eleven years old (2011), and towables was seven (2015).