News
WiFiRanger to Debut Converge Ecosystem at RVX
This article is from our older website archives. Some content may not be formatted or attributed properly. Please
Contact Us
if you feel it needs to be corrected. Thank you.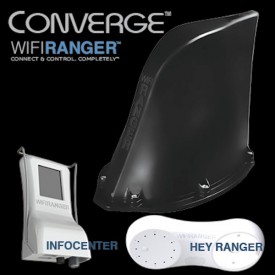 WiFiRanger has announced its next generation product line to debut at RVX, including a complete new ecosystem of products geared towards connectivity, voice and app control, and media access simplification.
"The entire objective of the Converge product line has been to re-think standards the legacy RV industry has dealt with, and then envision what the user experience should be," said Kelly Hogan, CEO and visionary at WiFiRanger. "Converge delivers this through a rooftop system, encapsulating multiple systems & minimizing footprint while converging WiFi, LTE, Radio, HDTV, and GPS into a single beautiful enclosure. The indoor products include our private AI universal assistant, and the wall InfoCenter that simplifies RV connectivity and control for the owner. All products are equally controlled by voice, or via more traditional handheld device apps."
The fin-shaped outdoor base platform is designed to include WiFiRangers long-range Wi-Fi, LTE and GPS solutions, with an optional AM/FM and high gain amplified omni HDTV antenna for OTA TV, as well as the new OptionDeck OnPoint antenna rotator allowing long range HDTV directional head end antennas.
The indoor AI universal assistant product houses a private AI engine allowing voice control of all systems within the RV, in an ergonomic ceiling mounted package including beam-forming LEDs with microphones, as well as a LED ceiling light. The InfoCenter wall device replaces the legacy TV wall plate with an antenna/cable switch box including amplifier DC injection, offering dual USB charge points, and a convenient handheld device holding bail. It may also include a touch screen enabled WiFiRanger, allowing more features and converting standalone WiFiRanger outdoor units into a pack offering.
"An equally important consideration in the design of the ecosystem was to re-imagine the aesthetics of devices inside, and on the roof of the RV," said Hogan. "It seemed to us that manufacturers and owners were limited to roof devices resembling buckets, boxes, or mushrooms, so we proved that function and beauty can co-exist in an aerodynamic and aesthetically pleasing fin shape, housing communication antennas and facilitating options for the future."
Volume orders may be placed now for the product line and will begin shipping to key OE's and aftermarket customers in July.