RV News
Winegard's ConnecT 2.0 Now Available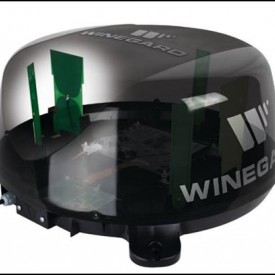 Winegard has begun shipping its ConnecT 2.0 family of products, which creates an RV hotspot for both Wi-Fi and 4G LTE networks.
"Winegard is always innovating new ways to enhance and improve our customers' experience with state-of-the-art, powerful total connectivity products," said Keith Larson, national sales and marketing manager of Winegard's RV aftermarket group. "With ConnecT 2.0, Wingard customers will enjoy increased Internet speed and range, enhanced Wi-Fi calling or messaging, or be able to connect to 4G LTE networks in remote areas where Wi-Fi or cell service is weak or unavailable."
Designed specifically for the mobile environment, the Winegard ConnecT 2.0 WiFi Extender (ConnecT WF2) is a long-range Wi-Fi extender that increases the range of Wi-Fi hotspots beyond the range of a smartphone hotspot.
The product uses its multiple, built-in antennas to scan and connect to Wi-Fi signals, rebroadcasting them in and around the RV.
The ConnecT 2.0 WiFi Extender + 4G LTE (ConnecT 4G2) model can also connect to nationwide 4G LTE when Wi-Fi is not available.
This model is now certified with AT&T and Verizon as a 4G LTE mobile hotspot, and RVers can add it to their new or existing plan by swapping out the included SIM card or choose Winegard ConnecT's data network which features no-contract 30-day plans with no data throttling.
For OEMs, there are extended versions of ConnecT 2.0 models that can also include an HDTV antenna for TV and FM Radio reception (AM Radio coming soon).
The ConnecT 2.0 WiFi Extender is available for $199 MSRP and the ConnecT 2.0 WiFi Extender + 4G LTE retails for $349 MSRP at Camping World.