RV News
Winnebago to Acquire Newmar for $344 Million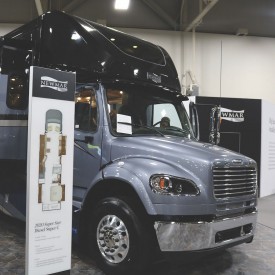 Winnebago Industries has entered into a definitive agreement to acquire Newmar Corp. for total consideration valued at approximately $344 million, based on the closing price of Winnebago Industries stock on Sept. 13. The consideration consists of $270 million in cash and a fixed amount of 2 million shares of Winnebago Industries stock, and represents a multiple of 5.2 times Newmar's past 12 months of adjusted earnings before interest, taxes, depreciation,  amortization, and certain non-recurring expenses, adjusted for the value of the tax assets and anticipated run-rate net synergies of $5 million.
For more than 50 years, Newmar has been a leader in the RV industry, becoming a fast-growing brand of Class A motorhomes. The privately-owned company manufactures premium Class A luxury, diesel and gas, and Super C motorhomes and generated revenue of $661 million and an adjusted EBITDA of $55.2 million from June 2018 to June 2019.
"Newmar's dedication to manufacturing premium, high-end motorhomes makes it a natural fit with our portfolio of leading outdoor lifestyle brands and we look forward to welcoming Newmar to the Winnebago Industries family," said Michael Happe, Winnebago president and CEO. "The acquisition of Newmar aligns with our strategy to strengthen and reenergize our motorized business by enhancing our position and capabilities in the motorhome market and building on the progress we have made driving growth and innovation across our offerings. Newmar has generated significant growth and tremendous market momentum over the past several years, driven by their reputation for quality, innovative offering and strong relationships with dealers and end customers. The addition of the Newmar brand will further differentiate Winnebago Industries, as our portfolio of Winnebago, Grand Design, Chris-Craft, and now Newmar brands provides customers with the highest quality, most innovative offerings across the RV and Marine industries. Newmar's talented leadership team, high-quality dealer network, and premium motorhome offerings will enhance the scale and profitability of our overall motorhome business, provide a platform for future growth and drive significant value creation for our employees, customers, and shareholders."
"Winnebago Industries has a deep heritage in the RV industry, and we are excited about the opportunity to join its portfolio of premium outdoor lifestyle brands," said Newmar President Matthew Miller. "We look forward to working with the Winnebago Industries team to further enhance our growth trajectory, share best practices across our business, and continue delivering an incomparable product experience for our dealers and customers."
Following the close of the transaction, Newmar will operate as a distinct business unit within Winnebago Industries with its headquarters and manufacturing facilities remaining in Nappanee, Ind. Miller will continue to lead the Newmar business post-closing as its president.
Highlights of the transaction are as follows:
Transaction Highlights
The combined company will have approximately $2.6 billion in pro forma revenue, and will leverage efficiencies of scale and best practices to drive additional margin expansion across the motorhome segment.
The transaction is expected to be immediately accretive to fiscal 2020 cash earnings per share, excluding transaction costs, impacts of purchase accounting, and before giving effect to anticipated synergies.
The acquisition is expected to create a minimum of $5 million in annual run-rate net cost synergies, phased in over three years, driven by strategic sourcing opportunities and the sharing of manufacturing and operational best practices.
Immediately following the transaction, Newmar shareholders will own approximately 6 percent of Winnebago Industries shares outstanding.
The transaction is expected to close in Winnebago Industries' first quarter of fiscal 2020, subject to regulatory approvals and other customary closing conditions.