RV News
Winnebago, Adventure Wagon Partner on Adventure-Ready Vans

Winnebago and Adventure Wagon, a builder of modular camper vans, announced their collaboration on a limited edition van that combines the craftsmanship and innovation of both companies to create what they are calling the "ultimate adventure vehicle."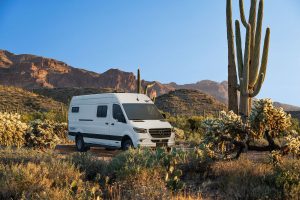 The Winnebago + Adventure Wagon vans are based on the Mercedes-Benz Sprinter 170 chassis, and features Adventure Wagon's modular interior system. The Adventure Wagon platform provides endless possibilities for consumers to add, remove and rearrange components, the companies said. That flexibility affords owners the ability to safely secure cargo and consumer creations such as equipment racks, desks, galleys and more to customize the van for whatever the user needs.
The build comes standard with Adventure Wagon's popular MOAB elevator bed and Mule Bags for soft overhead storage. The MOAB bed can easily move up and down or be removed completely, while the Mule Bags offer vast overhead storage and flexibility for placement.
Built by Winnebago, the unit offers upgrades which include adding the company's WinnSleep mattress. The flexible, customizable floorplan offers modular seating options along with cooking and refrigeration components, potable water system, self-contained toilet and a separate 12-volt power supply.
The Winnebago + Adventure Wagon vans will be available at select Winnebago dealers in spring.
"We are excited to partner with Adventure Wagon, a brand that shares the same values of innovation and quality," said Russ Garfin, Winnebago's director of product management. "This partnership unlocks opportunities for consumers who desire flexibility across a variety of lifestyle applications. Whether it's family camping or gear hauling, or weekday work platform to weekend home base, the Winnebago + Adventure Wagon platform empowers our diverse customer base to make it their own."
Adventure Wagon Founder and CEO Chad Smith said, "We are proud to team up with the Winnebago brand, a company with a rich history in the RV industry. This collaboration with Winnebago brings a new vision that fills an unmet need in the RV market, one with a more flexible approach to meet everyday needs. With this partnership, we are broadening our commitment to make Adventure Wagon's versatile platform accessible to more people with a turnkey, financeable buying experience through the Winnebago dealer network."