RV News
Winnebago Launches Wheelchair-friendly RVs, Garners Praise at SuperShow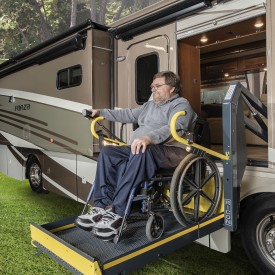 Winnebago recently unveiled accessibility-enhanced RVs during Florida's SuperShow, immediately turning heads and garnering praises from dealers surrounding the display.
"Just in the short few hours that we've been here this morning, the response has been overwhelming," said Jamie Sorenson, Winnebago's director of specialty vehicles and advanced technology. "We're hearing quotes like 'What took you so long? Now I finally have an option for my customers. I don't have to turn away this customer anymore.' And it's just been fantastic."
For the past 40 years, Winnebago has customized its models to be accessible by disabled individuals and families. It's a process that can take anywhere from six to nine months. While that timeline may work for some, others may suffer from a terminal illness, leaving them helpless.
Winnebago said the ready-to-go models will be on dealership lots within the next six months. In fact, Ashis Bhattacharya, VP of strategic acquisitions and Specialty Vehicles, said that production will have to be ramped up on the wheelchair-friendly models Winnebago has changed that with the initial launch accessibility-enhanced RVs that include the Intent 30R AE, Adventurer 30T AE, and Forza 34T AE. Like most customized vehicles, they come at a slightly higher and expected price point. But now customers can touch, feel, and test a unit beforehand instead of purchasing a unit on "faith," said Sorenson.
"Now they have the opportunity to get in and out of that vehicle, and make sure that it's the right choice for them," he said. "They can take off and go about their travel adventures."
Scroll down for more photos.
With the mid-tier models coming out, consumers have switched from having "faith" about a customization to feeling "liberated," said Bhattacharya. Spatially, the magic number for creating more accessibility in the galley and other parts of the Class A's was 32 inches – enough for those in wheelchairs to maneuver around easily.
"It's freedom," he said. "It's the ability to really be independent, and that's something which, for us, really strikes a chord. And that's why we think that this offering is going to be such a you know a unique and interesting offering in the market."
According to data from the U.S. Census Bureau, there are about 3.6 million people over the age of 15 that use a wheelchair, and another 11.6 differently abled people that have specific needs.
The three models on the initial outset – Winnebago will be altering other models, possibly Class A's, in the future – are standardized. Using decades of blueprints from analyzing the needs of other customers and specially tailoring units, Winnebago landed on specific features for the newly unveiled models.
Overall, the new models can accommodate 60 to 70 percent of people's needs.
"So, it won't be a one size fits all," said Sorenson, "but it will be a one size fits a lot, which is going to help a significant amount of people be able to have an enjoyable RV experience that they weren't able to have before."
Some features include: a wheelchair lift with an 800-pound capacity, powered roll-up lift door with key-fob remote controls for entry and exit, expanded hallway and bathroom, roll-in shower with an assist bar, extended lever faucet, and an easily reachable switches and panels around the entire unit.
"We underestimate the level of difficulty that people have in just doing simple tasks," said Bhattacharya. "We do a lot of customer research to see how we can design a vehicle that meets their needs better than anything else on the market."
The two men also announced that the models will be on display this March during RVX: The RV Experience in Salt Lake City, Utah.