RV News
Winnebago Reveals All-Electrical Mobile Lab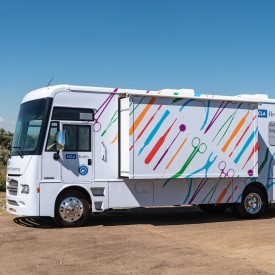 Winnebago has delivered the first all-electric mobile surgical instrument lab (eMSIL) to University of California at Los Angeles (UCLA) Health Center. The zero-emission mobile medical unit will travel between UCLA's Ronald Reagan and Santa Monica, Calif., campuses to collect, clean, repair, disinfect and sterilize surgical suite instruments.
"We've been told the vehicle is expected to save UCLA Health Center close to $750,000 a year compared to contracting with a third-party to service surgical instruments off-site," said Ashis Bhattacharya, Winnebago's VP of business development, specialty vehicles, and advanced technology. "We applaud UCLA for its innovative application of a mobile medical unit to transform a critical and costly service, normally fixed in a building, into one that can be transported to any location."
As a mobile unit, the eMSIL is a turnkey solution for receiving, decontaminating, preparing, packaging, sterilizing and distributing nearly any type of surgical equipment hospitals use. It was built by Winnebago Specialty Vehicles and one of its preferred commercial EV platform upfitters Summit Bodyworks. The eMSIL is powered by an all-electric EPIC F-53 33-foot chassis from Motiv Power Systems.
The eMSIL is designed to hold enough battery charge for eight hours of typical service plus round-trip travel to and from its home facility. For the eMSIL, this is more than enough capacity, considering the distance between the two hospitals. The vehicle has completed significant road testing and delivers an expected range of 85 to 125 miles on a full charge. Like all specialty vehicles, the eMSIL is eligible for service at more than 300 Winnebago locations across the U.S.
The eMSIL is based on the standard Winnebago J33SE all-electric commercial shell platform, which earlier this year, won a Sustainability Award by the RV Industry Association for its efforts in bringing an all-electric option to this vehicle segment.