News
Winnebago Talks: President and CEO Michael Happe
This article is from our older website archives. Some content may not be formatted or attributed properly. Please
Contact Us
if you feel it needs to be corrected. Thank you.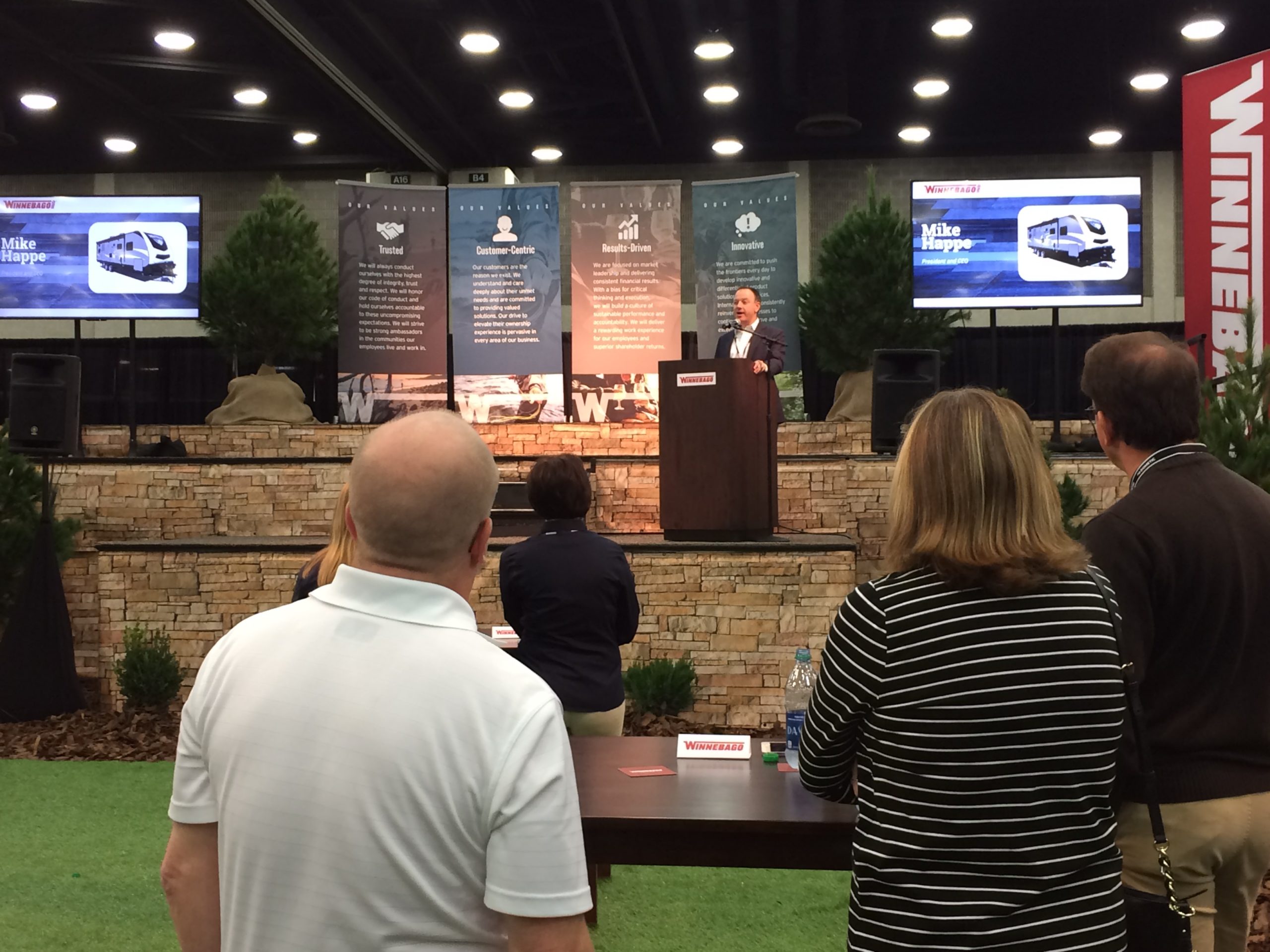 LOUISVILLE, Ky. – Winnebago President and CEO Michael Happe gave dealers and other show attendees a candid assessment of how the RV manufacturer is performing today and areas where it still needs to improve during a short presentation on Wednesday.
Happe made his remarks during what the RV maker billed as "Winnebago Talks" with key executives during three separate sessions on Tuesday and Wednesday at Winnebago's booth at the National RV Trade Show. Other executives to make presentations on Tuesday were Scott Degnan, vice president and general manager of the towables division, and Brian Hazelton, vice president and general manager of the company's motorized division.
Happe told the audience he was hired by Winnebago's Board of Directors in late 2015 with a mandate to make changes in three key areas: rebuild and strengthen the company's core motorhome business, make the business relevant in towables, and identify new ways to strengthen and diversify the overall company's overall portfolio.
"So, we went to work … to see what blend of the old and the new was necessary to achieve those goals and ensure Winnebago has a rightful place as one of this industry's best manufacturers," Happe said.
He emphasized that the RV manufacturer has many strengths, including the most recognized and preferred brand in the industry, good overall financial health, and a dedicated team of veteran industry professionals who Happe said are dedicated to doing right by its customers.
"But we also need to be honest with ourselves about what was not working as well as it could be," he said. "Our brand is aging. It's a respected leadership brand, relevant with some of our most loyal customers, but not as relevant as it should be with some of our future generational customers. Our product vitality – that is, our combination of innovation and value – has decreased relative to some of our competitors."
Meanwhile, dealer relations could be improved and operational complexity in some of the RV maker's motorized product is too high, which prevents the business from being as nimble as it should be, according to Happe. Additionally, Winnebago previously wasn't providing its towables business with "the support and commitment it needed to fully reach it's future potential," he said.
Happe said Winnebago has since made leadership changes in its motorized and towables divisions, it has re-started its dealership council, it has increased manufacturing capacity at its Iowa facilities and it has allocated resources to make sure its new manufacturing facility in Oregon will be fully operational in late 2017. Winnebago also has stepped up product value in its Class A gas offerings, he said.
Still, Winnebago's biggest move thus far since Happe was hired in December 2015 has been its acquisition of towables business Grand Design in October. Happe called the decision a "bold, $500 million move that ultimately strengthens Winnebago Industries culturally, strategically and financially. The industry's most iconic brand welcomes the industry's fastest-growing brand, ever."
Happe noted that the Grand Design acquisition has already grown the RV maker's towables business from 10 percent to 35 percent as a percentage of total company sales and he said that the move signals to dealers, customers and competitors that "Winnebago will compete for relevance and share in the towables segment."
Still, Happe told audience members that Winnebago still has much work to do in 2017, including more talent changes, more operational improvements, more upgrades to products, and a clean, successful integration with Grand Design. He said Winnebago also will develop a three-year strategic business plan that includes growing profitably in the RV arena and possibly into complementary outdoor industries.