RV News
Winnebago Unveils New Solis Pocket Campervan

Winnebago has unveiled a new addition to its campervan lineup, the Winnebago Solis Pocket. Joining the 59P and 59PX, the new 36A floorplan is not only the brand's most affordable camper van, but it also features extended season capability and a layout that's inspired by van life custom layouts and DIYers, the company said.
"We are excited to introduce the new 36A to the Solis lineup," said Winnebago Product Manager Chris Bienert.  "We created a new name for the 36A – the Solis Pocket – due to its compact size and feature set that's slightly different than the 59P and 59PX floorplans. The Solis Pocket's simple and multifunctional design aligns well with the needs of DIYers who might otherwise attempt to build out their own van.  This camper van is the turn-key solution to start enjoying van life right away."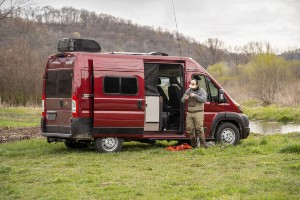 Featuring a RAM ProMaster chassis with a high-roof and 136-inch wheelbase, the Solis Pocket measures 17 feet, 10 inches long.  Winnebago said the model is "easy to maneuver, handle and park due to its compact size, yet it has significant ground clearance."
"What's nice about the Solis Pocket is that its compact design easily navigates urban areas but stays true to the Solis' surf-to-slope design and accommodates all facets of life and travel on the road," Bienert said.
The Solis Pocket features a customizable living area, accommodating those interested in working from the road or looking for a comfortable place to lounge after a day of adventuring.  The dinette can transition into a daybed or sofa with the full-length work center providing space for storing and charging electronics and other needs when working from the road.
Winnebago said the galley is designed for flexible functionality, including an easy way to double countertop prep space.  The dual-purpose MOLLE panel serves as a retention gate for gear stored below the bed, as well as a customizable storage solution for day packs and other items owners want to keep handy.  To further increase storage space, a removable galley pack is included and can store kitchen utensils, plates, and accessories.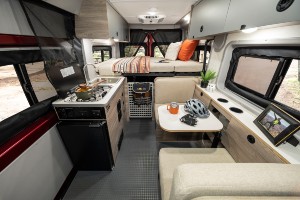 In the rear, a cross-coach Murphy bed is positioned to offer storage underneath.  Designed to have bikes stored below even when the bed is down – it simply requires users to remove the front wheel.
The Solis Pocket has other notable features that are hard to find in competitor models, Winnebago said, like earning the Truma Gold Standard.  Truma independently tested the Solis Pocket and rated it with its Gold Standard for cold weather operation.  Also, the removable LP bottle in the Solis Pocket provides owners with the convenience of readily available LP bottles found at supermarkets and home improvement stores nationwide.
Winnebago said the Solis Pocket is due to arrive at dealers this fall.  For more information, visit https://www.winnebago.com/theroadahead.