News
Xponent Power Claims World's First Power-Generating Solar Awning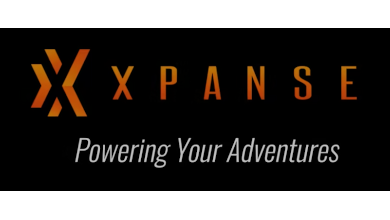 To address the growing number of RV owners who are enjoying camping off the grid, Xponent Power released what it said is the first commercially available retractable solar awning for RVs – the Xpanse Solar Awning. Deployed at the push of a button, the compact Xpanse solar awning provides shade while simultaneously generating more than 1.2-kilowatts of solar power to run onboard appliances. The Xpanse solar awning is compatible with most RVs and uses high-efficiency, rigid solar panels to enable extended off-grid adventures, the company said.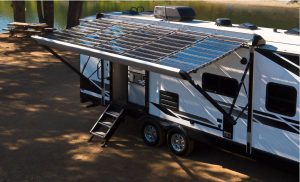 "Solar is the preferred source of power for RVs, but let's face it, roof space is limited. You're lucky if you can fit two or three large panels on the typical RV roof," said Xponent Power founder Rohini Raghunathan. "Our research indicates that RV owners overwhelmingly want to go boondocking more often but are fundamentally limited by access to power. With the Xpanse Solar Awning, we are enabling RV owners to generate substantial power on the go so that they can go off-grid more often."
The Xpanse solar awning is compatible with electrical components used in traditional solar installations on RVs, including charge controllers, batteries and inverters. The product, which can mount on either side of the vehicle, provides flexibility to RV owners who would like additional power but are not looking to replace an existing awning. It can also integrate with existing rooftop installations, extending the solar power generation capabilities beyond the roof of an RV.
The company said the awning has passed a rigorous series of tests that ensure its robustness, and it also comes equipped with built-in intelligence that can detect adverse weather conditions and can automatically retract itself to safety.
"Traditional awnings that consist of a very large continuous piece of fabric experience huge wind uplift even at rather low wind speeds, very much like a sail. In contrast, the Xpanse solar awning has an innovative, patented design that creates small gaps between the solar panels when they are slightly retracted. These gaps allow wind to pass through, greatly reducing the wind uplift and making the awning intrinsically wind-tolerant. This means the awning can be kept open and produce power even at relatively high wind speeds,'' said Raghunathan. "What's especially great about this awning design is that it uses intelligence to detect wind speeds and to provide the necessary wind relief when needed."