Features
Cenla RV's Emphasis on Service Has Put it on The Map
The dealership's solid reputation for parts and service has served as a springboard for greater RV sales and overall growth.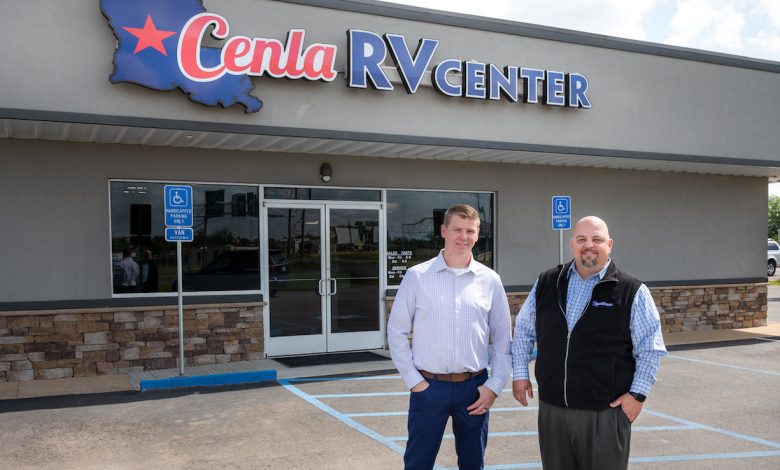 Since the late 1950s, the slogan on Louisiana's license plates has been "Sportsmen's Paradise" – and Cenla RV Center has been a fixture in the Pelican State for nearly as long.
Business at the Alexandria, Louisiana, towables dealership really picked up in the last six years, following the promotion of veteran employee Shannon Lear to general manager and with new owner Justin Hicks.
"With his vision, we built a brand-new store and just grew our inventory and our production tremendously," says Lear, who joined Cenla 16 years ago as a technician. "We went from selling 150 units a year under the previous owner to 400 to 500 units a year and went from three service bays to six service bays, plus four PDI bays."
It's his belief the store's success has been based on its sales, service and parts teams working hand in hand.
"We preach here service after the sale means everything. Anybody can sell you a trailer, but the service department always sells you your second trailer – because if you're not happy with the service, you're never coming back. We were always a real big over-the-counter retail store and the only one in town for many years," he says. "We still are to this day. It's amazing.
"We had a pretty good-sized parts store. We're the biggest parts store in town and always have been, but once we moved into our new building, which has been about three-and-a-half years now, we tripled the size of our parts department," he adds.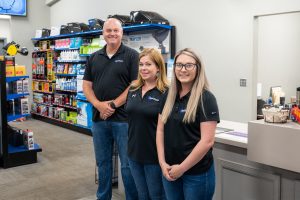 Cenla previously operated from a 2,000-square-foot structure set on 6 acres near I-49 and U.S. Route 71. By contrast, the new facility – built just a stone's throw away – measures 16,000 square feet.
The sales and parts departments share a large space, with room to display three units by the front doors. Behind them sits a quartet of 16-foot-long gondolas with endcaps; along with additional shelving on a back wall, the combination makes for the largest parts store north of I-10, the east-west interstate that runs through southern Louisiana, according to Lear.
The old building, or rather its foundation, lives on as the base of a demonstration pad complete with a roof and open sides, he says. Electrical connections were placed throughout, so air conditioners and lights can be kept running during central Louisiana's hot and humid summers.
In addition to those improvements, Cenla also stepped up its advertising efforts. Lear even began appearing in Facebook videos featuring new units when they hit the lot. He says he believes the videos help boost sales because viewers see, not just how good the units look, but how they make camping more enjoyable.
Service is Cenla's Lifeblood
Still, it wasn't too long ago that Cenla, which today employs 24, didn't move nearly as many RVs.
"Service was our lifeblood. That's the only way we survived. We didn't have enough sales to keep the doors open," Lear says, noting Cenla's near perfect online reviews. "We're not perfect, but I guarantee you we care – that's the difference. When customers leave here, we tell them they're family, because they are. You're selling them something where they can make their memories with their families for a lifetime. If you do a crappy job of that, they're never coming back and they're going to tell everybody they know. We've always been a big service-oriented business, and as we've grown, we haven't forgotten about that. It's been a struggle because we've grown faster than we can find people and train them."
One thing Lear says he's learned is available – and hireable – RV technicians simply don't exist.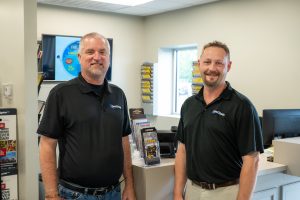 "You're not going to go out there and find somebody with 10 or 20 years of experience. If they're looking for a job, you don't want them," he says. "That's the truth, because there's too much business in this industry for somebody that has experience to be looking for a job."
With that in mind, management looks for high school graduates or college students with some mechanical background. Once on-board, the new hires are trained by shop veterans, as well as through RVIA courses. Certification is the goal and, if all goes according to plan, that's followed by a long career at Cenla.
"When my parts and service director, Stewart Bodden, hires somebody, he tells them, 'Our GM was you 20 years ago. Through hard work and determination, look where he is today,'" Lear says.
He especially enjoys tackling a common interviewee question.
"We get asked all the time: 'Is there room for advancement?'" he says. "We wholeheartedly believe in promoting from within, because I've been at other dealerships and I've worked in corporate America. I worked at a big Ford dealership straight out of high school and thought I wanted to be a Ford technician. That was my dream and I learned real quick they didn't even know who I was or if I existed. A lot of corporate America dealerships these days don't even know their employees' names, whereas I know every one of mine."
Dealership camaraderie is built via several employee events; a camping trip is held each year as is a fishing tournament. The gatherings reinforce the Cenla family culture, according to Lear. There's also a 401(K) plan, plus health, dental and vision insurance, as well as paid vacation. As for compensation, Cenla provides a blended pay plan for its techs that consists of a base salary plus flat rate.
"It kind of gives them a little cushion where they're safe, but it also makes them work hard to get that extra off production. We all know you sometimes get crap jobs. The book's going to pay you two hours but you know a superman couldn't do it in two," Lear says of the plan Hicks created at another dealership before he bought Cenla. "We have all the things the big dealerships offer in a small town."
RV Parts Play an Important Part
While a staff of four techs, plus a helper, take care of service customers, there are four people on the parts staff. According to Lear, his only real parts competitors are Amazon and Walmart; the nearest big-box RV stores are located south near the Gulf Coast and north in Shreveport.
Perhaps the most important instruction he gives his parts people is simply being courteous – a lost art in Lear's mind.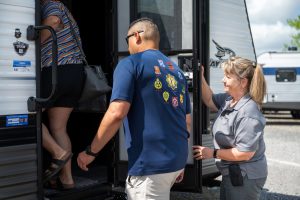 "One of my pet peeves is not greeting a customer as soon as they walk in," he says. "So, one thing we do – and I know other dealerships and businesses don't – is when somebody walks in our parts department, either I get up, because I can see the whole parts department from my window, and I walk out and say, 'sir' or 'ma'am', do you need some help?' or somebody in my parts department goes and greets them immediately and offers to help them with their selection – whatever they may need."
Accordingly, Cenla has a wide-ranging inventory that's chosen by Lear and Bodden. In addition to the usual fare, such as hitches, vent fan covers, water and sewer hoses, chemicals and cleaning products, there's also an area of the store for cold drinks and snacks, as well as a soft drink dispenser.
"We set our own shelves, we put out our own product, and we designed our whole showroom," Lear says. "We kind of put our heads together and say, 'Hey, what if we move this over here' or 'Let's try this product and see how it takes.' Sometimes it works, sometimes it doesn't."
Among gear, Cenla does a brisk business with products from Louisiana-based K2 Coolers as well as Blackstone griddles. Satellites, both over the counter and installations, are popular, as are Firman generators.
Each employee responsible for customer walkthroughs upon delivery also describes camping necessities and accessories, Lear says. As a result, insect screens and surge protectors also are quick-turning items.
Once upon a time, Cenla gave new customers a gift bag containing a few essentials – a popular gesture among dealerships large and small, but because many buyers already had some or all of that merchandise, they now receive gift cards. With Cenla's large inventory, there's sure to be something for everyone.
Obtaining Inventory a Challenge
Since Cenla's founding more than a half-century ago, it has been a Jayco dealer, Lear says. However, it also offers Forest River's Rockwood and Prime Time lines, plus Keystone's Alpine, Avalanche and Arcadia models.
"Right now, I've had more inventory than I've had in two years. We're blessed right now. The last two years have been a struggle," says Lear. "We've missed so many sales from not having enough product, not having the right product or the right floorplan."
Once COVID-19 began straining the supply chain and, as a result, inventory, Lear took action.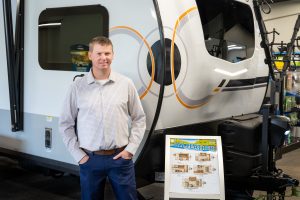 "I was able to reach out to several dealers and buy some of their product that they were struggling to move, so that helped us at the beginning," he says of the effort that netted about 25 units. "At one point, we sold everything on our lot and we didn't have a single trailer."
Shortly afterward, inventory began showing up, Lear recalls, then Cenla had a big sale and the lot dried up again. Eventually, though, new units arrived once more. The dealership also made a Facebook post asking followers to sell Cenla their RVs. It worked well, but Lear and his sales team were careful to make reasonable offers – not inflated ones that could cost the dealership later.
"We will not do that, because what goes up must come down," he says. "There's nothing worse than stuffing a unit, then the book (value) falling."
As Cenla has grown its sales, expansion has been a constant consideration, he says, and before COVID-19 struck the globe, a second location was being planned. It's on the backburner now, as Lear says it would be more prudent to expand Cenla's service capabilities.
"The only way I can do it is by building another shop and having the personnel to put in it, because our shop is putting out everything they can. We're blessed with good technicians that are great people that you love to be around. They do their job, they don't miss work," he says.
To help deal with demand, Cenla has followed the practice of other dealerships and turns away service requests on units purchased elsewhere, he says. Just five years ago, it wasn't that way and Cenla took all the work its service advisors could handle.
Today, with so many more RV sales, coupled with what Lear says is declining quality control from the manufacturers, there's little choice.
If staffing wasn't an issue, Lear's remedy would already be a reality.
"I've always wanted to have one shop that was strictly warranty and one shop that was strictly retail," he says. "That way, I could start bringing in all those customers that didn't buy from me but want to have their roofs coated or have a satellite dish or solar panels installed."