Features
Class B Startup Storyteller Overland Preps for Mid-Year Launch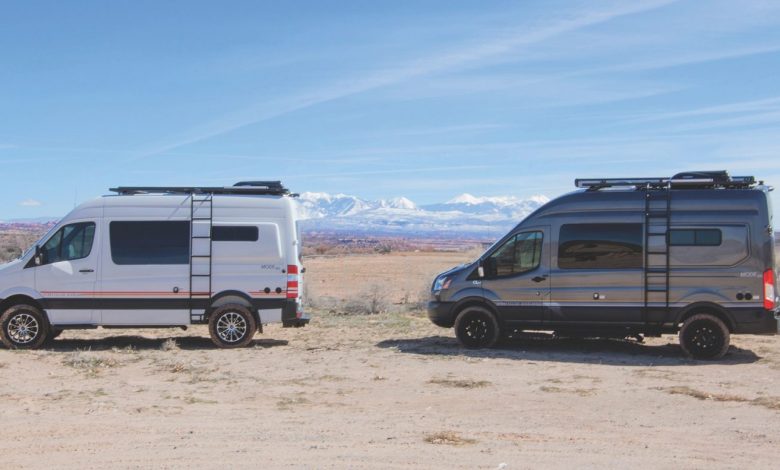 A variety of vehicles – from rockets to commercial airliners – have been developed and built in Alabama over the years. Now, the Heart of Dixie state can add another form of transport to the list: The Storyteller Overland MODE 4X4.
The new Class B motorhome line promises to take people to places where even spaceships and jets don't go.
Introduced at the inaugural RVX Expo in March and officially launching mid-year, the MODE models – built on Mercedes-Benz Sprinter 2500 and Ford Transit 350 chassis – most notably feature four-wheel drive. That's a rarity in the Class B market, and part of what makes the Birmingham-based manufacturer's units stand out in what is admittedly a crowded field competing in a niche market, according to CEO Jeffrey Hunter.
"We saw an unmet need in the marketplace and an underserved customer who really did not have a variety of good options that were available to them. We saw that people were standing in very long lines with some of the boutique builders and paying very, very high prices," he says. "On the other end of the spectrum, we saw some entry-level RVs that were coming into the market but really didn't check the right boxes for our active, outdoor enthusiast community."
The company's goal, then, was to create something that bridges that gap for those buyers who want to live the "van life," Hunter says.
"They wanted something that could adapt to their individual needs that could be rugged and ready to go when they needed it to, where they didn't have to stick to just the highways and byways, but they could travel longer and farther," he explains. "So, that informed the design of our floorplan and feature set. All of the components and materials that we selected for the vehicle make it stylish, safe, rugged and serviceable and something that would be important to buyers across a wide spectrum whether they had been RVers previously or not."
A Unique Feature Set
What might throw those coming from more traditional RVs is the MODE's form of offshore power: It's a set of automotive-grade, lithium-ion batteries that provide almost 10 kilowatts of clean electricity.
"The main win that we provide to our customers is with a next-level battery system that we partnered with the folks from Volta Power Systems to deliver. That is something that allows our vehicle to be the only truly off-grid, all-electric vehicle that's available to consumers through the dealership in our space in the industry," Hunter says. "It's a sustainable technology that completely does away with any need for any type of fuel-fired generator, so you're not having to deal with the noise or the fumes that come along with that at all."
Rounding out the top three features Hunter is proud of is the adaptive nature of the MODE's open floorplan.
"We've been very smart about the development of our work- bench and bed systems, about our FlexSpace and our HALO hidden shower system and the fact that we can safely drive up to four and sleep up to four," he says. "In any smaller platform vehicle, it all comes down to intelligently maximizing the space economy. Having the flare space on both sides of the vehicle allows you to have some pop-outs so you can sleep across the vehicle in the rear. It takes up less space going from the front to the rear of the vehicle which leaves the galley opened up even when the bed is down. It leaves the shower space opened up, too."
Size-wise, there's almost 6.5 feet across the Murphy bed in back, while the MODE's GrooveLounge – located behind the driver's seat – will comfortably sleep people as tall as 6 foot, 3 inches, according to Hunter. Going from transporting four people to making beds for those four may seem challenging, but Hunter assures it's not an issue.
"Whether it's the workbench and bed system in the back or whether it's folding out that GrooveLounge seat or fully retracting the FlexSpace and the HALO shower, it all happens very quickly and very intuitively," he says. "But if you were to just walk into the vehicle itself you might not instantly notice how capable or how flexible and adaptive it really is until you see it in action."
Hunter admits his units aren't the first Class B 4X4 to hit the market; that honor goes the Winnebago's Revel, a Sprinter-based unit introduced in late 2017 and aimed the same buyers who today would consider the MODE Sprinter.
There are similarities, but some differences, too.
For example, both are based on the 144-inch-wheelbase Sprinters. Each unit also has similar sleeping arrangements (although the Revel has a Power Lift Bed that raises into the ceiling). They even have exterior ladders, albeit in different locations, to reach the rooftop storage racks and solar panels.
However, only the MODE's Volta system will run its coach A/C unit. A secondary alternator is the primary charger for the system and the 100-watt panels up top serve as a trickle charger.
Two MODES Are Better Than One
There's also no gas-engine equivalent to the Revel, so those who'd rather not own a diesel can get the 148-inch-wheelbased MODE Transit.
Given that Ford Motor Co. doesn't offer a 4X4 Transit, Hunter has enlisted the services of authorized Ford upfitter Quigley 4X4 in Manchester, Pa., to convert his units. Due to the time needed for conversion, the MODE Sprinters will be available first when production formally begins mid-year.
The two MODEs (diesel and gas) will wear similar gray paint with custom pinstripes, Hunter says, but share the same colors (either modern, cool tones or earthy ones) inside.
"We want to provide a baseline color palette that allows the individual customer to carry it in whatever direction they want, ultimately, as they accessorize the interior, but it gives the customer a lot of choice," he says. "It doesn't overload the dealer with just way too many options to manage that really may not ultimately add value to the customer anyway."
Although official pricing has yet to be announced, the MODEs will sell for under $150,000, according to Hunter. That's in line with the Revel's base MSRP at $149,299, but Hunter says his company will offer a different price structure than other RV manufacturers.
"We call it our see-through pricing and our goal was to create a very fair, full-valued pricing system that is transparent to the customer," he says. "If they get online and price out a vehicle, they would be able to essentially know what that exact price would be all across the country, including shipping. Whether they're in Birmingham, Ala., or Bend, Ore., or Thousand Oaks, Calif., or Bangor, Maine, the customer knows and can have confidence that they are paying the lowest price.
"Through our model, the dealer earns a small rebate off of that price paid upon the sale of the vehicle, which is more in line with what goes on in the automotive side of things," Hunter says. "We saw an opportunity when we were coming into the market to do that from Day One as a foundational approach to the market because we had listened to our dealers and listened to the customers.
"They just want a fair price with a vehicle that's backed up by an ownership experience that makes that price worth it. The dealer is just looking for a fair way to make a reasonable margin off a vehicle they can trust and know is going to be taken care of by a manufacturer if anything did go wrong with it."
Even though the company will rely on its dealer network to sell MODEs (Hunter is aiming to build 150 units in 2019), buyers can opt for factory delivery.
"MODE owners are going to be our extended family. We're a storytelling bunch around here and so there's nothing that excites us more than being able to have that direct consumer relationship. As we're building out our dealer network, our dealers are going to routinely send their folks to our facility for training and ongoing product training support, so not only will our customers be invited but our dealers will be welcome as well," he says.
The company's new facility – which replaces a leased site where the demo units were made – will be a destination for van lifers who chose MODEs as their vehicle of choice, according to Hunter.
"Part of our thinking when we built the new facility is to have something that would lend itself to that type of community engagement going forward because the strength and the treasure of our company is our people and the beauty of the market we serve is the community itself," he says. "We're excited about having people come and see what we do and how we do it, as well as meet the team."