Features
Ember RV is Fired Up
The startup RV maker is finding success with lightweight models that feature independent suspension and a standard solar package that makes them off-road and off-grid capable.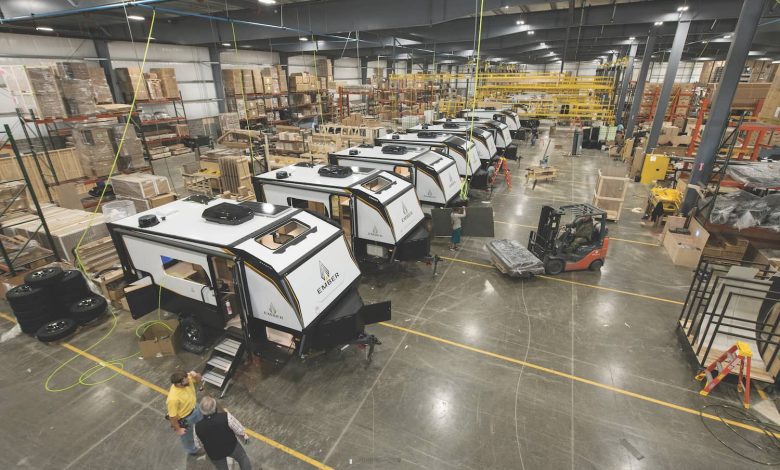 Conventional wisdom might suggest the worst time to start building travel trailers is in the middle of a global pandemic, so it's probably safe to say Ember RV is anything but conventional.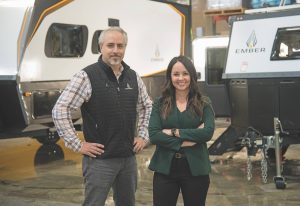 For one thing, the company – created by a quartet of former Jayco executives in late 2020 – jumped immediately into a category that's still finding its footing: Off-road lightweight towables. For another, Ember's Overland and Overland Micro Series travel trailers aren't stick-and-tin units, but instead are composed of steel and composite laminates.
Those trailers even ride on independent suspensions – a feature unheard of under typical towables. Clearly, the target market is a bit more affluent than buyers of lower-priced, entry-level models.
Yet, defying convention was definitely intentional, according to co-founder Ashley (Bontrager) Lehman, Ember's president and CEO, who says the idea was reflected even in the company's formation.
"We got started in December 2020, really with this idea that we saw a way that we could do things a little different and a little better – not only with the products that we're offering, but with how we're going to build up our company," she says of fellow founders Chris Barth, Steve Delagrange and Ernie Miller. "We were eager to build a better company and provide a fun and welcoming atmosphere for our team members to come to work in every day."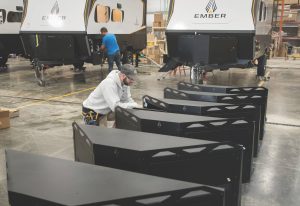 Idea Started with Securing the Right Employees
Barth, Ember's vice president and COO, says having the right people was key to achieving that goal.
"Ernie and Steve are two of the most popular operations leaders, really, that I've ever worked with," he says. "When we talked to Ashley about building up Ember, we wanted to have operations folks who are involved in leadership decisions and the direction of the company. Our purpose, then, and our focus became making sure that we could create a culture where people felt like they had a better amount of buy-in and the idea of being a real team and doing things together, which isn't always present in every working environment."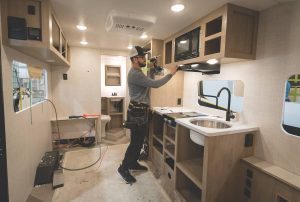 As COVID-19 radically changed how people worked, Barth says he wanted to ensure Ember's staff walked into a building that felt like home and was filled with family.
"Having Steve and Ernie involved has flavored the product and the corporate culture and made us all get into it a different way than had it just been Ashley and I," Barth says. "In some cases, you see a big group of investors or salespeople who are involved in starting up an RV company but maybe it's missing some of the other key elements."
It might seem unconventional that Delagrange and Miller, who collectively have almost 50 years of Jayco experience under their belts, share the title of director of operations, but Barth says it makes perfect sense.
"We made a conscious decision to not have a giant amount of vice presidents throughout the company. Both of them were at equal footing where they came from in their last roles. Title isn't very important at our company. We decided that they would both be at the same level," he says.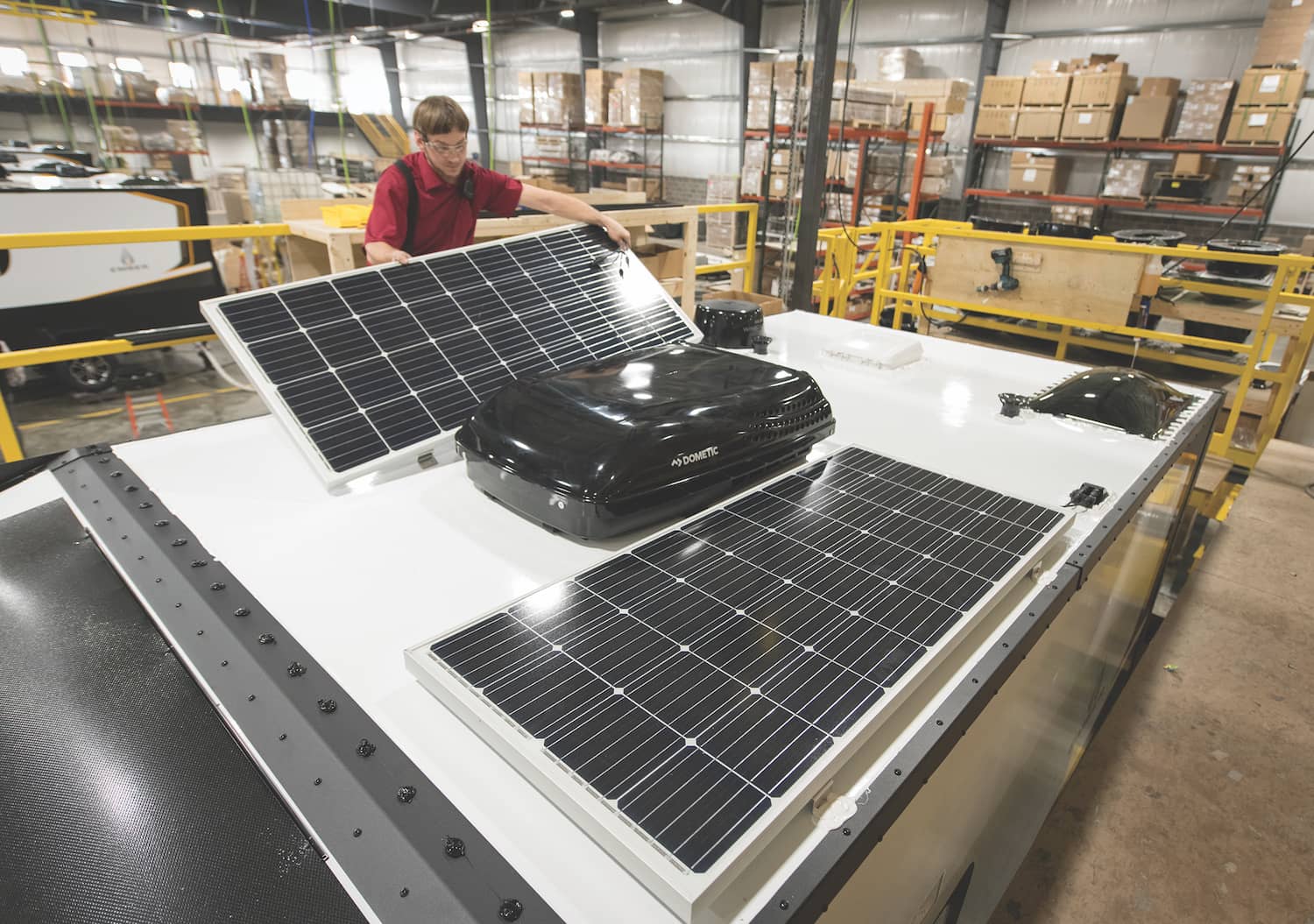 Barth, who led sales and product development for Forest River before moving to Jayco, says the two men's strengths don't overlap at all.
"Each of them has their specialties," according to Barth. "Ernie has been very involved in our lamination facility setup, so he's leading that project. Ernie gets involved, for instance, in some other items like a cabinet shop setup that he's really excited about.
"Steve tends to be somebody who really dives in strong with personal development of our group leader team, our PDI team," Barth adds. "They've shown us that they can specialize, as well as complement each other, which is why they are such a great team."
Meanwhile, one of many tasks confronting Lehman – the granddaughter of Jayco founders Lloyd and Bertha Bontrager and herself a Jayco veteran – during Ember's early days was securing a location where the company's "adventure campers" would be built.
"I happened to find a spec building that was going up in our area, which is very rare – especially with the situation this county got in at the right time with the builder, and we were able to make a few changes to make it more conducive to building RVs. Just on the other end of the same street as that 88,000-square-foot building was another, smaller building with about 18,000 square feet with some office space attached to it that became available."
The latter became Ember's corporate office, while the former houses the main manufacturing facility. The stage was set for the production of a most unlikely travel trailer to come out of Elkhart County in some time.
Eyeing an Opportunity with Adventure Campers
"One of our goals when we started this was to identify an area that we could get into that is not so crowded that we'd get lost in the shuffle. Ashley and I are both very interested in making sure we were doing things that were going to hit the customers directly and excite them and the dealers equally, and we looked at the adventure camper space," Barth says. "We knew we wanted to do lightweight laminates. That's still a growing area of the marketplace.
"We wanted to do something that was going to be exciting as well. The overland space was something I had been watching for years grow and get into the mainstream. I knew that off-road trailers that people were talking about in those spaces were not really available in the North American marketplace," he adds.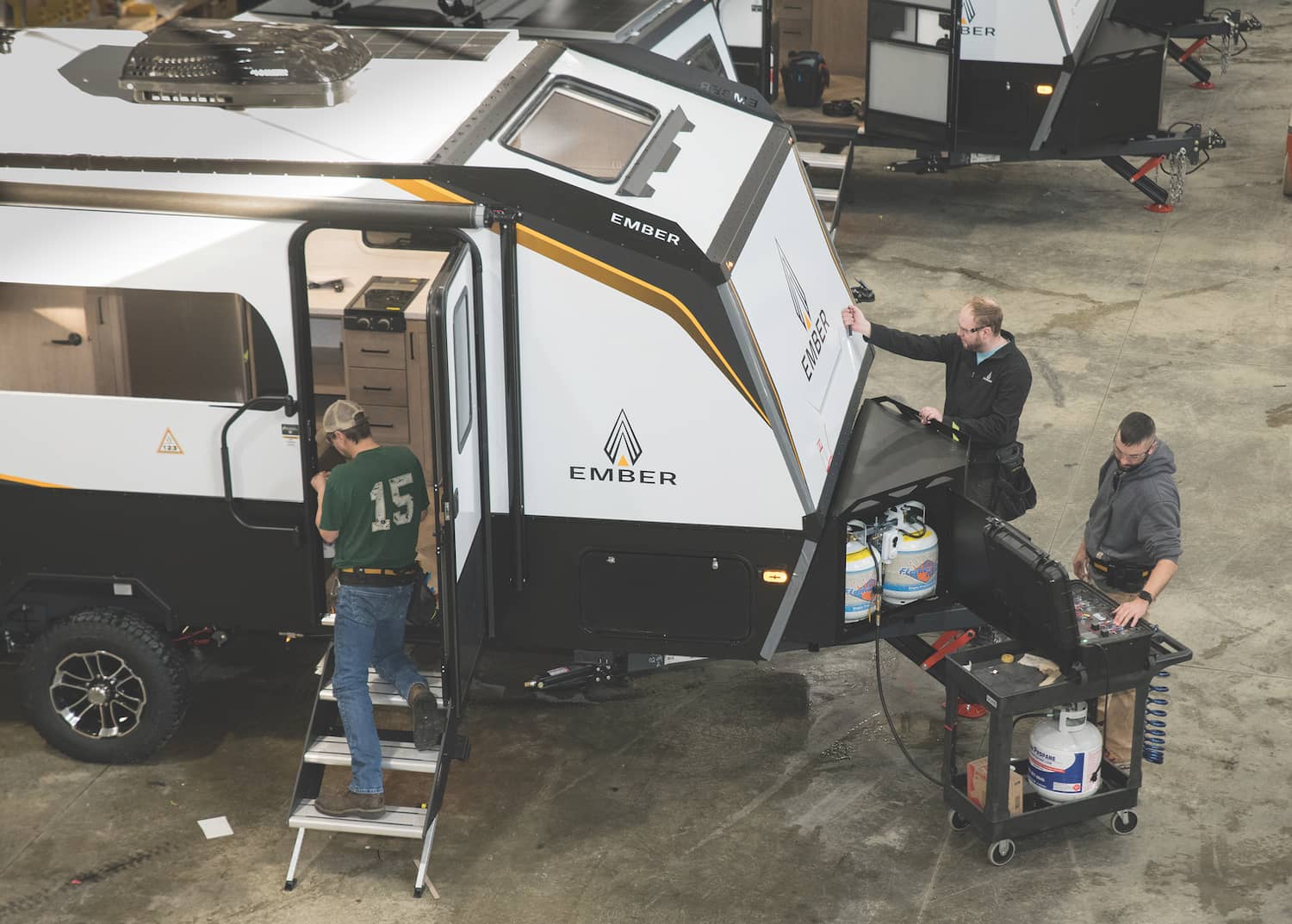 While there were similar RVs coming from small, custom builders in the U.S., plus some Australian imports, Bontrager and Barth say they believed Ember could step into the niche with a unique product that not only handled travels off-the-beaten path (and pavement) but also be equally suitable for typical camping excursions.
"Anybody who would buy one of our coaches for off-roading absolutely could use it for everything else you're ever going to use for camping. Just like if a consumer bought a very high-end tent, they could still throw it in their backyard and use it with the kids," Barth says.
Research indicated buyers of the Australian-built trailers complained about the amount of import parts used, Barth recalls. What's more, he says he and Lehman believed those units weren't built as well as they had once been.
Ember trailers, by contrast, addressed both those concerns head-on, according to Barth.
"Ashley and I really did seek out domestic materials and domestic build," he says. "'What if we build something that's lightweight and also domestically sourced and we do some composite materials?' That led us into the composites discussion, because that's not coming from overseas. The supply chain woes and some of the problems that we saw kind of flavored the direction we headed in as we did our product development."
Ember even reconsidered conventional demographics that group customers by age, according to Bontrager and Barth.
"We have seen, just at shows this year, the age-group thing is completely out the window. It has to do with the kind of camping profile that the person meets up with. RVIA put out a huge study that Ashley and I pored over early last year with about 120 pages, where they identified seven different unique camping styles of different customers and some of them cross over into each other. We targeted a number of the camping styles," Barth says. "Some people who want to get off-road and off-grid, for sure, but also some people who want something that's better built. Some people who want something that's smaller or lighter – and there's a lot of crossover there."
Specializing in Lightweight, Rugged Trailers
At the top of Ember's lines is the Overland Series. Ranging in length from 17 feet to 19 feet, the five models offer dry weights of less than 5,000 pounds, with three-piece bathrooms, plenty of sleeping options, and an angular profile that stands out among other travel trailers. There's even a pair that each come with a slide for the living area.
The Overland Micro Series – Ember's take on teardrop trailers – comes in two models. One model, named ROK, is equipped with a rear outdoor kitchen, while ROL is a rear outdoor locker model. Both hover at the 2,000-pound dry weight mark and measure just under 13 feet in length.
Ember says all of its units are off-road and off-grid capable.
What may not be unique are the floorplans, but Barth says that, too, is on purpose.
"The floorplans we focused on are bestsellers in lightweight or smaller trailers throughout the industry. So, in some cases, when I put together the floorplans for Ashley and I to review with the team, there were up to 20 different manufacturers building the same basic concept," he says. "These are coaches that already are very popular in the consumer space, so we just had to do our take on them – and what we found is there's always the ability to modify, to adapt, to make them a little bit better."
To that end, both lines – which boast no wood construction save for the cabinetry and furniture – have a standout feature that should prove popular.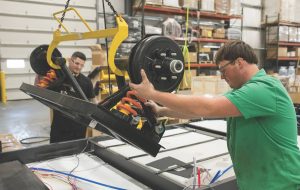 "Obviously the CURT Independent Suspension was a huge deal. That is a dual-shock, heavy-duty, coil-spring trailing arm suspension," Barth says. "That was a really exciting thing that we co-developed with Lippert.
"There's a gentleman over at Lippert named John Rhymer, who is their vice president of innovation. I met with John early last year about my concepts of what I really was excited about. John is an avid RVer and off-roader, so that all made sense to him perfectly," Barth adds. "His team put together a fantastic independent suspension built here in North America versus what was commercially available, which would've all been imported. That was really cool to get that part going, but that independent suspension required a heavy-duty chassis with tube steel for strength."
Barth says Ember's Trailblazer Chassis is the only way to go for a travel trailer designed for serious off-pavement usage.
"That thing is completely overbuilt but from an engineering standpoint," he says. "That's got a lot of steel underneath it and it's probably way more robust than it needs to be, but we also know people are going to use these in a different way than a traditional RV."
There's also a heavy-duty aluminum exoskeleton of sorts that holds the Azdel laminate sidewall and roof panels together.
Middlebury, Ind.-based L&W Engineering built that structure, as well as the Gear Box storage feature atop the hitch's A-frame.
Meanwhile, the floor is a special composite built by Ridge Corp. called TransCore; the lightweight material also is used by both Airstream and nuCamp.
Lehman's Influence Felt on Ember Interiors
Lehman's influence dominates the interior, which she says she based on the organic modern style now popular in homes today. "I really wanted to make it feel like home – a comfortable, welcoming space for the customer to enjoy at the end of their adventurous day," she says. "I didn't want too much of an influence of my own into the coach. I wanted it to be a clean palette that somebody could come in and add their pops of color and make it their own flair. We did put wood on the inside with our cabinetry and our furniture, again wanting to give it that homey feel."
That's in contrast to other off-road units made by competitors, according to Lehman, which she says often feature hard surfaces and metallic colors akin to their exteriors.
"I wanted to make sure that we still made it feel like home," she says. "Thinking through the space and how we can best use it on the inside, where drawers and cabinets go makes a difference and where we can find extra storage that makes taking along all the gear much easier. It is about the colors and the materials, but it's also about the design of the floorplan and finding ways to use the space efficiently."
Of all the interior features, Lehman is most proud of the Overland Series Murphy bed.
"A lot of times, I feel like Murphy beds just don't look great when they are put away. Either the mattress is hanging out or manufacturers try to hide it or disguise it with overly decorative things that just end up looking off to me," she says. "I told the team I want this to look super clean, to where you might not even know there's a bed behind there. I would say mission accomplished."
"There's been several times where I've been at shows that a customer might walk into the unit and say, 'Well this one doesn't even have a bed.' I think that is one thing that is really cool from my perspective that the team was able to accomplish," she adds. "It cleaned up the whole coach in my opinion when that Murphy bed is put away."
Ember Eyeing Expansion Opportunities
Make no mistake, Ember has designs beyond its present lines. Barth says a tandem-axle version of the CURT independent suspension will host perhaps a 25- or 26-foot Overland Series model in a couple of different floorplans in the near future. Of course, the RV manufacturer will eventually offer more typical offerings, too, once its production facilities scale accordingly.
"We always want to build what we call 'conventional-plus'. We want to do something that's a little bit better than the conventional," Barth says. "The next thing we come out with will be absolutely more in the conventional lightweight laminate travel trailer space but will still be conventional-plus."