Features
Emphasizing the 'Custom' in FCCC
Living up to its name, Freightliner Custom Chassis Corp. has created chassis tailored to the needs of the new Tiffin Allegro Bay and Forest River Charleston.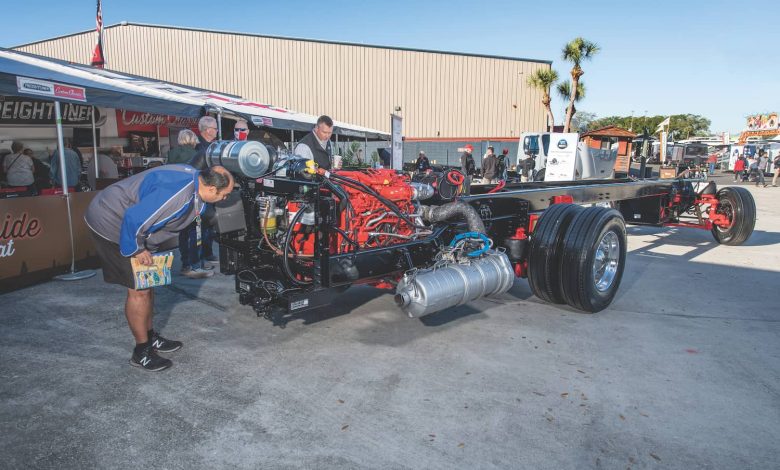 Travel trailers still have the lion's share of the RV market and the mystique of van life has certainly propelled Class B sales, but Freightliner Custom Chassis Corp. (FCCC) is ensuring the diesel coach segment isn't being left behind.
Case in point: The new-for-2022 Allegro Bay from Tiffin Motorhomes. Based on FCCC's innovative S2RV platform, the striking unit is the first Super C for the OEM. Billed as "adventure-ready," the Allegro Bay represents a new direction for Red Bay, Ala.-based Tiffin, long known for its plush Class A coaches.
"What's great about the Super C market is, not only did we have the product at the right time for someone looking at a larger, C-type vehicle, but the market has exploded, and it's grown significantly over the past several years," says Bryan Henke, FCCC's product marketing manager.
Buyers for Super C's tend to be a bit younger than those who purchase Class A diesel units, according to Henke. They also want something more than a typical Class C – even those based on the popular Mercedes-Benz Sprinter chassis – so they look to the bigger coaches.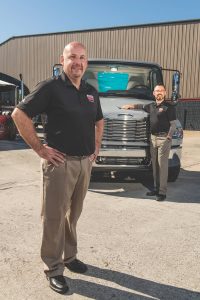 "There's a perception that a Class C is easier to drive because it's more like sitting in your car," says Jeremy Buckmeier, RV and commercial bus product manager for Gaffney, S.C.-based FCCC. "That perception has really opened up the eyes of people to what they think they have the ability to drive. That's a big driver to the growth."
Given that Jayco, Renegade and Entegra already offer models based on the S2RV, Tiffin – which celebrates its 50th anniversary this year and has been an FCCC partner for more than 25 years – was determined to make the new Allegro Bay a unique model, according to Henke.
"Tiffin did not just want to build a 'same-as' unit," he says. "It's not just going to be pulling into an RV park and sitting. This is for people with big trailers for horses or motorcycles. Tiffin wanted to make sure they could accommodate that with towing and easing of hitching and unhitching, along with the ability to go off-road in a muddy or a sandy area."
Tiffin – a unit of THOR Industries since late 2020 – and FCCC, part of Daimler Truck North America, started the Allegro Bay project with a clean slate, according to Buckmeier.
"It was really, 'Alright, what kind of features do we need in this product? What's available today?'" he says. "'What are things that we really need in this coach? What do we need to develop from the chassis side and what do we need to develop from the body side?'"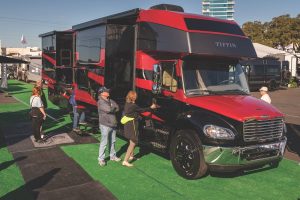 Powered by a Cummins B6.7 with 360 horsepower and 800 foot-pounds of torque, an Allison 3000-series six-speed transmission and a GVWR of 33,000 pounds, the 38-foot Allegro Bay certainly impresses – especially considering its 12,000-pound tow rating. Henke says that's only part of the chassis story.
"The differential is totally different. It's an Eaton Tractech NoSPIN differential. If someone goes in the mud or goes in the sand, they're not going to sit there and spin like they would normally do," he says. "We also have a feature so customers can simply flick a switch and unhitch from those big trailers, making it easier for them."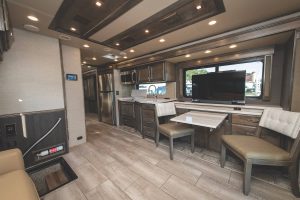 The Allegro Bay, which debuted in January at the Florida RV SuperShow in Tampa, also comes equipped with LED headlights and a rear fuel tank to allow for generous pass-through storage, among other features. It's available in two floorplans; one with a lavatory and shower amidships and the other with a distinctive bath-and-a-half arrangement. Each has three slides.
"We've seen 200-plus-percent growth in the S2RV over the last year and a half. We have more growth projected this year," Buckmeier says. "Body builders that are planning to launch some products this year are a little limited on supply chain right now, but we fully expect by midyear other developments to be done. It's just a huge growth segment."
New Charleston Coach Built on Custom XCR Chassis
Another FCCC chassis, the XCR, sits underneath Forest River Diesel's new 2022 Charleston, a 36-foot highline coach that rep- resents that manufacturer's new top Class A diesel offering. In development for several years, the motorhome also debuted at the Florida show.
"The typical 36-foot coach is not historically associated to a high-end product. There is certainly a market for that," Buckmeier says. "You've got people that have driven 45-foot coaches and either parks have changed, restricting the size of coaches going in, or the owner's comfort level with driving a big coach may have changed. Maybe the kids that were traveling with them aren't traveling with them anymore. This 36-foot high-end coach is a segment that we worked with them on identifying and they've done a lot of research and background. We've done a lot of research and background and truly believe this is a segment that has great potential growth to it."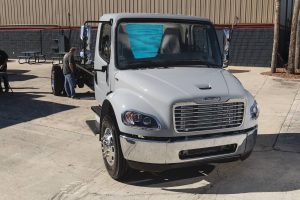 The XCR stands out, literally, because of its raised rail, according to Buckmeier. It's a design that allows for a flat floor throughout the coach, as well as providing more space in the pass-through basement storage compartments.
The Charleston is powered by a 450-horsepower Cummins L9; torque is a stout 1,250 foot-pounds sent through an Allison 3000-series six-speed transmission. Towing capacity is 15,000 pounds and there's a three-stage engine brake, as well as a 100-gallon fuel tank with dual filling ports.
"They have loaded this thing with horsepower, torque, towing capacity, an engine brake, and a large fuel tank," Buckmeier says. "They've also put our full-fledged RoadWatch safety feature system on it. What we offer for bells and whistles, it's pretty much loaded with those."
The Charleston, so far available only in a single floorplan with three slides, also has FCCC's BrakeSync, a feature for towed vehicles the company began offering last year, Henke says. It's the only factory-installed and factory-warrantied supplemental braking system available on luxury RVs in the market, he adds.
Customers who chose the Charleston also will get the XCR's optional independent front suspension by ZF, FCCC's exclusive V-Ride Rear Suspension System, a side radiator configuration and even Bendix air disc brakes front and rear, a feature not seen on many highline coaches.
"This thing is short and sweet and it's going to handle like a race car," Buckmeier says. "Buyers will love the performance. They're going to understand what their cars have, which is four-wheel disc brakes, so I think the buyers will appreciate and recognize that."
RoadWatch Becoming Standard on FCCC Models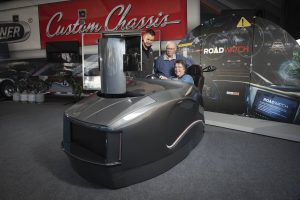 Meanwhile, RoadWatch, FCCC's suite of safety systems, is increasingly becoming standard on nearly all of the company's chassis. It features adaptive cruise control, collision mitigation, electronic stability control and automatic traction control. There's even Mobileye Camera Detection, which senses headway warning distance, provides intelligent high-beams, lane departure warnings and speed limit indicators.
"Finally, after all the preaching and the customer engagement about safety systems, this year is truly the year where there's a paradigm shift," Henke says. "You have Tiffin Motorhomes making RoadWatch standard throughout the whole fleet from the base models to the top. REV is putting a new campaign about safety systems out and they're behind it. Forest River, a major new launch, has the complete line of safety systems on this new Charleston. Newmar has always been behind this.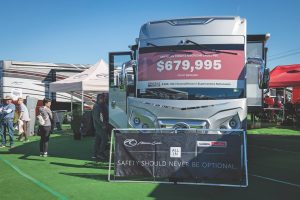 "You can see how everyone is fully understanding the need and the market and is now integrating it," Henke says. "Safety systems now are becoming standard features, not just a nicety."
The gradual popularity of RoadWatch reminds Buckmeier of TPMS, the system that monitors tire pressure, when it was introduced in the RV industry a few years ago.
"We had very little penetration," he says. "It's still not standard for all body builders, but every year, we add another one here and there that have made it standard across their product line. RoadWatch is the same thing."
There's one aspect of the new technology Henke thinks will especially please customers. "Adaptive cruise, which is part of RoadWatch, makes the driving experience phenomenal," he says. "It's a challenge to drive in today's market out on the road with a big vehicle, but adaptive cruise, when you're in those environments, is so relaxing."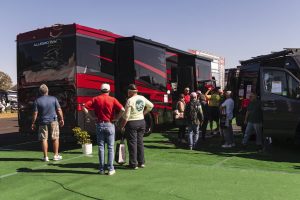 That's an important consideration for dealers to remember, Henke adds, because RoadWatch can help prevent accidents and that makes driving large motorhomes more comfortable to customers that may have previously only driven something much smaller. It's an assertion Buckmeier agrees with wholeheartedly.
"How many times do you hear customers say they can only drive about 200 miles a day because they're so fatigued and stressed? These features all equate to customers feeling more comfortable and ultimately allowing them, if they desire, to drive a little bit more. They're more relaxed, they're not tense, and it's a lot safer that way, too."