Features
Empire Dealer
New York-based Meyer's RV Superstores – with nine retail stores in the Empire State, Ohio and Pennsylvania – prospers by pursuing an independent course.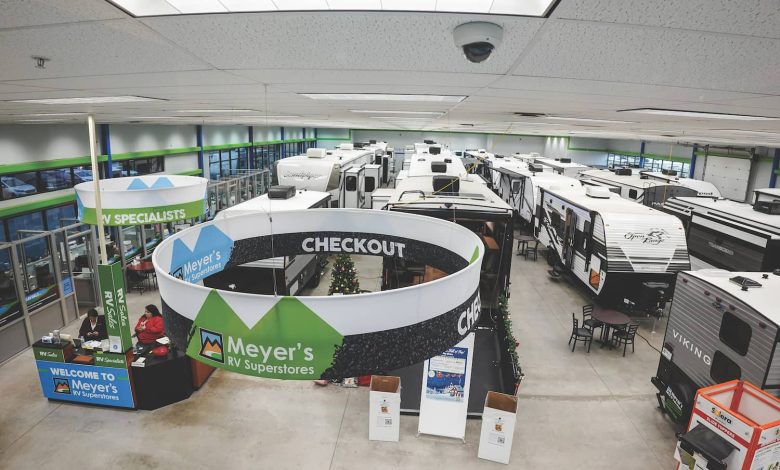 Side hustles – those extra sources of income outside one's main source of employment – often have the potential to become something great or disappear altogether.
Thankfully for the employees and customers of Meyer's RV Superstores, Mark Meyer's dad chose a side hustle that grew into a regional powerhouse.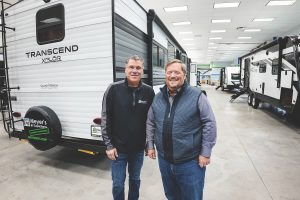 "My father, Michael, started off as a body and fender repair guy, a collision expert, and of course, he tinkered with used cars and whatnot," says Meyer, president of the New York-based namesake dealership. "He ended up getting some campers dropped off one day and we rented them. Renting turned into selling them and we just moved on from there."
Since that fateful day in 1967, when the first trailers showed up at the Meyer's home in a Caledonia, N.Y., cornfield southwest of Rochester, the business has grown into a nine-retail store chain, spread across three states in the Northeast and Midwest. The dealership group sold a combined 4,700 units in 2021.
Yet it wouldn't be until 1973, when Meyer was 13, that the fledgling store would really get its footing.
"There was a dealer that (previously) had Coachmen down the road from us," he says. "Somehow, my father wound up with the Coachmen line and that was a good, exciting line and that really got the ball rolling pretty hard."
Like most kids who grow up around a family business, Meyer labored in his dad's dealership. Still, he didn't intend to be a second-generation store owner. Upon graduation from high school, Meyer attended a community college to earn a marketing degree. With that in hand, plans were to head to Syracuse University.
"I ended up going back to work for my father," he says. "During the summers, I was definitely home working in the store and I started at the bottom, detailing in the shop, and worked my way up from there."
Back in the Day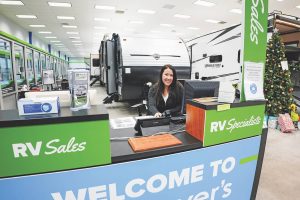 In the 1990s, under the guidance of Meyer's father, the dealership, known as Meyer's Campers, expanded with a second location at a small gas station-turned-Winnebago store in Syracuse, where the business took off. Later, the Meyers turned an old car dealership in the Rochester suburb of Churchville into yet another store. In the meantime, the original site in Caledonia was significantly upgraded, albeit around the time sales slowed during the Gulf War of early 1991.
"We had spent all this money on a building that was kind of out in the middle of nowhere, but in the end it's served us very well. We've added on to it two or three times. It's been our hub," Meyer says. "It has 24 bays on 20 acres, and we house a lot of our inventory there that's going to get shipped to other stores. We do a lot of the major service work that can't get handled in some of the other stores there and it has a very large collision shop in it with a paint booth."
In theory, that's also the delivery point of most of the Meyer's inventory, but in practice, many units, such as those designated for the trio of stores in Pennsylvania, for example, go directly to the appropriate dealership. Meyer takes a different tack on pre-delivery inspections.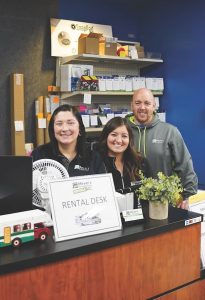 "We've been finding that if you PDI units on arrival, you just wind up doing it again on delivery, so we go through it and we give it the once-over and we figure out what we think it's going to need and get it written up, but as far as actually prepping the unit and putting it on the lot and then waiting for it to sell, you wind up prepping it again," he says. "We're a little leery of doing that."
Shortly after the Caledonia expansion, Meyer made a key decision in the company's evolution by bringing the first non-family member into management.
"Mark Calzone started with me in 1992. We were just this small mom-and-pop store and my mother (Virginia Meyer) had been handling all the books, but it was getting way over her head. Mark was a CPA who had worked for the accounting firm we had been using for years and had left there. I was looking for someone to come in and work in the store and he was available," Meyer says. "Mark really grasped what the RV industry was about. So, when we hired him, it helped us shape things pretty quickly."
Pivotal Moments
Five years later, Meyer bought out his father's share of the business. That, too, was a pivotal moment and it came about 30 years after those first trailers arrived in the Meyer's front yard. By 2004, though, Meyer chose to step away from RVs and sold his dealerships – by then with five stores across New York state – to Camping World.
"I originally worked for them for a couple of years, but after that, I had bought a marina and decided I wanted to be in the boat business. We have two other locations that are standalone from the RVs that sell just boats. I have a son that is running those for us right now.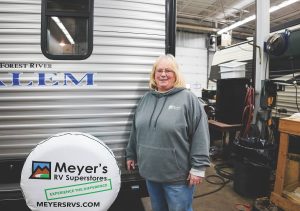 "Those locations kept me busy for a while, but the boat busness isn't anywhere near as fast-growing or fast-paced as the RV business was and I certainly didn't know it as well," he says. "Now, in my son's case, that's all he's done and he loves it. He does pretty well with it. I think my roots are more in the RV side because of my relationships. They go so far back and it does help. There's no doubt about it."
After a six-year absence, Meyer returned to the industry he entered as a seven-year-old, buying back the Churchville and Bath, N.Y., stores in 2015 with Calzone. Caledonia, where everything began, wisely remained a Meyer property and never figured into the Camping World sale. Since the early 2000s, it's been solely a service center.
Even though his former Syracuse store remained a Camping World, Meyer still believed that market was big enough for another competitor. He knew a marine dealer there who dabbled in RVs wanted to retire; the store sat on 60 acres near other RV dealerships, so Meyer bought it.
"Our whole intention was to build a great big store there – and we still will – but we've been pushing it down the road a little bit just because we've found some other opportunities," Meyer says. "Quite honestly, that Syracuse market has done so well for us that I just didn't really have the need to go spend right now, but we will in the near future."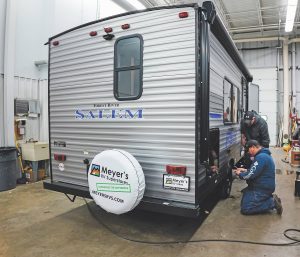 From there, the Meyer's brand made its first foray outside the Empire State by purchasing a small dealership in Harrisburg, Pa. Meyer found another store in Apollo, near Pittsburgh, and bought that dealership, too. New Jersey came into the fold when the former Escape RV in Branchville became a Meyer's store. All three were family-owned enterprises whose owners simply wanted to move on, Meyer says, but the locations held great potential.The same held true for what is now Meyer's Mentor RV in Madison, Ohio, northeast of Cleveland. Meyer heard the owner was considering retirement due to lack of inventory and wanted to move to Florida. Like the Syracuse store, Mentor RV had an excellent location, so Meyer bought it, as well as some property around it late last year.
"We're really looking to blow that market up over there. That'll be a really good market for us. It's going to take a couple of years, but it's definitely the right market," he says.
Only one of Meyer's acquisitions has proved the exception; the Mount Morris, Pa., store was a former auto dealership.
"We're trying to capture the points around Pittsburgh and that was a car dealership that I found. We're currently leasing and renovating it right now. That'll be about a 12- or 13-acre parcel. That's kind of a raw-land deal," he says.
Reaching Out to Younger Workers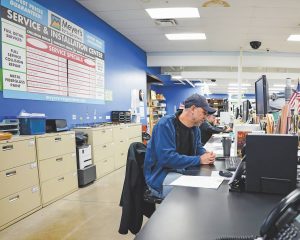 While expansion may seem easy for Meyer, he's quick to admit the RV industry is mostly ignored by young job seekers.
"They need to think about it, so we've been doing hiring events," he says. "We just ran some television and radio spots down in the southern Pittsburgh market, as well as the West Virginia market and we had like 90 applicants come in."
Part of taking on younger talent is ensuring quick and steady progress through the ranks.
"We currently have at least three 30-somethings that have been with us a fair bit that we're moving through the system into management because that's the next level. That's where you've got to go and they understand it and they get it," he says. "They know how to make the money; they know how to take care of the customers and they know what's selling and what's not selling. We're very process driven when it comes to things like that."
Staffing the dealership's 100-plus service bays remains a challenge, according to Meyer, and good technicians are incredibly hard to find.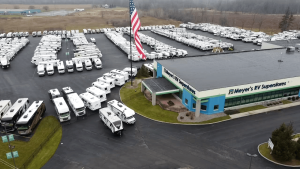 "COVID's made it even more difficult, that's for sure. We just keep plugging and keep looking all the time. You have to lift up every rug there is. You have to go to all of your trade schools and see what you can pull out of there but for the most part, you're usually catching people going from one industry to another. It's been tough," he says.
While there's a little bit of poaching and floating between competing RV stores, Meyer believes his region is filled with good dealers.
"There's not a lot of floating going on back and forth," he says. "You try to hang on to your own. You've just got to take care of them. You've got to pay them well, you've got to treat them well and you've got to pass that message on all the time."
Meyer's RV is a flat-rate shop, but new technicians are paid hourly if they don't have experience. In the Rochester market, for example, Meyer can send them to the Caledonia service center, where veterans there can help new hires until they're ready to work by themselves at other locations.
Between 10 and 15 percent of Meyer's annual revenue is from parts and service, a percentage that has changed considerably since COVID-19 arrived on U.S. shores.
"I think that has a lot to do with the revenue cycle of what's been going on for the last 12 to 18 months now," he says. "It was probably more 70-30 sales to parts and service for a long time, but I think it's really changed because there's so many sales going on right now."
Parts, Service & Trades Pose Challenges
Besides staffing, another problem is plaguing Meyer's service department.
"Just a few years ago, you would just let anybody come in the door and you'd accept them for service. Today, unfortunately, you have to cut it back to your own customers right now because you just can't take care of everybody. It's too difficult.
"That's not a good thing for the industry, I don't think," he adds. "We're not the only dealer experiencing that. I think every dealer I know is experiencing it right now."
The parts department hasn't been immune from change, either, according to Meyer. "Truthfully, we've been reducing it a little bit. Between all the larger big-box retailers and then you've got the Amazons of the world, parts have really changed their scope over the years, so we're pretty cautious as to what we're doing with parts these days," he says. "You can tie up a lot of your capital in parts in no time and it's a slow turn. It doesn't turn nearly as quickly as some of the other dollars in the stores, so you have to be cautious of that and we have been. We keep a close eye on it."
Overvaluing trades, Meyer believes, remains a critical area of concern now more than ever.
"Here's what's going on right now. If you look at any average RV that's coming in, maybe a three- or four-year-old unit, the NADA book value on that particular unit is most likely considerably higher than the original invoice of that unit when it first showed up," he says. "So, we've been teaching everybody to go back into our system, if it's something that we're familiar with or something we've sold and see what that unit cost us in 2016, or whenever, and then decide from there what value we should put on it."
Meyer says he wouldn't be surprised to see 30 percent of a typical dealer's used inventory being overvalued when the market inevitably returns to pre-pandemic prices.
"I think dealers need to watch their turns. For us, we have plenty of used inventory right now. We did Hershey back in September and we picked up somewhere around 300 used RVs. So, we're in really good shape, but every single time we'd look at one, we had to go back in the archives to see what that thing sold for originally and what could we sell it for today."