Features
Entegra Coach Expands Footprint

Expanding a highline motorhome brand – even in upbeat economic times – can be a challenge. The number of customers able to afford a coach costing $300,000 and above are small, so the market doesn't tend to experience the growth spurts of other sectors.
That's why Entegra Coach recently embarked on a two-pronged approach to broaden its recognition while increasing overall sales.
One part of the company strategy was subtle: In addition to its four-deep line of tag-axle diesel pushers, Jayco-owned Entegra last year introduced a smaller and less-expensive model – the Reatta. Entegra's other effort was bolder: It debuted gas-powered motorhomes for the first time in its history.
The result of the latter move, according to Brion Brady, Entegra's general manager, has been an undeniable success.
"We've done better than expected for the first 12 months (of 2018). We just started to roll out the Class C's, and it was in Tampa in 2017 that we had the first two prototype Class A's, so we're still fairly new," he says. "I think we were just over 2.5 percent of the motorized market in 12 months with a brand-new product. We're actually very pleased, considering the numbers."
By December, retail sales stood at just less than 600 units, according to Brady, a 14-year Winnebago veteran who joined Jayco two years ago and then moved to Entegra in March.
"Every other manufacturer out there has a second line, and an opportunity to do Class C's and Class A gas with a premium brand like Entegra, was kind of a no-brainer to us," he says. "You can expand your footprint in the market and in the dealer body as well. What a perfect opportunity."
Vision, Emblem Power Gas Offerings
Entegra's gas offerings consist of two Class A products: the Vision and the Emblem, and a trio of Class C's: the Odyssey, the Esteem and the Qwest. The models – which range from 22 feet in length up to 36 feet – are built in the same plants and on the same chassis as their Jayco counterparts.
"The differentiation between the products are about as dramatic as you want to go; you don't want to get too far out of the price point," Brady says. "We can add a lot of things to them, but we added just enough to make a big enough price point so that they kind of stair step."
For example, Jayco's entry-level Class C unit is the Redhawk SE, a model that retails for nearly $80,000. The next unit up is the $120,000 Greyhawk, leaving a gap that Entegra's Odyssey – retailing at slightly more than $90,000 – now fills quite handily.
Still, when it was announced Jayco would be offering more gas coaches, albeit under a different brand, there were reservations among the manufacturer's dealer network, Brady acknowledges. After all, customers already could choose between seven Class C's and two Class A's.
"Jayco is a 50-year-old company and there were some long- time Jayco dealers that were not going to be happy, but (we were) transparent with them and explained why we were doing what we were doing," Brady says. "It wasn't to take business from them."
That's why Entegra was very selective in its approach to adding new dealerships.
"There are probably 170 to 180 Jayco motorized dealers. We've got about 40 Entegra gas dealers. We're not dropping them in to saturate what we've got. It's about being strategic and specific on where we need to be and not hurt ourselves," Brady says.
So, what makes an Entegra gas coach different? It's really is all about the details, according to Brady.
"The front caps are very distinctive, they have higher-end paint schemes, a little more raised stainless in the design on some things and very similar approach on the interiors. Hardwoods, different flooring, more of the high-end stuff," he says. "From the outside you'll definitely tell the difference between the Jaycos and the Entegras."
Eventually, Entegra gas models will be more than just upgraded and rebadged Jayco units, but engineering constraints means that won't happen until the 2020 model year.
"We do need to differentiate," Brady says. "We want the Entegra line to be incremental business for the company instead of just taking away from Jayco, and so far, it has worked."
Entegra has addressed nearly all the segments of the gas coach market (except for the Seneca, Jayco's Super C offering), including a model to compete in the popular Mercedes-Benz Sprinter-based field.
"It's called the Qwest," says Brian LaPray, who joined Jayco in 2014 and became Entegra's national sales manager last year. "It's got full-body paint and curved walls. We've put the tech-no-formed curved cabinetry in that coach, too."
Built on a 3500 chassis, the Qwest is available in three floorplans, as is its Jayco counterpart, the Melbourne Prestige. In addition to a cab-over bunk configuration, it features an aero front cap more typical of Sprinter coaches. While sales of such units are small, Brady believes Entegra needed to have such an option.
"There's been one manufacturer that's dominated that segment, but it's a small segment that keeps growing little by little," he says. "I think that market will always continue to grow. It'll never be as big as the conventional Class C, but there's definitely a market that we need to be in."
Reatta Shakes Up Compact Class A Diesel Market
Entegra figured boosting brand awareness among diesel buyers meant making something other than big coaches. Enter the Reatta, a 2019 model that was rolled out to the public last summer at FMCA's convention and expo in Wyoming, and is built at Entegra's standalone diesel coach plant in Middlebury, Ind.
"The diesel business is split in two markets," Brady says. "With just under 3,000 units being sold with the Cummins ISX-ISL engines and then there's a little over 3,000 units being sold with the smaller ISB engines.
"With the ISL and the ISX, you're building 40-foot or 45-foot units. The ISB goes into the smaller ones, and we did not have a product on an ISB, so we were sitting out of half of the market," he adds. "If you look at the top two diesel manufacturers, Tiffin and Newmar, 80 to 90 percent of their business is in the ISB."
Entegra already locked up 30 percent of the coaches sold with ISX and ISL power plants, so it wasn't surprising that "we had a lot of our dealers saying, 'Hey, if you want volume, if you want more stocking out of us, it can't be the half a million dollar and up units. We need something a little smaller,'" Brady recalls.
Entegra and Spartan Chassis – the company's exclusive diesel chassis source – came up with a unique solution, according to LaPray.
"We developed the K1 raised-rail chassis with the Cummins ISB 6.7-liter motor. Today, we're the only ISB coach on the market with independent front suspension," he says. "That independent front suspension was an important feature that we wanted to include even on our entry-level diesel pusher. Nobody else has that on the market today. We include some other features like our X-bracing, which reduces the flex of the chassis between the front wheels and the rear wheels."
Customers can purchase the Reatta in two different lengths (37 feet or 39 feet) and three different floorplans, including a two-toilet model and another with a bunkhouse; a fourth layout is in the works.
As for the Reatta's reception?
"We actually sold two of them there (the Tampa show). The biggest hurdle that we have is that the plant where we build our luxury diesels, the lead time is 16 weeks," says Brady, noting about 25 have shipped as of late December. "The reaction's been very good. We did have them at Open House, so we got the orders for those in the backlog. Great feedback. A lot of the first runs went to the South." Admittedly, Entegra can't offer as many features in the Reatta as it does the company's flagship Cornerstone due to the former's smaller footprint. Still, LaPray argues the Reatta gives an ISB customer more than what they'd get from the competition. "In that Reatta, like we do in the rest of our coaches, there's no wrapped wood. It's all solid hardwoods on the inside of that coach," he says. "A lot of times at that entry-level price point, some of the other manufacturers will save money by doing wrapped wood. They'll take a pressed wood, put a vinyl wrap on it and call it good."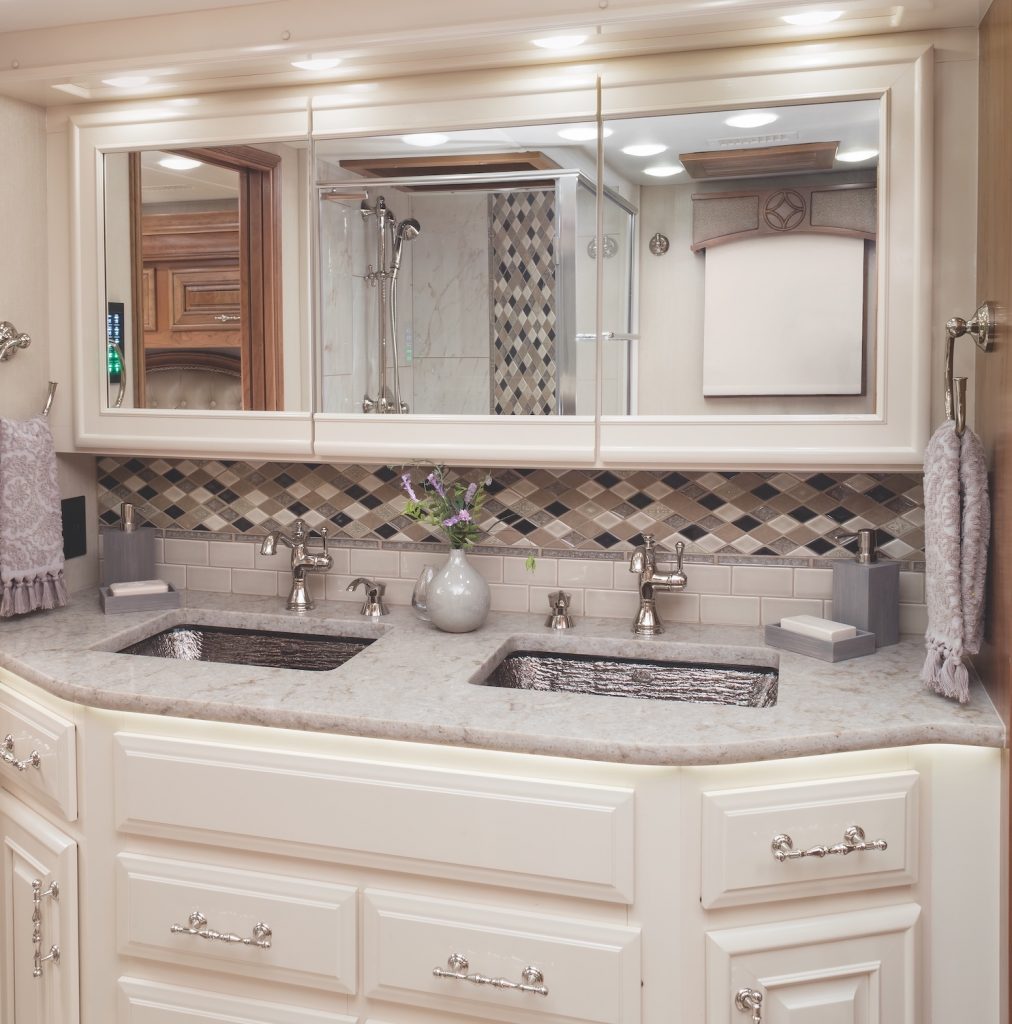 Another difference is the way Entegra constructs its flooring, a subtle but critical item in a unit designed to spend hours on the road. "We put all of the interior walls down on the floor first," LaPray says. "We glue and screw those to the floor and then we tile around those interior walls and cabinets. The other guys, as soon as that floor is placed on the coach and before they do anything else, they tile from the front to the back because it's quick and easy. It allows them to do it very efficiently with less labor and time and then they install those interior walls and cabinets on top of the tile. I don't care what kind of a screw or fastener you use, over time that's going to come loose."
It's a more labor-intensive method of doing things, but to LaPray, it's no different than a luxury home.
Like its construction, the Reatta shares other items with its big brothers – even down to its tech.
"If you look on our Cornerstone, we have the Vega Touch," LaPray says, "so when we introduced the Reatta, we put an entry-level Vega Touch in that coach. With all that multiplex wiring, now customers can operate it from a touch screen in the center. They can also buy an App for their phone or their tablet and run all of those features while they're sitting on the sofa."
The Reatta also gets a residential Whirlpool side-by-side refrigerator with ice and water in the door. Competitors, LaPray says, don't offer such refrigerators at the Reatta's retail price point of just under $300,000. Again, it's the details that make the difference.
While it may be too early to tell for certain, Brady believes bigger is better.
"You talk to people at shows and everybody wants to drive a 35-footer, but they want to live in a 45-footer," he says. "I think the 39s show a little bit better than anything else. When you get smaller, you need to have a small coach like a 37 (footer) for that couple that loves to get into the smaller places, but that market is pretty unique. The 39s are going to end up being more popular."
Motorhome Business Rolls On 
As for the motorized RV business overall, Brady is a realist. "Class C's are up about 3 percent at this point and Class A gas is down a couple of percentage points, so it's relatively flat. In the luxury diesel category, it's down about 7 percent," Brady says. "We went through that big downturn and ever since that, we've been on such a tear that these numbers are out of this world, so even for it to be flat or a little down right now, it's still record numbers, relatively speaking. We expect, especially in the diesels, to see sales numbers probably stay flat to maybe a little down."
Even so, Brady is impressed the industry remains steady and is confident things will continue to go Entegra's way.
"In a flat market, we have grown as a company, just with what we're bringing to the table," he says. "There are dealers looking for something new – either to change or to add to their lot, but that's where we've picked up market share with Jayco and Entegra growing. It's just from opportunities that the dealer base has given us for them making a change. I still see us as a company probably up around the 5 percent range over the next 12 months."
Now that customers can join the Entegra family at a lower price point, Brady believes many will remain brand loyal and remain lifelong customers.
"We all know that people who RV trade up," he says.