Features
Exclusive: Caprock Carves Out Successful Niche in West Texas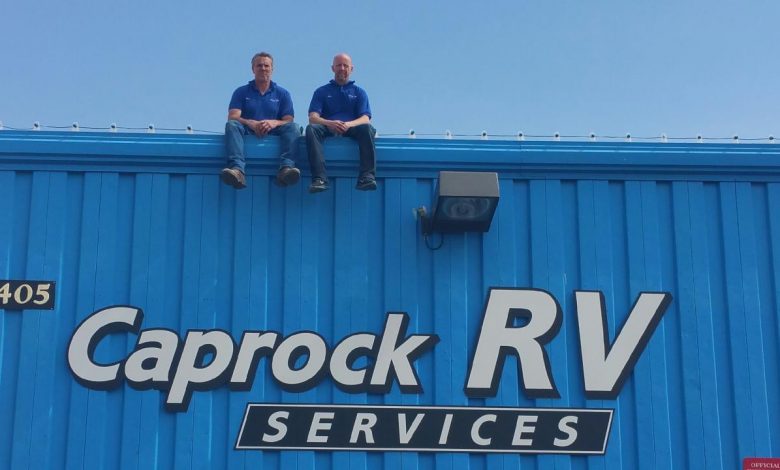 Kevin L. McKinnis speaks with a Texas twang that befits a man who's spent about three decades in the RV business on the western plains of the Lone Star State.
Caprock RV Services is based in Lubbock, where it was formerly known as Specialty RVs of West Texas until about seven years ago.
The dealership/service center consists of McKinnis and his "cohort," Wes Wertman. Combined, McKinnis said, "we're the service manager, we're the sales manager, we're the parts manager …"
McKinnis got into the business about 30 years ago running a mobile repair shop. At one point, he said, "I finally got into kind of an old raggedy shop and just worked my way. We don't have a big bank behind us or a venture capitalist or inherited anything. We just, you know, through blood, sweat and tears just kind of built it."
"We recently moved into a newer facility," McKinnis added. "We're proud of our past, we're happy in the present and excited about the future. It's just two guys out here, and you wouldn't believe the hats we wear. We couldn't physically wear a hat 'cause they would just get in the way."
For Caprock, it's all about the personal touch. McKinnis has had other RV jobs, working for others, but he didn't last long, he said.
"I got tired of some of the gossip at the dealers where I worked," he said. "And the lack of any quality service managing or service writing. With Wes and me, when someone comes in needing service, we write the ticket ourselves. And when you write the ticket yourself, the person that's working on it is writing the ticket, you tend to take more of a personal interest in it.
"I think a lot of places are so big, and they pay someone to just sit there and type in the information into a computer, and then the translation gets lost between the customer and the person that's physically doing the work. In here, the person writing the ticket is usually the person doing the work, and it's just hard to have any shady area, any gray area there."
On the service side of the business, Caprock prides itself on being able to take on a wide scope of work that McKinnis said many dealers in his area will turn away.
"Most of the dealers around here on motorhomes, they won't touch a chassis repair, and if they do they're subletting it," McKinnis said. "We will do it in-house. We will tackle a lot of issues with RVs, (such as) slide-out problems, rotted flooring, rotted headers, things of that nature; we thrive on that stuff and other people run from it."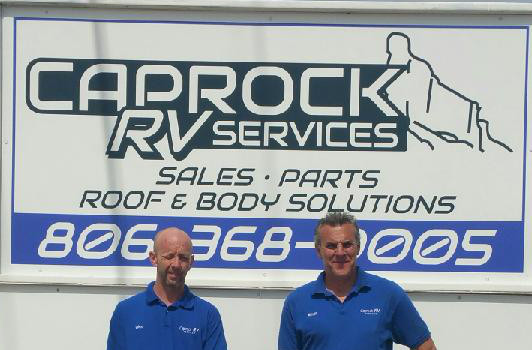 As for RV sales, he said his shop usually sells about 20 units a year. To date, the business has sold only used, but this fall the shop will be selling a new line of coaches for the first time. At this point, he said, that's all he can say about that.
"We're a small shop but we're stout as a bear's breath," McKinnis said. "Our sales in units – we keep about 15-20 units; they're financed out of 'Hip National Bank,' 'hip,' meaning, 'your back pocket.'
He said he and Wertman complement each other's skill set, and they both know each other so well that the bond of trust goes without saying.
"You surround yourself with good people, and I don't just mean in 'moralities,'" McKinnis said. "Wes can do some things I cannot."
"A lot of shops, we believe, pencil whip extended warranty tickets, they pencil whip insurance repairs, insurance estimates," he said. "In other words, 'Go heavy on the lead. Write it heavy; make it fat.' It don't have to be like that. You don't have to be like that."
At times, life at Caprock can feel like the local coffee shop, he said: old-timers who've been coming to him forever sitting around and telling stories, "where the coffee's hot and the jokes are free game."
Will Caprock ever grow past being a two-man operation? He'll never say never, McKinnis said. However, it will have to be someone honest and someone, like him and Wertman, with a broad skill set when it comes to knowing their way around an RV or a trailer.
"It will take someone extremely special to come in here," he said. "They'll have to be able to do anything from clerical work to paint and body. And I'd like to say this also: We've never worked on a unit and a customer calls back to say that they flushed their toilet and their oven door blew off. We've never had that happen and we want to keep it that way."