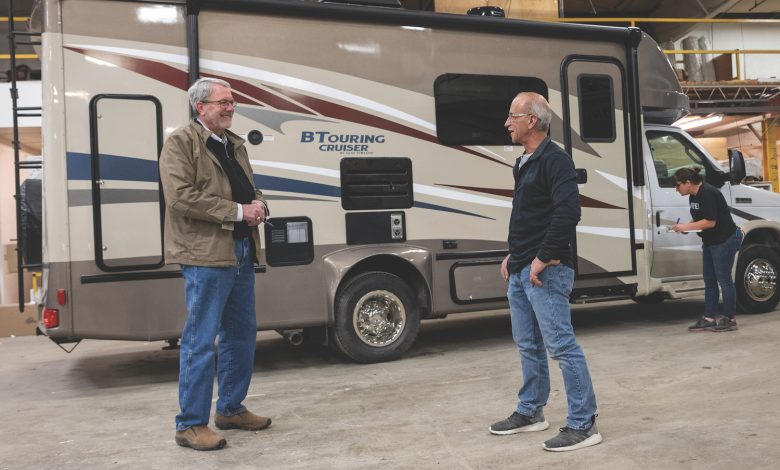 Over its 38-year history, Gulf Stream Coach has built and sold more than 350,000 RVs – everything from travel trailers and toy haulers to Class C and Class A motorhomes, as well as destination trailers.
As the largest family-owned RV manufacturer in North America, the company prides itself on its independence, freedom to follow its own course and differentiating itself from the competition.
That "course" seems to be on track, based upon the company's seven RVDA Quality Circle Awards over the past three years and its growing popularity in the retail market.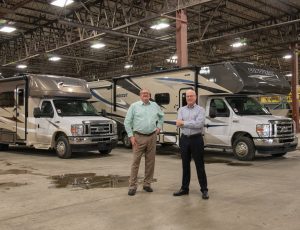 Gulf Stream saw double-digit percentage retail market share gains for its current lineup of travel trailers and Class C motorhomes in 2020, according to market data firm Statistical Surveys. Meanwhile, Gulf Stream's wholesale RV shipments were up 42 percent in 2020, despite the eight-week spring shutdown due to the COVID-19 pandemic.
As the company entered the 2021 model year, enthusiasm for its products is high, according to Dan Shea, chairman of the board, and Phil Sarvari, president/CEO.
In a mid-winter interview with RV PRO, Shea and Sarvari reported strong interest from dealers across the country, as evidenced in part by the hearty dealer response to the RV manufacturer's new offerings that debuted at its "Open House" event last September on the Gulf Stream campus in Nappanee, Ind.
This mood was further heightened by retail enthusiasm at the Florida RV SuperShow in Tampa in mid-January and subsequent dealer shows across the U.S., some of which were impromptu in nature after sponsors canceled more formal events. Robust dealer ordering translated into a problematic eight-month backlog by February, according to Sarvari.
In their interview, Shea and Sarvari talk about some of the key factors behind Gulf Stream's recent surge.
Building the Gulf Stream Way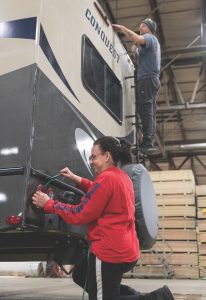 In an industry where copying the competition is common, Gulf Stream is focused on doing things its own way, according to Sarvari and Shea. They cite as an example how it builds its two Class C brands: the BT Cruiser and Conquest, which Gulfstream has built on either the Ford E 350 or E 450 chassis since the brands' inceptions.
Gulf Stream Coach builds its Class C's on an industry-exclusive "Cradle of Strength" system of reinforcements, braces, galvanized steel parts and other enhancements that give these brands great e structural integrity, strength and durability, the company contends.
Additionally, Gulf Stream manufactures its own laminated walls, using heat-resistant adhesives and vacuum-bonding processes that it perfected in-house. It also includes certified safety belts for all seating positions in its motorhomes, which means there are seatbelts for the sofa, dinette (forward and rearward-facing), and recliners.
"We've been building motorhomes for over 38 years. We listen to our customers and we try to respond to both our dealers and end-users," Sarvari says. "People like quality. That's our main focus – quality – and when it comes to motorhomes, we want to make sure everybody is safe. We do our own testing and we do it with outside engineering firms. We test the pull strengths of all of our safety belts and make sure they pass the highest rigidity and the toughest test out there before we implement them. We have a lot of trade secrets; we do things special. We try to build the best RV possible."
Gulf Stream uses Azdel composite materials in all its C's (as well as in most of its laminated travel trailers), which adds tangible benefits for the consumer, including lighter weight, superior durability, better sound and temperature insulation and superior moisture resistance, Shea says.
Combined, these processes and materials reduce warranty expenses and extend the life of an RV, he says.
Today, Gulf Stream's BT Cruiser, a popular couple's coach, and Conquest, more of a family unit, compete well in the marketplace in value and price, according to Sarvari. In fact, according to Stat Surveys, they were two of the fastest-growing Class C brands in 2020.
"The demographic is across the board, from 35-year-olds to 75-year-olds," Sarvari says. "We have several rental dealers who take on the Conquest, but more recently, in the last year, there has been tremendous growth in the BT Cruiser. During this pandemic, a lot of people are buying the BT Cruiser's 5210 (floorplan) which is a 22-foot, non-slide nicknamed the 'The sports car of the industry.'"
Dealers are reporting quick turn rates for the BT Cruiser, with many units sold even before they arrive at their dealerships, according to Sarvari.
"We see a lot of buyers (who were) looking at (models built on) Sprinter chassis and Ford Transit chassis and they're saying, 'They're a bit too small.' The BT Cruiser allows them a little more living space and more comfort while keeping the overall size still manageable," he says. "We're also seeing people coming into the BT Cruiser that are either downsizing from bigger motorhomes and diesel pushers to first-time buyers."
"People just love it," he adds. "It's lightweight (12,500 GVWR on the E 350 chassis). You can maneuver in and out of shopping malls and grocery stores. The BT Cruiser is very high quality, luxury-defined with designer décor. It's a tremendous value – three years in a row it's won the DSI Awards."
Among BT's eight floorplans, other leaders are the 5240, featuring a Murphy bed, and the 5245, featuring a full-wall slide.
Prices for the BT Cruiser range between $72,000 and $115,000, based on options.
Meanwhile, Gulf Stream offers 14 floorplans for the Conquest, three of which are in the lower-priced LE series and are built predominately on a Chevy chassis. Introduced at the 2020 Open House, the 63111-bunkhouse floorplan is quickly gaining traction in the marketplace, according to Sarvari.
"It's great for rentals and families," he says. Another bunkhouse floorplan, the 25-foot 6256, is a non-slide version and retails for less than the 63111 model.
As for the LE models, Gulf Stream doesn't allow dealers to add amenities such as jacks or full-body paint that would drive up the price point, so it remains "a great value," especially for first-time buyers, Sarvari stresses. Many dealers buy the LE series for their rental fleets, he adds.
Retail prices for the Conquest brand range from $65,000 to $90,000 for the LE series and $78,000 to $118,000 for the regular Conquest.
He says Gulf Stream got "tremendous feedback" at the Tampa Show. Consumers like the new blue and silver exterior paint scheme and new interior decors, he adds. As for post-show tweaks, some consumers were asking for an additional LP gas line to be run to the back of the unit as well as upgraded water filtration systems.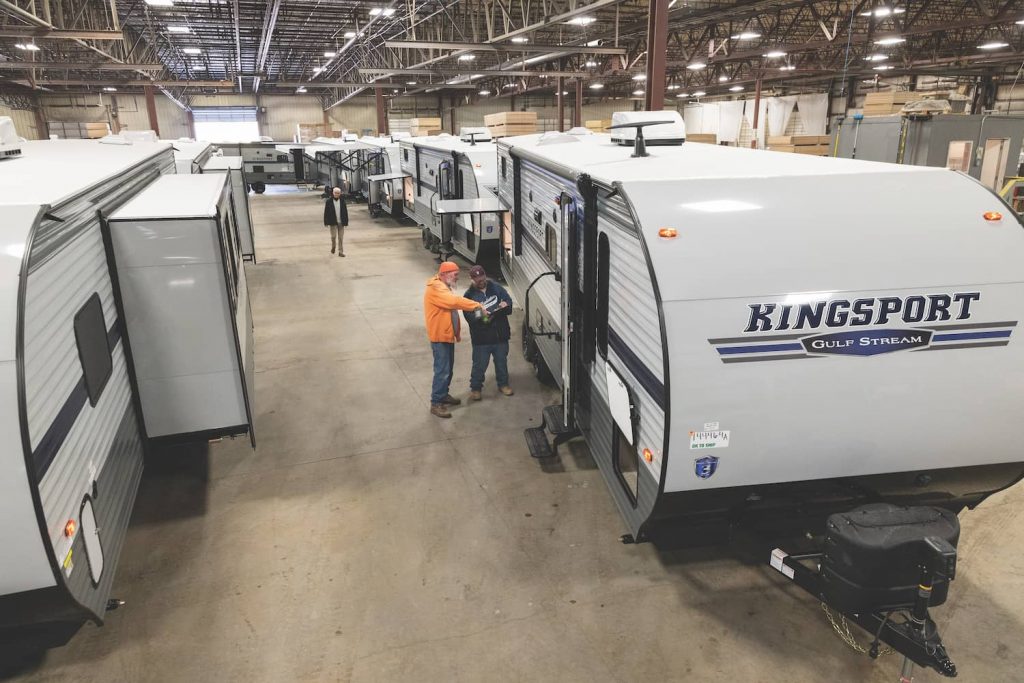 Offering a Broad Lineup of Travel Trailers
Today's Gulf Stream towable lineup features 19 brands spread between conventionally built and laminated models. This tally includes 14 brands it labels lightweight, of which five are stick-and-tin construction. It also builds three destination trailer brands, two toy hauler brands and a fifth wheel.
The two-month shutdown associated with the pandemic last spring interrupted Gulf Stream's momentum, but the restart in May set the tone for the company for the rest of the year. Some 94 percent of its workforce returned on opening day, non-verbally conveying the message that, '"Hey, we're building something that Americans want and they need to get out of the house and get out away from everything going on in the country,'" Shea says. "I think it was rewarding for our employees to participate and make it better for other peoples' lives."
Despite losing eight weeks from its production schedule, Gulf Stream's number of travel trailers shipped to RV retailers surged by more than 45 percent in 2020, compared to a 16 percent increase for the entire industry.
Keeping up with that increased demand for trailers required the RV maker to get creative with its available space, according to Sarvari.
"In the past year, we've added two new production lines occupying a total of 120,000 square feet of space to help us keep up with the growing demand for our travel trailers," he says, adding that the company was able to accomplish that by converting an area that was formerly warehouse and maintenance space.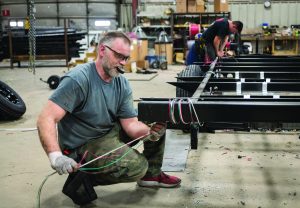 Gulf Stream has concentrated on the stick-and-tin trailer market for years.
"I think we're in a perfect position right now where we build the perfect conventional trailer with the right content and upgraded value for today's buyer," Sarvari says. "We see a lot of our competitors adding a lot of content to their conventional trailers, such as power jacks and bike racks. I just think that drives up the cost and at the end of the day, I don't believe the consumer wants to pay for that, so we kind of go a little bit against the trend of some of our competitors, only because we want to offer the best value at the best price."
In addition to new floorplans, the company updated both interior and exterior looks across all its brand lines for 2021, building upon a revamping of its interior decors in its 2019 trailer models. The new look features lighter colors, silvers and warm grays, with less emphasis on decoration and more on decor. The color palette emphasizes the Gulf Stream blue, black and white.
Retail prices for the stick-and-tin lineup range from $14,000 to $35,000 and from $17,000 to $45,000 for laminated models.
"We've always believed the conventional trailer has to look good, have the right features, and has to be at an affordable price," Sarvari says. "It goes back to 'over-contenting' as opposed to saying 'de-contenting.' I don't believe any other manufacturer does the steel slide-room headers that we put in and the steel hurricane straps that tie the walls to the floor and the walls to the roof."
Shea also touts Gulf Stream's use of a one-piece floor, which flexes rather than squeaks as the unit goes down the road.
"Our focus a lot of times is having the best equipped unit – not necessarily the most equipment," he says. "A lot of times, we think other builders maybe add too much equipment that the customer really doesn't want, and it drives up the weight of the unit, and also the cost. It's working to define what that consumer really wants, really needs, at an overall price point that makes sense to that consumer."
Meanwhile, with wholesale commodity prices increasing since the pandemic began, Gulf Stream – like all other OEMs – is mindful of how passing along price hikes may impact dealers and their customers. With that in mind, Gulf Stream has battled to hold wholesale price increases to its dealers to between 6.5 and 7 percent on its 2021 models, according to Sarvari.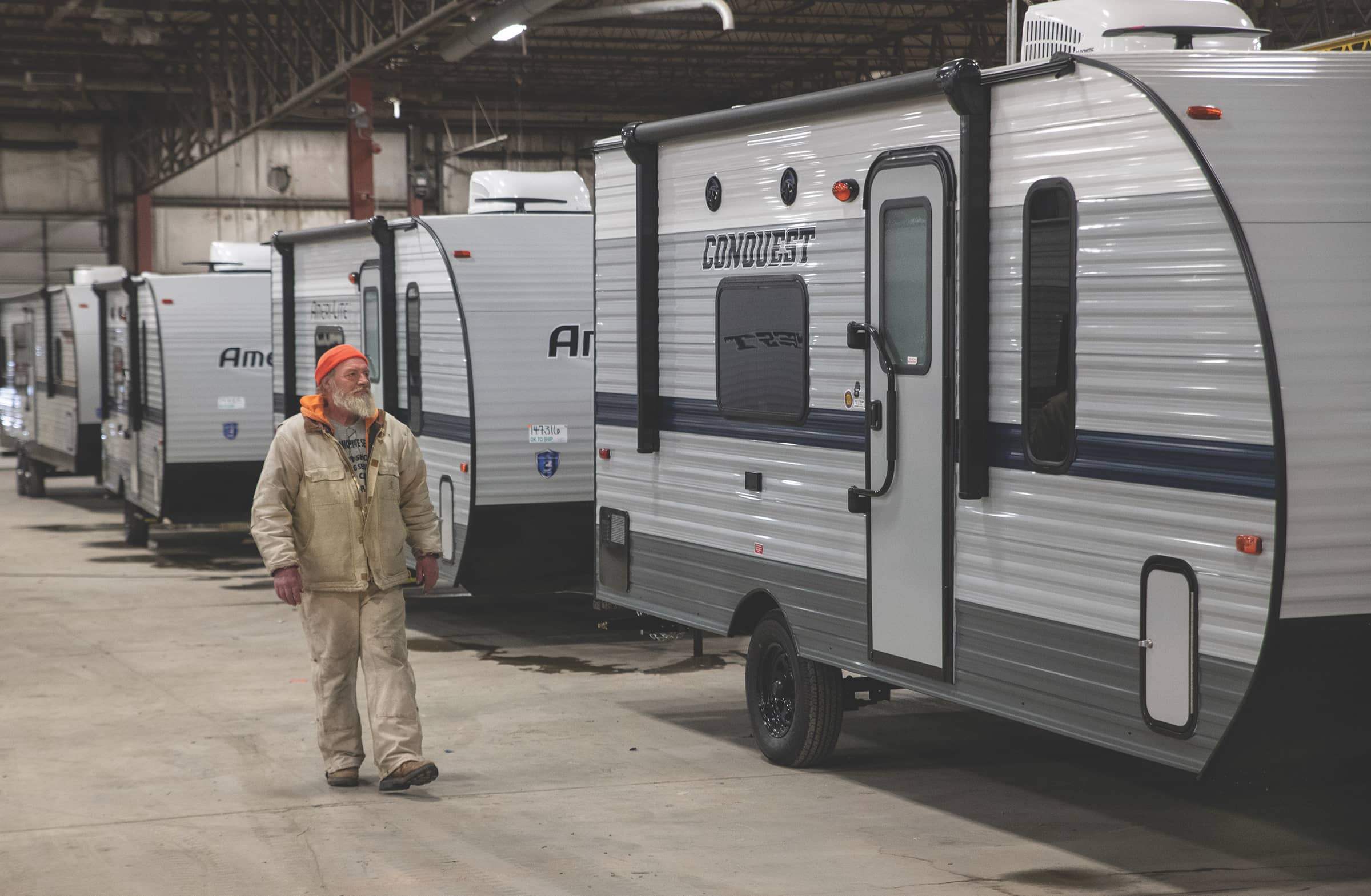 PDI Facility Yields Great ROI
About five years ago, Gulf Stream management created its own, independent PDI department by converting a 40,000-square-foot production facility into a PDI facility. The new department was designed to be independent of the manufacturing department, making it one of the first in the industry to be structured around those lines, according to Shea and Savari.
"We conduct extensive quality inspections of the product prior to shipment, which has greatly reduced the time and expense incurred by dealers and the adjustments they have to make before the unit is retail sold," Savari says. "It's been a tremendous return on investment for both us and our dealer partners. It's helped us reduce warranty costs and improve the dealer satisfaction and retail consumers' satisfaction. When we set this up, we said the most important thing for this PDI department is – because they have the say whether a unit can ship or not – that they would not have any management ties to our production facilities. So, they are truly independent of manufacturing."
Dealers are taking notice.
"I have sold Gulf Stream products consistently since 1992 and I would say over the past five years the product has greatly improved and comes in with few things we have to do to it," says Brett Parris, owner of Parris RV in Utah.
Shea notes that the PDI department also creates "a large amount of data for us to feed back to the plants that mon- itor and help to resolve issues quickly. That's something we really honed in on over the years – focusing on collecting data and making decisions based on the data and improving our products, whether it's data from our warranty department, from dealer deliveries or manufacturing service."
Gulf Stream Optimistic on Year Ahead
What's in store for Gulf Stream in 2021?
"For 2021, we're going to see dealers wanting more choices," Sarvari predicts. "We know the situation of our backlog. In our crystal ball, it's going to be a great 2021.
"We will see a substantial increase in business. We've been strategizing ways to maximize our production facilities while maintaining high quality levels and we plan on doing that through the rest of 2021," he adds. "We've been meeting and discussing strategically with our suppliers their ability to deliver the components and materials. Just the way retail has been going, I think it will continue. (Given) the velocity of these retail sales that the dealers have seen, they will continue to see a shortage of product and this will relay to tight demand and motivated buyers, so it will be a very good year for dealers and manufacturers."