Features
LOOK Trailers is Looking Good in its Second Decade
LOOK Trailers' winning ways – including offering a wide product selection that's available across the U.S. – have catapulted it to the top of the cargo trailer market.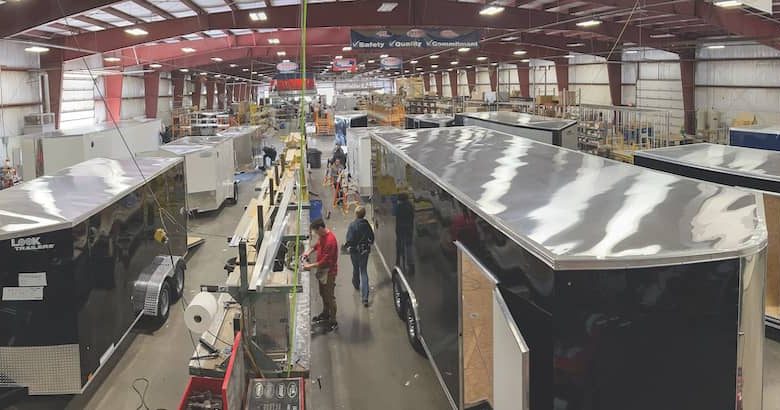 Demand for cargo trailers, like RVs, has been insatiable as of late, and an Indiana company meeting that need has become the country's largest manufacturer in the market after being established just 11 years ago.
"We've been on a pretty strong growth path since Day One," says Matt Arnold, CEO and founder of Middlebury-based LOOK Trailers. "In the last year, we've made some major changes that have been really great for our company."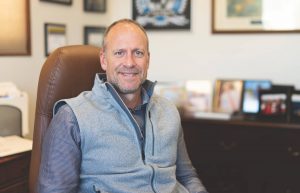 With six plants scattered among five states making seven brands of trailers, the company recently divided operational management into two divisions, each led by seasoned vice presidents. Two facilities in Indiana and one in Pennsylvania comprise the eastern division and are handled by Jeff Troyer, while Ray Salley supervises the Texas, Arizona and Utah plants of the western division.
"It really allows us as an organization to have continuity of leadership, and continuity of how we manage our values and our vision, to be not just a cargo trailer company, but to be a great company," says Arnold. "This also has allowed us to focus on our operational strengths and look at the strengths of the managers and let them really take this vision and do something with it."
The company – makers of LOOK, Cargo Express, Pace American, Compass, Everlite, Formula and Impact trailers – already has accomplished quite a lot. Within its first year of existence, it created three plants and formed a dealer network of 300. Today, LOOK employs 560 people, serves 500-plus dealers and has made more cargo trailers than any other manufacturer annually since t 2019, according to Statistical Surveys, the market data firm that also monitors the RV industry. Statistical Surveys also recognized LOOK in 2012 for the largest market share gain – just two years after the company's creation.
Offering a Variety of Cargo Trailers
LOOK's offerings consist of a wide variety of mostly enclosed aluminum trailers in numerous widths and lengths with up to three axles. They are designed to haul everything from general cargo and powersports equipment to race cars and mobile offices.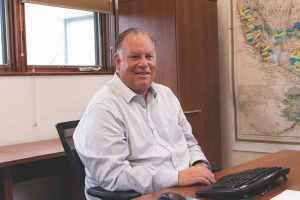 "One of our hottest ones right now is a UTV trailer with a UTV-specific door. That's been a good seller for us," Steve Hartman, Middlebury, Ind.-based vice president of sales and LOOK's first employee, says of the LOOK MOAB. "UTVs are extremely popular out west, and our Utah and Arizona plants saw the UTV market expanding before we did. Now, out here, it's gotten more popular, so we've been able to use what Ray's facilities came up with as far as UTV doors and putting a door where a door should be for a UTV instead of just guessing at it."
The MOAB is a rugged, off-road-capable trailer that, when upgraded to the Slickrock Edition, isn't too far removed from a toy hauler. Among its features: a Porta-Potti cassette toilet with sink and vanity, a HappiJac Power Bed Lift, an insulated ceiling, plus a solar panel and controller. Available in six standard colors, two widths and four lengths up to 20 feet, the MOAB is just one of many models the manufacturer has created based on customer demand.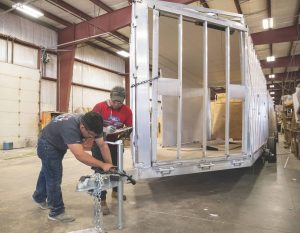 Another example is the LXT Contractor, a tandem-axle trailer designed to be both workshop and tool barn for those whose projects take them on the road. A tongue-mounted stepladder allows easy access to the ladder rack atop the reinforced flat roof, while external doors reveal tool compartments that also can be reached from inside; one door even opens downward to serve as a workbench.
Mostly, LOOK's best-selling units are general cargo trailers, such as the Element. Available in four different widths and lengths from 6 to 24 feet, it's a customizable trailer that can fit the needs of lots of users, whether for professional or personal use.
Serving Markets Across the U.S.
With plants spread throughout the U.S., LOOK is able to get trailers like the MOAB, the LXT Contractor and the Element to its retailers much more quickly than if production was limited to a single facility. That's important to the mom-and-pop dealers that make up most of LOOK's network – especially given that demand is so high, according to Hartman.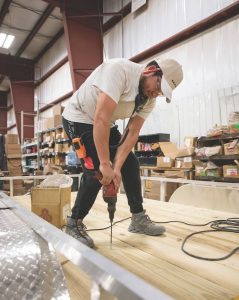 "The inventory is moving quick. We had dealers that normally have 100 units on their lot and they're down to 15 units," he says. "We want to take care of those who've taken care of us. We have lots of dealers that started with us on Day One and we still have them."
Part of that reason: LOOK has been able to weather the pandemic fairly well. Protocols were put into place to keep the workforce healthy, according to Troyer. Production stopped at only three of its factories, and even then, shipping continued to take place. No one was laid off, although some temporary furloughs were required while the assembly lines were quiet. Things didn't stay that way for long, however.
"So, now all of a sudden with COVID, the demand is at record highs. At the same time, unemployment is at record lows. At the same time, parts shortages – because we do deal with them, even though we do make our own subassemblies, have been a challenge," Troyer says. "But I'll tell, you we have such an experienced group of individuals, that for the most part, we've been able to navigate our way through these unprecedented times."
As cargo trailers require far fewer parts than almost any RV, and most assembly is done stateside from raw materials, overseas supply chain issues haven't been as critical for LOOK as they have been for other industries. Usually, the company imports tires, axles, and chassis parts.
"We've worked really hard to establish relationships with multiple vendors and we have gotten really great at crisis management and jumping through hoops to make things work," Salley says.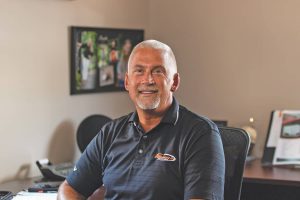 Great employees are at the heart of that effort, according to Troyer, who says LOOK's people aren't simply there to fill a position. "When we hire somebody, we go through a really good onboarding process. We do intense training to make sure the employee understands our expectations. Part of the retention is just making sure we've got a mentor program," he says, "ensuring that they're happy, that they understand their job, and that they're confident in what they're doing."
Pay, he says, naturally plays a part of keeping turnover low.
Workers in LOOK's Middlebury and Bristol, Ind., plants, for example, are surrounded by RV and marine plants that offer more compensation. To that end, Arnold and his executive team take care of their employees in other ways.
For example, all plants run a single Monday-Friday shift that starts at 5 a.m. local, ending at 1:30 p.m. There's occasional overtime, but only rarely does the workweek spill into Saturday. When it does, it's a strictly voluntary shift. For Arnold, 40 hours means everybody wins.
"If they have family time and they're happy and they're doing things outside of work, that's the work-life balance that we want for our employees. When we have that, our quality's up, our customer satisfaction's up, our employee satisfaction's up and our turnover's down," he says.
Emphasizing Safety a Top Priority
Like most manufacturers, safety ranks high on the list of non-negotiables, and Salley says it requires daily emphasis. Near-miss incidents, for example, are followed by on-the-spot retraining and videos on the subject are shown regularly on each plant's CCTV system.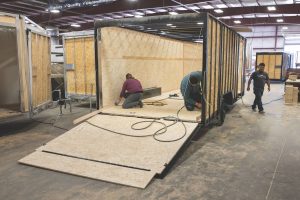 "Safety is always a challenge. The biggest thing we work on is we know that 99.9 percent of the time, we're going to provide a safe working environment," he says. "We continually have to work toward making sure our people work in a safe manner."
"We do talk safety every day, every week, all the time," Troyer says. "The one thing every employee will know when they go home is we care about them and we care about their safety, period."
LOOK's executive team has placed a particular emphasis on helping its people develop their careers – not just by promoting from within but also putting them through management programs or funding their MBAs.
"When you can take somebody with desire, with drive, with great ability to communicate vision and a great person with good values, you can give them an opportunity. And when you do, they pick it up and they run tremendously well and it's for them and their families," Arnold says. "Not everybody will stay with us. But someone like that, you're going to make them better. And they may be at another company but, hey, you know what? You took them from a role where you saw the value and the stability and you give them this opportunity and you get to watch them further their career and enjoy what they're doing."
In contrast to the RV market, LOOK's growth has been organic, according to Arnold, not via mergers and acquisitions. He doesn't see that changing anytime soon, either, but he is open-minded.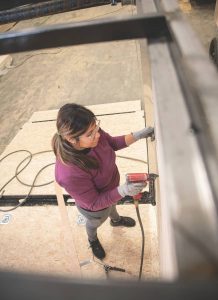 "We've worked on quality initiatives, Lean objectives, and we've focused on making the operations better. If an opportunity comes along where we could do another operation, we will do it and we will have people here that will get an opportunity to be a part of that," he says. "The goal is not focused on a dollar amount or a company size. The goal is to focus on how to do continuous improvement and how to improve quality.
"It's not an easy task, but we continue to improve and we continue to look at how we run our operations and we're getting more efficient, so we're putting more product out there, but I also think we're putting more quality product out there," he adds.
As efficiencies have gone up, Arnold says the result is higher wages for his employees.
"We're winning together and continuing to bolster the culture because, at the end of the day, it's about every employee and what they get out of it," he says. "That goes back to our real focus on making sure the plants are safe and people go home without injury. That's what I think about every day."