Features
Made-in-the-USA PullRite Powers On
Despite challenges arising from the COVID-19 pandemic, PullRite is unwavering in its commitment to building its hitches in the U.S.A. with American workers and American steel.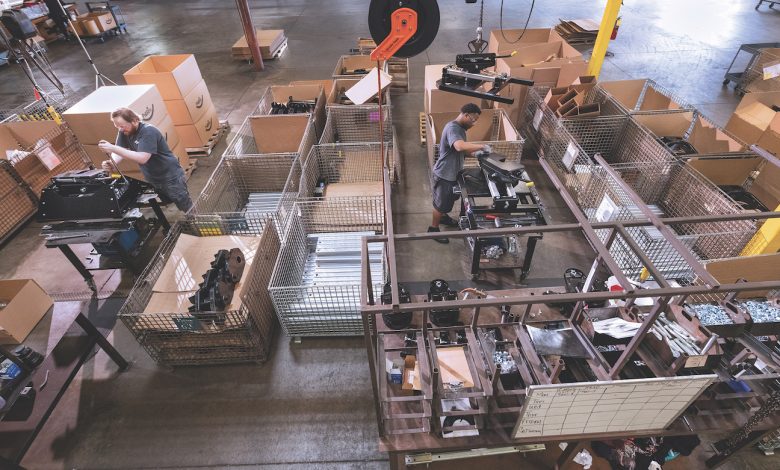 Since COVID-19 gripped the U.S. last year, suppliers throughout the industry have been forced to make some difficult choices. Yet, for PullRite, a longtime manufacturer of premium fifth wheel hitches, there's one thing even a pandemic can't touch: A commitment to 100 percent American-made products.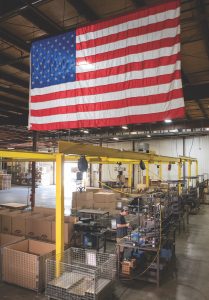 Even in the face of marked price increases for domestic raw steel, the company's resolve remains firm, says Scott Later, national sales manager for Mishawaka, Ind.-based PullRite.
And, that commitment to American-made products doesn't just include its towing components, but also the T-shirts, baseball caps and other supporting marketing materials the company buys to help promote its products, Later says. He notes that the company does that even though there are often less-expensive imported versions of those same products because of its commitment to American-made products in all facets of its business.
"Finding 100 percent U.S.-made hats and T-shirts is a challenge all in itself," he says.
As for PullRite's hitches, after an admittedly tough first half of 2020, the supplier has seen a strong rebound in demand for its American-made products, according to Later.
"We've set records for out-the-door shipments every month since August," he says. "Every month is a bigger month. We had one month that didn't set a record, and that was December, but it was … (just short) of a record. We've got record amounts of product going out our doors."
As demand for its U.S.A.-made hitches has rebounded, PullRite has found itself with another challenge – one confronting every manufacturing operation in the Michiana area – a shortage of workers.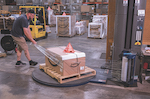 "Our biggest challenge right now is getting skilled labor, such as welders and machinists," Later acknowledges. "It's tough. It's really, really tough."
Even PullRite's army of robotic welders require constant human monitoring to ensure quality work, plus hand welding is still needed in most areas of production. Without more workers for the company's welding bays, output is challenged to keep up with brisk demand.
Despite those challenges, Later says PullRite's leadership never wavered in its commitment to continue using American steel for its hitches and American workers to make its products.
To support its retail partners in a challenging environment, PullRite in December offered to drop ship its hitches to dealers. Later says the bill-to-ship program is designed to help ensure a dealership won't lose a fifth wheel sale because a hitch can't be sourced in time.
"That's why we're committed to getting this product to the dealer – billed through their distributor – as quickly as we can," he says. "Obviously, we want to get to the point where we're not taking part of our monthly inventory out of the hands of the (distribution) warehouses. We are committed to two-step distribution."
The company intends to resume sending its output of hitches to distribution warehouses when market and labor conditions equalize, according to Later, as the model benefits both suppliers and dealers.
Proudly Made in Michiana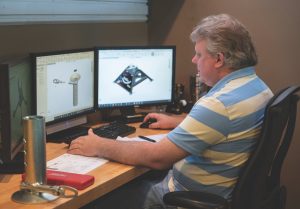 In the meantime, the 40-plus-year-old company continues to make a comprehensive line of three brands of hitches between two facilities in Mishawaka and South Bend, Ind. The latter site consists of three buildings that were purchased in 2015 to replace a building in Elkhart, Ind., that was being leased.
"The raw material – the sheet steel and the tube steel – is delivered to our fab building in South Bend because that's where our lasers and our brake presses are located," Later says. "We cut and form those parts and then take them across the parking lot to the welding building where they are welded, and those welded parts are taken to one of our finishers."
Once the parts receive their weatherproof coatings, they are delivered to Mishawaka, where assembly, packaging and shipping occurs, according to Later. Unlike an assembly line, each PullRite hitch is completely built – and even packaged for shipping – by a single employee.
One assembler may be working on SuperGlides while another is making SuperLites and a third creates Super 5ths. Each box is labeled with a code that reveals who built the hitch inside.
Of the three, PullRite's most popular product is the SuperGlide – which Later touts as the industry's original adjusting fifth wheel hitch for short-bed trucks, which moves the trailer away from the cab during turns.
"However, the fastest-growing hitch and now the second most popular hitch in our full lineup is our 2600 SuperLite single point. That hitch is on fire," he says. "We're finally getting people to note that there is a single-point lightweight option out there that is fully tested. Not only is it tested to handle the weight, but it's also tested to minimize truck bed damage.
"Anytime you strap anything to the frame of a truck through the bed, which is the weakest steel on the entire truck, you're going to cause damage to the bed," he adds. "We've come up with a system that mitigates that and almost eliminates any possibility of bed damage. It's lightweight and it's rated at 20,000 pounds."
Later adds that the rising popularity of the 2600 also is due to the ease of use for the RV owner.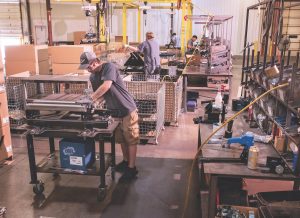 "The 2600 is the perfect hitch for first-time fifth wheel owners, with the industry's easiest coupling and de-coupling process," he says.
There's a new version of it, known as the 3900. It's almost the same hitch as the 2600, according to Later. However, instead of using an inverted ball and funnel to couple the coach, the 3900 has a conventional fifth wheel head with PullRite's automatic locking and latching features. Compared to its closest competitor, the 3900 SuperLite weighs 75 pounds less and has a 24,000-pound GVWR for 4,000 more pounds of capacity, according to Later.
So, how did PullRite's engineering staff managing to pack higher capability into a lighter package?
"In all our SuperLites, the main component – instead of being half-inch or 5/8-inch sheet steel, which is what all the other hitches are made from – is tube steel, and it's not just the tube, but the way we bend it. If you ever look at a modern bridge, they're designed with arches that go from bank to bank. If you look at the design on a SuperLite, you'll notice something very similar: It's built on an arch. That arch supports all those forces," Later says.
Testing, Testing, Testing
Unlike some of its competition, PullRite is keen on SAE J2638, a standard from the Society of Automotive Engineers, which tests dynamic and static loads placed on the hitch in tension and compression vertically, horizontally and longitudinally. The company's test rig can conduct the required 300,000 cycles in three different directions – for 900,000 total cycles – on all mounting kits and base rails, as well as hitches. PullRite doesn't stop there.
"We test not only our products, but our competitor's products," Later says. "There are a couple out there that do hold up. The companies that do not put SAE J2638 on their product are probably not testing to the same standards."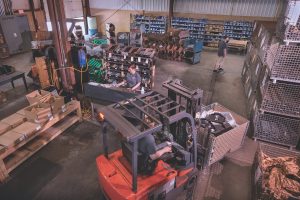 Although fifth wheel products are the company's main market, it also serves the gooseneck segment, too, with various adapters that allow those with both RV and horse trailers to use a single hitch system. Since 2016, PullRite has offered an innovative gooseneck ball that fits the OE puck system found in Ford, GM and Ram trucks.
"It's the only one that's lockable, because it uses a hitch pin to close. All you have to do is get a locking hitch pin," Later says, noting the competition has easy-to-foul openings at the top of the ball that can attract debris. "It's a neat product; it really is."
The ball is available with a chain plate that nestles near the ball, so a trailer's safety chains won't need to be extended to reach OE puck mounting points that are located away from the bed's center, according to Later.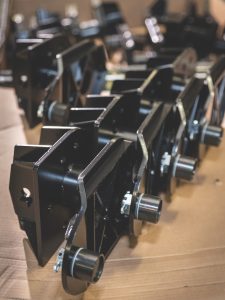 Of course, as automakers continue to update their trucks, PullRite does the same with its hitches.
"We've got a slider hitch for the new 2021 Chevy three- quarter and one-ton trucks, which has a specific footprint for a fifth wheel," Later says. "We have several new hitches that have been through testing, but we have not been able to move them into production simply because we're dedicating all our current production to the existing lineup."
He adds, "Our hope is to get these new products into full distribution by the end of 2021."