"Location, location, location," at least among dealers in the RV industry, often translates to "freeway, freeway, freeway."
Yet one Colorado dealership is thriving in a small town far from the nearest interstate. Conventional wisdom is not a phrase in owner Mike Mericle's vocabulary.
Consider Mericle RV's 3-acre site in Fort Lupton, a former trading post founded in the 1800s and located about 30 miles north of Denver. Customers on U.S. Highway 85, the main north-south artery through town, will need to go west another block to get to the store. Those who choose either Interstate 25 or Interstate 76 to get there must spend the final 10 miles or so on Colorado Highway 52, just two lanes of asphalt that run east and west.
"A lot of people don't drive by us and say, 'Oh, there's Mericle RV, let's go and check it out.' You can't even see our sign from the highway," says Mericle, an RV finance and bank veteran.
So, he did what any savvy dealer would do these days: The Colorado native purchased space on two billboards telling passersby how to find him. The signage has undoubtedly helped, as the dealership chalked up $2.1 million in sales in 2018, its first full year in business.
Expansion Mode 
Indeed, things are going so well Mericle is expanding the dealership he owns with his wife once more.
"I'm in the middle of negotiating about 3 more acres just across 14th Street from us to put all of our sales over there because we're bursting at the seams right now. We can hold 97 units in our lot for sale and still function on the service side, but right now we're getting overwhelmed with service," he says. "Some of our inventory is not even on our website yet because within the past three weeks we've been so busy with doing stuff we're trying to actively get units on there. We need more space."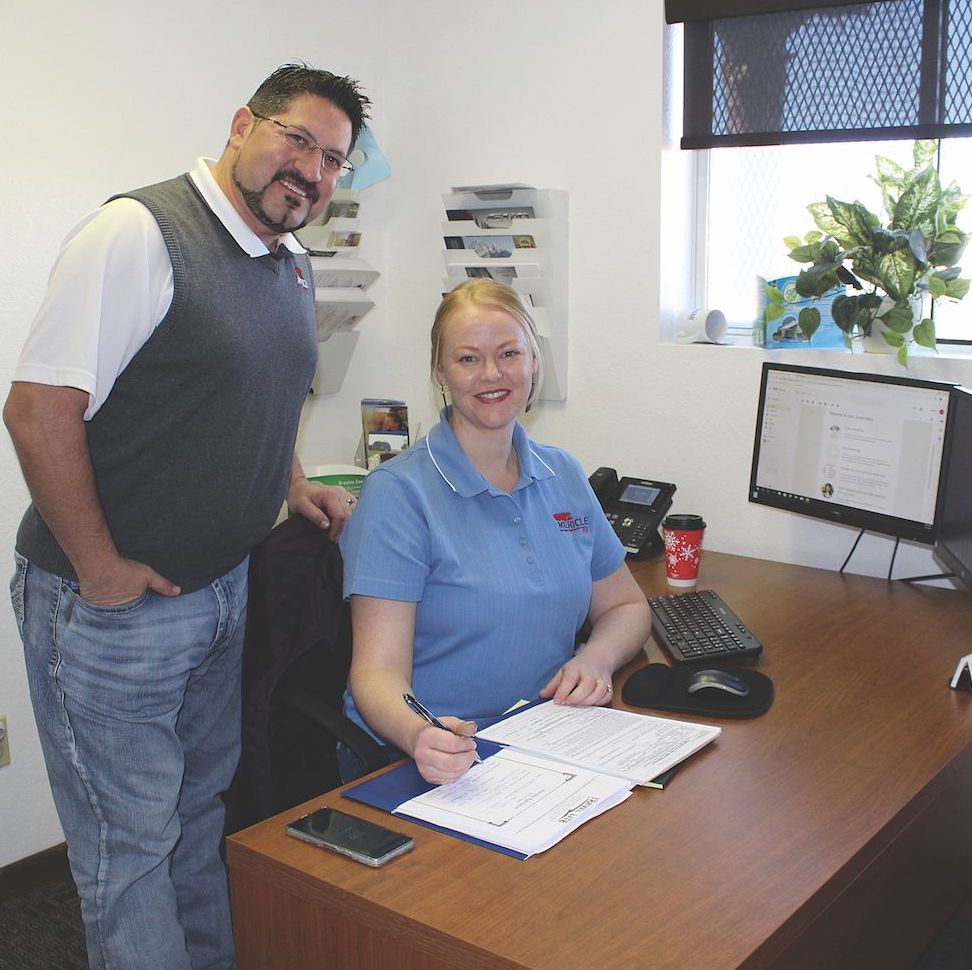 Mericle is pictured with his wife, Amy, who's the dealership's finance manager and co-owner.
Mericle, who employs 17 with another four set to come aboard by March, admits the toughest part about opening Mericle RV was where to put it. Even though he lives less than a half-hour away in booming Brighton, he never imagined a town of 8,000 would become his address. He attributes his find to a strong faith in God.
"I found the location for the dealership in one day," he says. "I prayed and I started driving toward Fort Lupton. The next thing you know, I'm like, 'It's for lease.' I pulled over, got out, I looked at it, and I said, 'This will do.'"
Indeed, Mericle believes he found a void in the Front Range RV market: Camping World, Century RV, Lazydays and Windish RV Center are west of him along Interstate 25 – a busy corridor that's traveled by commuters and vacationers alike year-round. Still, he began his planning by talking to some Colorado state employees he befriended from his days as a commercial banker with JPMorgan-Chase.
When he heard about the growth potential north of Colorado's capital, his mind was made up. Still, that initial site, a single acre east of the present site, wasn't big enough. Mericle outgrew four months after opening in June 2017, even after renting an additional acre nearby to store his service units.
"My wife and I are self-funded. We don't have any loans for the dealership," he says. "All of a sudden, one of my customers said, 'Hey, Mike, I've noticed you're bursting at the seams. I've got property just west of you on the other side of the highway and I think it would be perfect for you. Why don't you come look at it?'"
The site, he recalls thinking at the time, was perfect; the former location of an oilfield services company, the land was open save for a single, large building. In it, Mericle has placed both offices, storage and six service bays. He built a second shop at the back of the property that is home to a new two-bay collision center, complete with a $250,000 paint booth that should be ready this spring.
Service Drives Business 
While conventional wisdom would scoff at the idea of a dealership so young building a paint booth, Mericle is certain the effort makes perfect financial sense.
"I've done a lot of research. There are about five locations in Colorado, as far as RV dealers, that have paint booths," he says. "If I was a car dealership, there's no way I would look into a paint booth because it's too regulated. The insurance companies sit there and say, 'OK, we're going to say it's a half-hour job,' but in reality, it takes an hour. With RVs, they don't know what to do and what's nice is that I'm very upfront and honest … if it's going to take us two hours to do it, that's what we'll charge."
Mericle partnered with FinishMaster, a national automotive paint distributor, to provide the booth's funding. Given that his research showed Camping World and Lazydays paint booths are booked seven months out, Mericle is confident his facility will begin earning revenue quickly. His service manager, whom he hired in late January and oversees a shop foreman, five technicians and a service writer, previously ran a paint shop for more than a decade.
Very rarely do the parts and service departments contribute more than 10 percent of a dealership's revenue, but again, Mericle stands that idea on its head, especially given that his parts store hasn't really taken off yet.
"Our service is about 30 percent of our revenue right now just because there's such a huge need for it now," he says, noting his service customers have become tired of waiting for appointments at other dealerships. "We're two-and-a-half months out."
The reason for that is two-fold, he says. First, his store is a preferred service center for Jayco and Thor, so his service staff accepts owners of those products as well as Mericle's own customers. Second, he simply doesn't have enough technicians.
"I have a really backward thinking when it comes to hiring people. I don't like to hire them from the industry because there are so many that jump dealerships constantly. It's hard to find really good help," he says.
Instead, he looks for candidates with backgrounds in plumbing, electrical, carpentry, as well as bodywork and paint, developed outside an RV shop. One of his recent hires, who has experience restoring muscle cars, is doing PDIs, deliveries, roof replacements and electrical work.
Of course, he worked under the guidance of a 28-year RV technician, Mericle says, and someone with that amount of experience is invaluable.
Success Selling Truck Campers 
Another example of swimming against the current: Mericle RV's success retailing truck campers. It's a polarizing category for dealers across the country. Many simply won't touch them when sure-fire sellers such as travel trailers that appeal to more customers can occupy practically the same space.
Yet Mericle averages almost six truck camper sales a month. So how did he make that happen?
"It was completely by mistake," Mericle says. "So, we had a customer in January of last year who called us saying, 'Hey, I was on Travel Lite RV's website. Do you guys carry the truck campers?' My sales manager said, 'We can get them for you, which one are you looking at?' She told us what she wanted and said, 'You know what? I don't want to pay over this much.'"
When he figured they'd only make $900 on the deal, he called Travel Lite.
"I did more research on Travel Lite and I found out they're the half-ton king," says Mericle, who opened the dealership selling Forest River towables. "My wife and I prayed about it and I said, 'Let's try it.'"
He soon ordered five with one pre-sold and then waited to see what would happen; within two-and-half months, they sold them all. "We went ahead and bought five more, and then after that I bought 15 and then I did an order of 10 after that and we haven't looked back since. It's been awesome."
Mericle RV has since become Travel Lite's biggest Colorado dealer, selling both the manufacturer's stylish truck campers and its sleek travel trailers. At the Colorado RV Adventure Show in January, Mericle showed a pair of new Evokes, the manufacturer's stunning top towable. One was sold at the show and Mericle took orders for eight more.
Of the 147 units Mericle sold last year, 80 percent were towables and truck campers while the balance consisted of used motorhomes. Moving forward, he's looking to offer new coaches, too, along with teardrop trailers and toy haulers. He already told a sales representative from one manufacturer there's no space for their products yet; another manufacturer has even offered to purchase land for him to display its units.
"I want something for everybody. I just won't go out and get anything. I want to make sure it's got good quality, it's got a good reputation," he says. "I'm trying to make sure that there's a need for it."