Features
Ohio's A-List Airstream Dealership
Mark Wahlberg Airstream & RV benefits from the actor's name, Airstream's reputation for quality and the business savvy of its partners.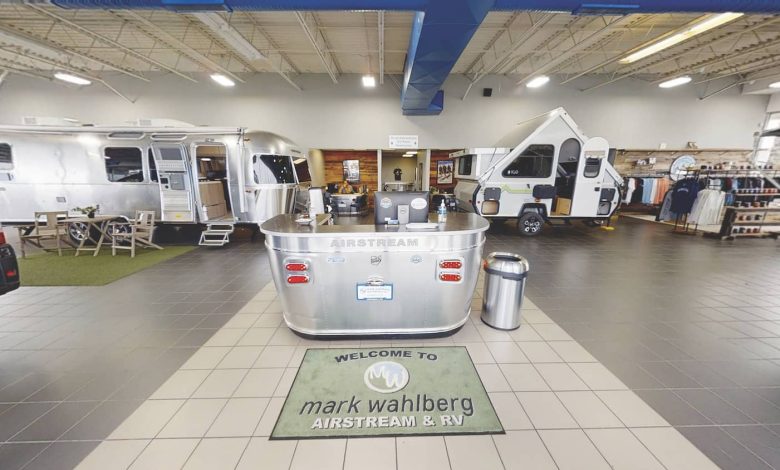 It started with burgers, then grew to include cars and trucks. Now, Mark Wahlberg is selling RVs.
Of course, the successful Boston-born actor – whose filmography includes "Three Kings," "Boogie Nights," "The Departed" and many others – hasn't given up his day job, but Mark Wahlberg Airstream & RV in Columbus certainly bears both his image and his influence.
"He has an expectation, much like Airstream, that if you're using his name, you better do it right, so that's what we're doing," says Chris Haydocy, general manager of the dealership. "Mark wants to make sure that we're not a weak link in anything that he's associated with."
To that end, the store covers all the bases a customer would expect today and then some. There's a thorough sales department offering new, used and consignment units, a complete service shop with more than a dozen service and PDI bays, and a parts store that includes typical RV items and accessories, as well as Mark Wahlberg-branded products. There's even a rental business that contributes almost 10 percent of the dealership's annual revenue.
Yet, like Wahlberg, who once led a troubled life on the streets of Boston as a youth before turning things around, the dealership Haydocy manages had a rough start, too.
Business Endures Ups & Downs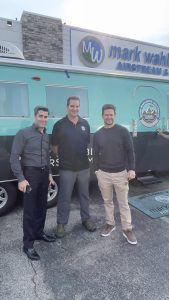 Things began well enough when Haydocy's father and uncle opened a Pontiac store in Columbus back in 1954. Business progressed to the point where, in 2001, they were able to build a complex on 12 acres of prime property on the west side of Ohio's capital, offering Pontiac, plus Buick, GMC, and GMC medium-duty trucks. The Haydocys even constructed a standalone 15,000-square-foot store for Oldsmobile next door. It was open only a month when GM announced in December 2000 it was closing the Oldsmobile division.
"We had a vacant building, and around that same time there was a large Delphi manufacturing plant directly behind us that employed several thousand people and it closed down," says Haydocy, a 30-year auto industry veteran. "It started a downward spiral of business failures and people leaving the neighborhood. So much so that in 2009, the 43228 ZIP code was named the most vacant neighborhood in the United States. We took another turn for the worse that year when GM did away with Pontiac and GMC medium-duty trucks. That was 60 percent of our revenue stream. Literally, we had no path forward."
It didn't help that GMAC, the automaker's financial arm known now as Ally Financial, was calling in loans the Haydocys used to build those stores. That's when Chris Haydocy went to his congressional representative; after a discussion between her and the U.S. Treasury Department, the loan was extended for a year.
That gave the dealership some much-needed breathing room.
Near the same time, Ohio permitted four casinos to be built in the state and a possible alternate location was the nearby former Delphi site. After collecting 3,000 signatures, Haydocy sent a petition to the mayor and city council of Columbus, plus the head of casino developer Penn National Gaming. A month later, a statewide vote to relocate the proposed casino from a controversial downtown Columbus spot to the property behind him was announced. The move overwhelmingly passed and Haydocy had an investment potentially worth hundreds of millions of dollars with thousands of jobs in his backyard.
The former Oldsmobile store played a vital role; it was first used as the statewide headquarters for the vote and then again for a year-and-a-half as Penn National's hiring center. Once the casino opened in 2012, the building was vacant again, so Haydocy – who grew up camping with his family in the 1960s and '70s – went to Ally with an idea to sell RVs in it.
Partnership Proves Profitable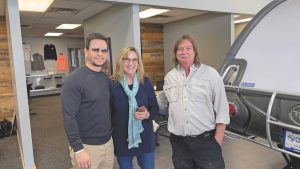 Coincidentally, the bank had recently hired several personnel from a bank specializing in RV loans. Their relationship with THOR Industries meant Haydocy's empty store would soon be empty no more.
"The DNA of Airstream was exactly what we needed. The big question was: Would people around Ohio travel to the 'most vacant neighborhood in the U.S.A.' to buy an Airstream?" Haydocy says. "We began in the RV business in April of 2013 and we sold two Airstreams. I thought we were on top of the world."
Five years later, a former locally-owned Chevrolet dealership across the street was purchased by Wahlberg and business partner Jay Feldman, the first of now five auto stores in the Buckeye State bearing the actor's name. Feldman, a Michigan native and second-generation auto dealer with locations across two states, met with Haydocy about either selling the RV dealership or partnering with each other and Wahlberg to grow the business.
Fortunately for all involved, a partnership was created and the name change took place on the last day of June 2020.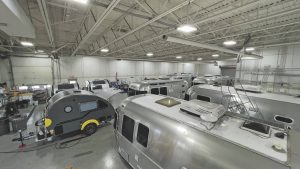 "Obviously, we love the Airstream business. It's been very good for us," says Feldman, who is quick to credit the dealership's success to Haydocy's expertise in the RV market. "Chris is our expert in the RV world; he's really the one that's running the operation."
Likewise, Haydocy credits the Feldman's expertise from his 35-year track record in the automotive market with elevating the performance of Mark Wahlberg Airstream & RV.
"We want to treat everyone with respect, whether they're buying a $5,000 or a $250,000 RV," Haydocy says. "We absolutely use the Feldman Automotive best practices because he's got 18 car dealerships now and they brought some amazing technology that I wasn't aware of that we now utilize each and every day."
He knew from his decades selling cars and trucks that the heart of the store, which employs 25, lies in its dealer management system, or DMS, so having CDK Drive installed throughout has been fortuitous.
"CDK is probably in 30 to 40 percent of all automotive dealerships across the country. If we don't have a whole lot of people, we have to make sure we give them the right tools in the background, and part of the right tools is a dealer management system. We have incorporated an automotive dealership DMS into the RV side, so it serves everyone at all times," he says.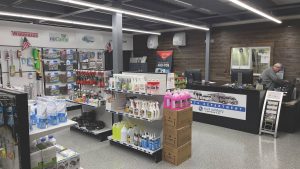 The CDK system connects each department's activities in real time, and Haydocy says that DMS is what separates Mark Wahlberg Airstream and RV from a mom-and-pop store.
"The partnership with Feldman and Wahlberg has brought a degree of sophistication on marketing, CRM and BDC. I thought I was good as a single-point automotive dealer and when they came in, all my firm beliefs and values were greatly in doubt once I saw what they had to offer," he says.
Rentals Business a Big Hit
Haydocy already had the foresight to offer RV rentals before the partnership. In 2016, he and John Ehmann, a former eCommerce leader at IBM and eBay, developed Road Adventures, a service that provides travel trailers, including Airstreams, and motorized units for rent. It has become, Haydocy is pleased to say, a big hit.
"The rentals are great because they help feed sales, service and parts. It takes a dedicated staff to do it right," according to Haydocy, who has several staffers devoted to the rental counter. "Recently, 13 of our rentals were reserved by a company that wanted to have an employee-appreciation day at a local outdoor brewery."
The goal is to offer the rental business to licensees anywhere in the country; in Columbus and soon in Cleveland, the program is known as Road Adventures by Mark Wahlberg.
"I'd love to double the size of the rental department. As we go, we are looking at different options on how to do that. When we did the transition, we did add about three or four sales offices, too," Haydocy says. "Every square inch counts in our dealership."
Of the 15,000 square feet available, almost two-thirds of the dealership is devoted to the shop, which is staffed by 12, including six technicians. Like dealerships everywhere, keeping enough personnel aboard is challenging.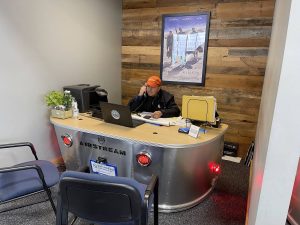 "We've got some great homegrown talent here and we have found a couple from the automotive side. We also have a standing offer with our people that if they find a new team member, they get $500. Last week, I signed checks for two of my team members," he says, noting the referrals must be employed for 90 days. "There's not a better check to write than that one."
The dealership can handle practically all types of service work, whether it's for towables or motorized RVs. The dealership even accepts paint and body repairs, Haydocy says, and thanks to being a part of the Wahlberg-Feldman team, units needing such work are sent across the street to Mark Wahlberg Chevrolet.
"Due to COVID-19, we've been doing a lot of triage with respect to service operations. We weren't necessarily focused on long-term growth in service and parts due to supply side disruptions," he says.
Revenues from service and the dealership's 1,200-square-foot part store provides just under 12 percent of the dealership's annual total, a strong figure compared to other dealerships. The biggest factor in growing the business is simply room.
"We've got enough space right now for what we're doing, but as we get better and the supply side improves, we will have to find areas around here for off-site service and parking," Haydocy says. "There's an outside chance we're going to do $30 million in sales this year, so we're just about $24 million in sales thus far and obviously in November and December, the RV business in Ohio does get some headwinds because of the weather but we're really happy with where we're at."
Retailing Winning Ohio RV Makers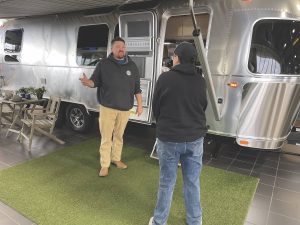 The dealership's two biggest-selling brands are, naturally, Airstream, followed by nuCamp, also both Ohio-based companies. Haydocy's staff sold 407 units last year and is on track to move 500 units during 2021. Towables make up the majority of sales, with new RV sales dominating used by three units to one. Still, he takes great pains to acquire pre-owned units.
"A brand-new Airstream is fantastic and I love them. However, not everyone will see the value on a new one, but they still want an Airstream. So, we scour the country to get late-model Airstreams," he says. "That's really a focus of ours, too."
In addition to acquiring via trade-ins, the sales staff peruses social media, as well as follows up with previous customers who may be interested in selling their units. Haydocy stays away from auctions, given that he prefers to offer Airstreams with only one previous owner.
"If someone's going to get an RV and have a 10- or 15-year loan on it, it's important – and this is part of our DNA – that we can stand behind every square inch of it and make sure to the best of our ability that there are no known issues with it," he says.
With Wahlberg's name on the building, fair dealing is paramount, according to Haydocy.
"To do it right, you've got to be honest, you've got to have integrity and you've got to communicate," he says. "You've got a bigger audience and they're much more critical, so you've got to do things right."
For anyone who watched the first episode of "Wahlburgers" – the reality TV series featuring the Wahlberg family and its attempts to turn a casual dining restaurant into worldwide chain – it should be no surprise Mark Wahlberg is focused on expansion. For the RV business bearing his name, that expansion is taking place in Cleveland.
"Mark and Jay bought the former Joe Firment Chevrolet in Lorain, Ohio, a few months ago," Haydocy says. "We found Neff Brothers RV, which is a real good RV rental business that's been around for 20-plus years, nearby and on Dec. 1, we're going to reimagine it as a Road Adventures by Mark Wahlberg."
The search is on for additional staff to build the sales and service side, according to Haydocy. Once that's in place, the site will become the second Mark Wahlberg Airstream & RV store.
"The investment that we will make in Cleveland will be more so than probably even here, just to make sure that the image from the showroom all the way to the back fits the Airstream and Mark Wahlberg brands," he says.
Meanwhile, Feldman says he anticipates opening more RV dealerships moving forward. He's particularly keen on the Airstream brand because of its reputation, but he says he is open to the idea of acquiring or opening stores focused on other brands.
"We certainly like Airstream, but it wouldn't stop me from getting an RV store that didn't carry Airstream or where it wasn't possible to get Airstream," he says.
Most likely, any RV dealerships the business opens will be in the same communities where the company has automotive dealerships, according to Feldman, who points to the benefits of being able to sell customers both a trailer and the truck or SUV to tow it.
"We've definitely had some cross-pollination," he says.
More partnerships are also possible with Wahlberg, says Feldman, who started his business relationship with Wahlberg by investing in the Wahlberg family restaurant chain, and who credits the actor as being very ambitious and "very engaged in everything he does."
Haydocy echoes Feldman's comments on Wahlberg, saying the actor is down to earth but also a savvy businessman whose story is inspiring to others.
"The United States has been through a challenging 18 months on so many different levels, but there's a feel-good story with Mark Wahlberg coming from the streets of Boston, making it, becoming an entrepreneur and teaming up with the most iconic American brand you can get in Airstream," Haydocy says. "It shows that in this country, there's potential in each and every one of us, but it's hard work."