Features
Omnia's Stovetop Dominates Europe, Expands to U.S.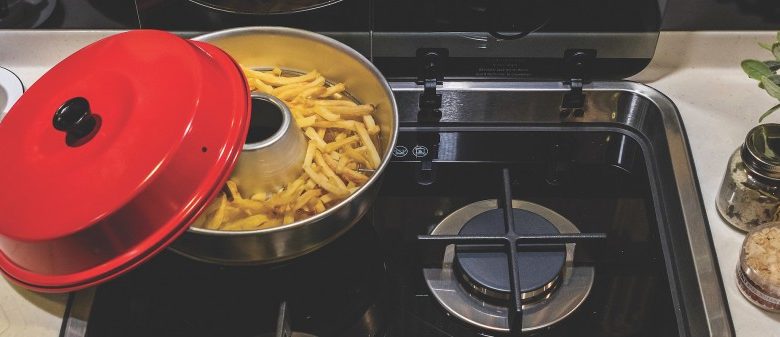 In Europe, Omnia Sweden's Omnia recreational stovetop oven enjoys a strong reputation with RVers there for its ability to make freshly baked bread, casseroles and other foods on a stovetop.
In fact, almost everything that can be heated, baked or cooked in a fixed, domestic oven can be baked in an Omnia, which sends heat to both the top of the dish and underneath, resulting in convection heating similar to that of a full-size oven.
With success in the European RV and marine markets (the company sells about 50,000 ovens a year), the company behind the 70-year-old product has now turned its attention to the much larger North American RV and marine markets.
Omnia Sweden believes American RVers will appreciate the product for many of the same reasons it has proven popular in Europe – namely, the ability to use it for camping off the grid, camping small, or simply cooking with less mess, according to Gustaf Lunden, CEO Koala
Marketing U.S. Corp., which is distributing the product in North America.
"The main feature of the Omnia is that you can cook oven food without an oven installed in the RV. You can also do it without electricity. That way, you can bake when you're camping off-grid," he says. "It's super common to do small baked goods like pre-baked bread, pizza, lasagna and fries. Whatever you cook in an ordinary oven, you can do in the Omnia, but you get a different shape. A cake or lasagna will be in a circle, but still oven baked."
With its convection feature, the Omnia is similar to a Dutch oven, but without the mess.
"Unlike a Dutch oven where you use charcoal, there is no installation, no preparation. You have a gas stove and Omnia Oven and you put it there and you can be outside or inside cooking. It's easy to clean and easy to store. It only weighs a pound," says Lunden.
The Omnia is the primary product, but there are accessories available to use with it, including a silicone mold that makes a non-stick surface and is easier to dishwash than the traditional pan, as well as a small recipe book, which Lunden says has a Swedish bent to it. There also is a baking rack for breads, fries and fish among other foods. The newest accessory offering is the Omnia-shaped silicone muffin tray with six holes for muffins.
A Long History
The history of the Omnia dates back before it was even called Omnia, when it was known as Optimus.
"About 15 years ago, when my father was in the marketing industry, he had a customer who sold central heating and air for RVs and boats. It was called Alde. The customer was about to quit production (of the Optimus) when my father said he was interested in buying it and having it as a side business," says Lunden. "My father found new places to manufacture it and began selling it."
Success was somewhat slow in coming initially, but with a lot of hard work the product (which was renamed the Omnia in 2003) gained traction in the European market, according to Lunden.
"It was a lot of hard work selling to distributors in both the RV and marine sectors. We started in Sweden and then slowly, slowly tried to get it over the borders. It was easier to go to Norway and to the German market, since it's the biggest country in Europe and has a big RV market," he says. "The interest grew bigger and bigger. Since then, we've expanded in different markets throughout Europe, with some of the biggest markets being the Netherlands and France alongside Germany."
The first distributor to pick up the Omnia product in Europe was KAMA Fritid. Company Managing Director Jonas Tidqvist says his business first began distributing the Omnia product in 2005 after seeing how versatile it was. "It is a great product that can be used for so many dishes. It is portable, easy to store, easy to use and easy to clean," he says. "Every time we show it at public fairs, people stop by and look at it and try the new baked cookie. It's a high-quality and unique product without any competition."
Jumping Into the U.S. Market 
Omnia's parent company is Koala Marketing Co. AB, a private Swedish company owned by Lunden's father, Goran Lunden. It wasn't until two years ago that Gustaf Lunden jumped in to help his father with the business.
"I've worked in the retail logistics industry for 12 years. About two years ago, we decided to focus on entering the U.S. market," he says. "We had to set up the company and find logistics partners. We had a few smaller partners already and from there we got our product (online)."
After working for large companies throughout his whole career, Lunden says he wanted to do something for himself on a smaller level, and the timing worked out for him to step in, as his father turns 70 years old.
"He realized he might need some help in expanding the company. We agreed to try to work together and so far, so good," Lunden says with a laugh. "We have a lot of fun working and work very well together."
The first step to expanding into the U.S. was to set up an office and get the word out. Omnia Sweden established an office and warehouse just outside of Chicago. The warehouse holds the full assortment of Omnia product and is the main hub for distribution.
Building Relationships 
Beyond the benefits of having a direct relationship with retailers and distributors, Lunden says working with business partners offers his company the chance to do what it does best, which is offer support.
"We would rather have partners in retailers and distributors that we help out with product knowledge, exhibitions and marketing – those things we're good at. If we have those partners for consumer sales and network sales, that would be best," Lunden says. "Since we are so small and don't have a super big range of products, we are experts on our product and will be able to discuss all of the customer's needs. Some companies might need a lot of help with exhibitions and shows, while other companies might rather have marketing support. We're super flexible in meeting customer's needs."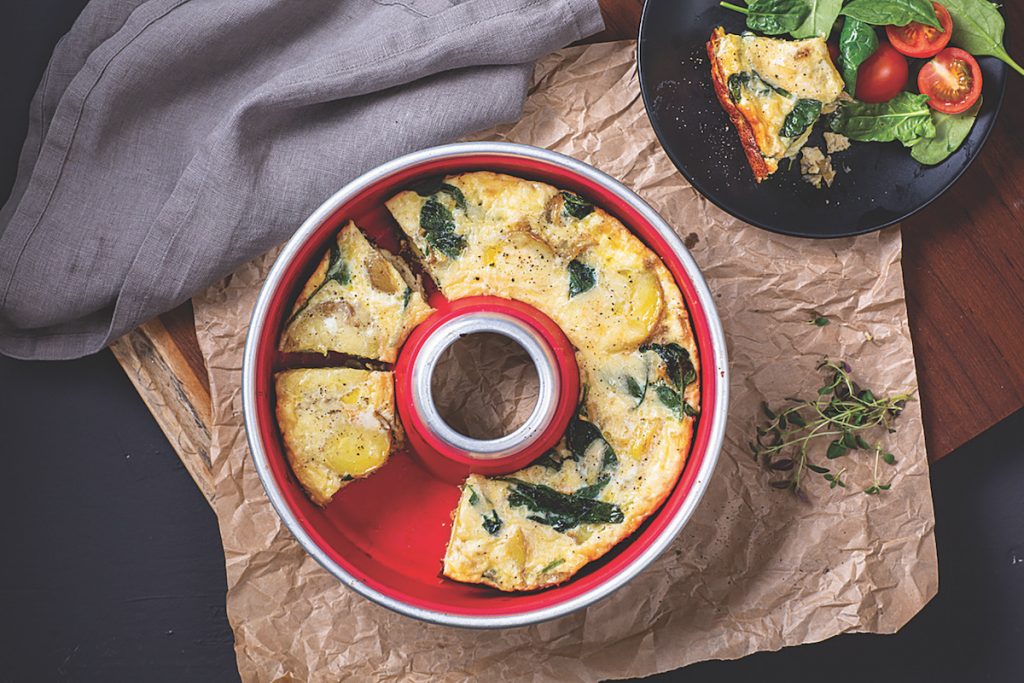 The Omnia can cook all types of foods, including pizza, bread, casseroles, French fries, cakes and desserts.
Lunden has been busy attending industry trade shows and contacting distributors to get the word out about Omnia. Lunden does product demonstrations at shows where he bakes for customers to explain how the product works.
"It's all very much about relationships," he says. "The decision to start up a company in the U.S. means we need a U.S. address and to be closer to the market. We are still Swedes, so I think we will have a little bit more of a challenge, but we have full confidence in the product. It's super popular in Europe and we see it moving and growing all the time."
Ultimately, Lunden says his goal is to get Omnia picked up by one or two of the big distributorship networks and a few key dealerships.
"That would be ideal," he says. "We like going local. I think that the people who learn about our product might result in some RV dealers stocking our product. Omnia comes in good packaging and is easy to ship. We basically have no returns. There are no electronic issues or anything fragile about the product itself. We offer fair deals with owners, so they feel comfortable.
"We are a super small company in terms of employees, and we don't plan to have a super big organization in the U.S.," he adds. "We can't handle 100 (dealer) customers, so dealer direct would be too much for us to handle. But a combination with distributors would be good."
Finding Its Fit 
Currently, the Omnia stovetop is sold primarily to the RV industry, at 80 percent, with the marine industry accounting for the other 20 percent, according to Lunden.
"There's many reasons for that, but our product is a little bit better fit in the RV industry. There's more cooking going on in RVs," he says. "We know that our customers in Europe like Omnia because it offers another dimension of cooking when you are camping. Moving to the U.S., we know that the RV market is so huge that there are of course many RVers that aren't interested in our product, but there is also a very big segment that is. We're learning all the different types of RVs and RVers. Our product is more popular in smaller RVs and not necessarily the big Class A motorhomes."
For now, Lunden says there are no plans to expand the company's Chicago warehouse, but he says the business is open to reassessing its needs in the future.
"If we see that 90 percent of our customer base is in California, then we might look over our structure," says Lunden. "We have the proven concept in this Omnia oven. It works, so it's going to be around. We want more accessories and customer suggestions. You never know what people will come up with. They have good ideas. Ultimately, though, we will have just our one core product: Omnia."