Features
Palomino Stays All Decked Out
Rear deck and pop-top soft-side models bring added versatility to Palomino's truck camper lineup.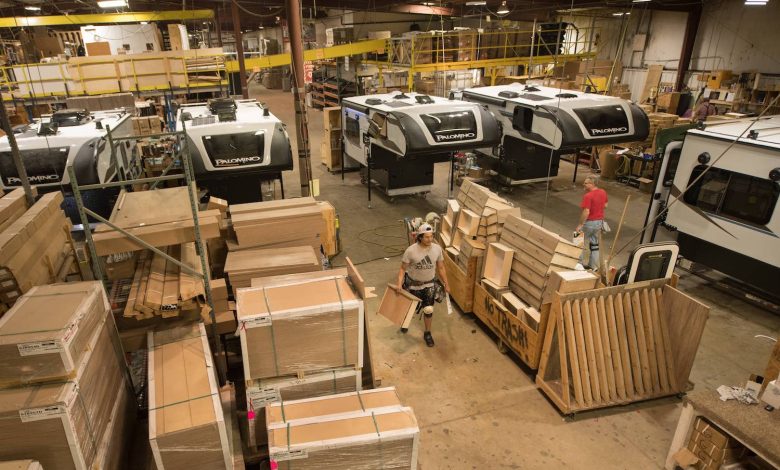 As campgrounds and parks become increasingly crowded, truck campers are getting more attention, given that they can go places much more easily than towables and motorhomes.
It's an opportune time for Palomino. That's because the venerable manufacturer, which began building RVs in 1968 and is now part of Forest River, has made its Backpack, Real-Lite and Rogue truck campers stand out in the segment, according to Ben Meloche, general manager of Palomino's truck camper division. Between Palomino's price points, floorplans and features, there should be something for everyone.
"Our Backpacks and Real-Lites are clone products, so that allows us to have more than one dealer in a specific market. Both of those lines contain three different products, so we have soft-sides, we have hard-sides and we have hard-side Maxs. The hard-side Max is going to be our biggest truck camper and then our hard-sides are our middle level and our soft-sides are going to be our lightest, more cost-effective products," Meloche says. "Both Backpack and Real-Lite are going to have the same floorplans and Rogue is a separate truck camper line we added a couple of years ago that is geared more toward the more adventurous customer."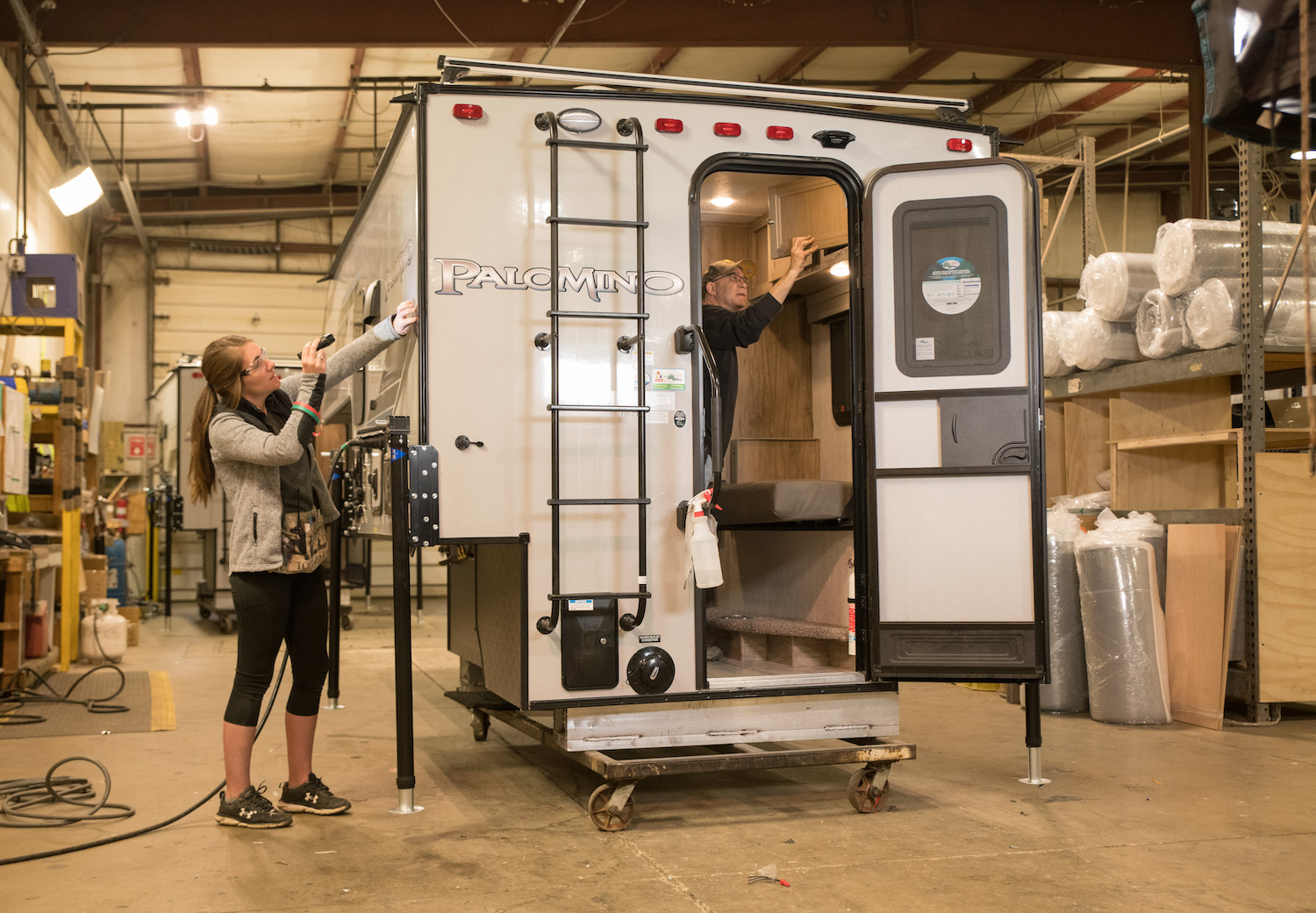 Party Deck a Hit
Without a doubt, the most notable addition to Palomino was the recently introduced party deck, now available on the 2022 Backpack MAX HS-2912 and Real-Lite MAX HS-1916. While not uncommon on towables, it's the first time the concept has been applied to a truck camper, according to Meloche.
"We were definitely inspired by some of the toy haulers," he says. "That is something that's been in the works for some time and we had to redesign the truck camper for this back patio, but it's the same idea with the toy hauler. You're up off the ground and you're basically doubling your living or hangout space on a truck camper. It's something that was new this past year. We've sent quite a few of them out. Retail excitement is there and they've been selling really well."
It's a feature that should appeal to lots of different buyers, according to Meloche, because it can be set in the middle of a racetrack, alongside a quiet stream or anywhere else owners want to enjoy their surroundings.
"There's so many different possibilities. We had a lot of feedback from people about what they thought and how it could be used," he says. "We were coming up with all kinds of stuff. It was an exciting process."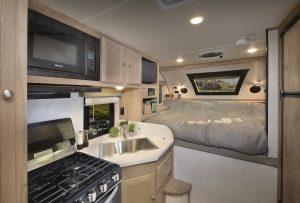 Once folded down from the unit's rear wall, the deck – measuring almost 7 feet long and 8 feet wide – reveals another exterior door exclusively for access to it. There's also a mini-fridge and a TV hidden by a second door, plus storage behind a smaller door underneath it. Rated for 1,500 pounds, the deck even has screened panels and gates around three sides for safety.
"We love building and talking about truck campers and their capabilities. I don't think we were able to really have a chance to try something like this until this past year, where we did have some downtime. Obviously, there was a huge disruption in life in general, which really just allowed us to breathe for a bit and talk about some things and brainstorm," says the 15-year Forest River veteran. "Had we come up with this idea now, it'd probably be on the backburner until things slowed down a little bit. It really was a perfect storm of timing."
The 2912 and 1916, designed for 1-ton trucks with 8-foot beds, are, unsurprisingly, among Palomino's top truck campers (the 2910 and 1914 substitute a slide for the deck but are essentially the same) and weigh about 3,500 pounds dry. That's the upper limit for the manufacturer, according to Meloche, and at the opposite end sits the Rogue, introduced a couple of years ago and made to fit half-ton and compact trucks.
Going Rogue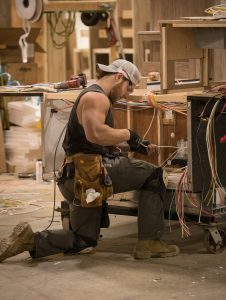 "The idea with these was basically weight. The most unique part to the Rogue, as opposed to our regular soft-sides, is it's hinged up front, so the only thing that raises up is the roof at the back wall," he says. "The cool thing about it is you get a lot more scenery with the Rogue than you do a normal truck camper."
Compared to Palomino's larger models, the Rogue line – the EA in blue and the EB in orange – has fewer niceties. While everything Palomino makes has aluminum framing, there are only two floorplans between the clones and neither feature a bathroom. The beds are smaller than those found in the Backpack and Real-Lite units and the hinged roof means headroom is limited at one end. Yet there's an equal – if not longer – list of advantages to the Rogue – and at the top of that list is it fits in more trucks, according to Meloche, whether it's a Ford F-150 or Nissan Frontier.
Another plus is the Rogue's ability to keep in heat, a hard task for older RVs with soft sides.
"It's pretty surprising on the soft-sides how it really does keep heat in really well," he says. "You can camp in these in some pretty chilly temperatures. The sound is going to be there, but we build a lot of soft-sides and retail sell a lot. It doesn't seem to be an issue."
In addition to withstanding a wide range of temperatures, the marine-grade vinyl material used for walls also is longer-lived.
"Really, the knock on soft-sides and canvas back in the day was it would mold and rot, whereas the vinyls now, if you put it away wet, could mold, but you can wipe it off. It's not rotting away or deteriorating," Meloche says.
Another feature of the Rogue is the skylight above the bed; when combined with the three open sides of the pop-up roof, he says campers have an almost unhindered view of their surroundings.
Something for Everyone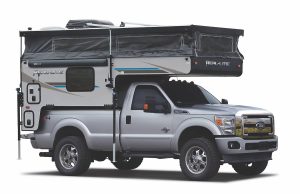 Meanwhile, for buyers looking at more typical, yet still lightweight units, Palomino has them covered as well.
"We have a couple of models that will work in the Ranger, Canyon and Tacoma," Meloche says. "Our Backpack SS-500 and Real-Lite SS-1600 are going to be under 1,400 pounds, loaded. It depends on the payload of the truck because there are a lot of variables, including four-wheel drive or two, gear ratio, and more. Those two floorplans are designed, depending on the truck, to fit on some of those smaller trucks."
Designing truck campers may be easier than building them, as they're simply unlike anything else in the industry.
"With a truck camper, you're basically building from the ground up; the floor, the knee walls, the sidewalls, so you don't really have a frame to start from," Meloche says. "Just getting the truck camper started is a little bit more challenging than a travel trailer.
"The other issue is you don't have a lot of room to work at each station. In a travel trailer, we could have three or four people at the same station working on different items," he adds. "Truck campers, you need more stations because you have less people working on them at a time. As far as numbers go, we've been able to change plants. We grew into a larger plant about six years ago, but we were able to change up how we had our line set up to become a little more efficient so we could build more of them."
Palomino employs a staff of between 60 and 70 people at its truck camper plant in tiny Colon, Michigan, about an hour's drive northeast of Elkhart, Indiana, including some talented line workers.
"If you think about the size of a truck camper and it really not having an underbelly or all this area to run wires and plumbing through, it's very compact. Our guys do a heck of a job fitting everything in a tight space," Meloche says. "Even though they're smaller than a travel trailer, it is just as complex if not more to get everything wired, plumbed and ducted in a truck camper. It's a challenge but we've done a pretty good job at it."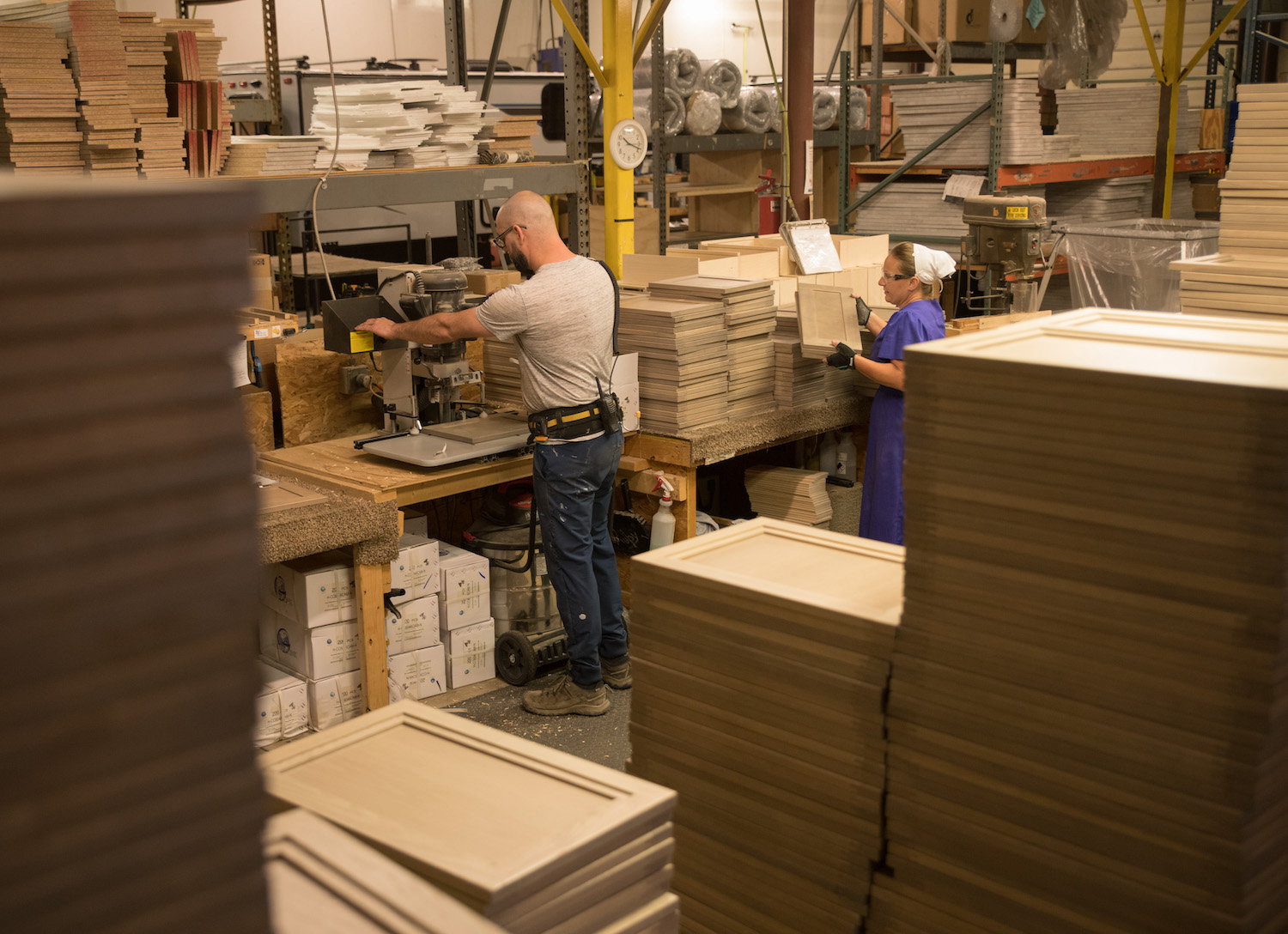 Truck Camper Market in Transition
Determining Palomino's bestsellers is a challenge, too.
"Right now, it really depends on territory; it depends on time of year," says Meloche. "Our five top floorplans change depending on time of year. Obviously, once we get into cooler weather, the hard-sides do better, but coming into spring; it's soft-sides. It really is a little bit of everything.
"We've really seen a tremendous spike in truck camper sales this past year or two," he adds. "Right now, our biggest issue is more of a transport issue than anything else. We've continued to stay pretty steady and constant with production – it's just a matter of logistics that's making it challenging. It really just kind of depends on the day or the month what's our top seller."
One thing remains constant: the Pacific Northwest and the Midwest – longtime strongholds for truck camper sales – are Palomino's top two regions. Yet even that could change.
"We've seen a lot of growth out of the Northeast and the Southeast in this past year, with a lot more dealers wanting to stock them," he says. "The only thing I can think of is we're all looking at camping differently.
"We're hearing state parks are full, campgrounds are full, they require this and that, so we're looking at camping as outside of campgrounds more than we ever did before. Truck campers are for the customers that really want to go off-road, and I don't care how big of a lift you have on your travel trailer or how knobby the tires are, there's some places those just aren't going to go. Truck campers really give you the opportunity to go wherever you want, anywhere your truck can get you, you can go in a truck camper."
Palomino dealers are stretched across the U.S. and Canada; there's even some international retailers. Customer interest continues to grow, including some atypical questions.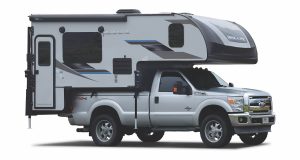 "We have a lot of Super Duty customers just wanting something," Meloche says. "We'll have a customer ask: 'I have a 1-ton truck but I just want this 1,500-pound truck camper to go in the bed of my truck. Will it fit?'
"In most cases, it will, but in some of the smaller versions, it really doesn't," he adds. "That's not something we ever thought about. For years, it was, 'you're going to buy based on the size truck you have, so if you have a 1-ton, you're going to be looking anywhere from 2,500 pounds up.'
"Well, now it's not like that. You get all kinds of truck camper customers with all kinds of trucks wanting whatever best suits them. It's not truck-specific like it used to be," he says. "Again, I think that's just someone wanting to go somewhere where a travel trailer won't allow them get to."