Features
Product Innovation Leads the Way for this Elkhart-Based Supplier
Way Interglobal's growing line of home-style kitchen appliances are making major inroads in the RV market.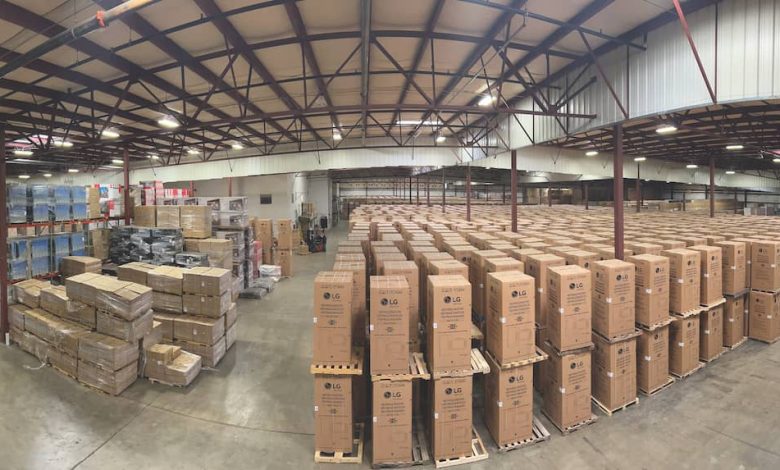 Wayne Kaylor is a serial entrepreneur. And, with a successful history that dates all the way back to the mid-1980s, it's not surprising that his current company, Way Interglobal (he prefers to refer to it as Way), broke ground last June on a new headquarters building that will double the company's current space.
Still, Kaylor is something of an outlier in his own family, whose involvement in the RV industry dates to the 1950s, when his father was manufacturing the original Wildcat. Today, he has brothers, their children and his own all working for the OEMs, but in the sales and management sides.
What drew him to distribution?
"I don't know. It was just interesting to be able to learn about the industry from the other side and develop products to take to market," he says.
Having built and sold two previous companies, he recognized that, for Way, the best approach would be through developing his own brands, particularly in appliances, where his Everchill 12-volt refrigerators have become a major player.
An RV Perspective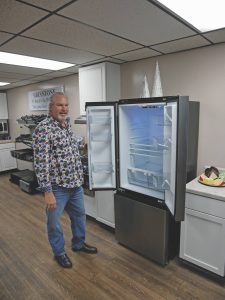 If there's one thing all three of Kaylor's companies have in common – besides being distributors – is that they've served the RV industry. It's the lifestyle RVs afford that he particularly likes.
"You're able to spend time with your family – not sitting in front of a TV or playing video games," he says. "Traveling is great, and it gives a different opportunity for travel than just going to a hotel. It gets you outside and gets you with other people. And, let's face it, we've got a beautiful country, so we should go out and look at it."
Not that he's opposed to electronics. Kaylor's first company, Tristar Distributing, which he founded in 1986, was the largest company distributing electronics to RV and van conversion companies. After selling Tristar in 1998, he followed that up with National Supply, which sold building products and supplies to the RV and manufactured housing industries.
In both cases, he acknowledges the markets changed considerably while he was in them. Then, in 2009, he launched Way Interglobal with a Chicago-based partner not affiliated with the RV industry and a tagline: "Take Your Home on the Road."
"We started by supplying suppliers," Kaylor explains. "A lot of today's big name supply companies were customers of ours. However, we soon realized we needed to pivot and open up our own facilities for distribution and to do it ourselves."
He adds that his years in the industry afforded him an advantage that many of his competitors don't have. He'd been doing business in Asia for more than 30 years, and those relationships allowed Way to not just build products, but to build products specifically for the RV industry.
It also allowed Way to develop products under its own brand names.
"Because the RV market is a little bit different, we felt it made more sense to have our own proprietary brands and products," Kaylor says. "We develop everything from the ground up. That means engineering it before we even get a finished product. Most of our products are designed specifically to the RV industry for fit, size, look and features."
Way does still distribute a few other brands – he mentions LG appliances and RCA televisions as examples – but he compares Way to home products manufacturer SC Johnson.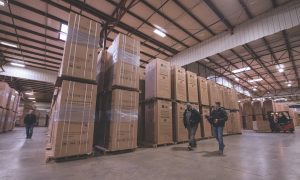 "They own Pledge in many different brands," Kaylor says. "But you hear the brands, not SC Johnson. The Everchill brand for us includes refrigeration, coolers and air conditioners under one name. Anything that heats for us – including ranges, fireplaces and microwaves – are all Greystone products. We're tying them all together, but you don't always hear 'Way.'"
Way's other brands include Elite power solutions and other RV essentials, Drive electronics and Haven furnishings.
Filling a Void
Still, it's the company's kitchen appliances that garner the most sales. Especially with its Everchill refrigerators, Kaylor was one of the early adopters of 12-volt technology. He says there are several reasons for that.
"There'd been a real void in refrigeration for years," he observes. "For 20, 30, even 40 years, everybody had used gas-absorption, which isn't the most efficient way of cooling, and it gave campers a small capacity. It has its place, but we decided to invent a new product that would be in the 12-volt landscape."
Of course, the 12-volt units also build on an increased interest in the growing use of solar panels and the development of better batteries for RVs, as well as the popularity of boondocking. Still, it wasn't an easy product to develop.
"It took us two or three years before we actually came to market with a 12-volt unit," Kaylor says. "The first year was bumpy, to say the least, getting people to understand that it actually worked as advertised. Now, the whole industry is going in that direction."
Nor has it hurt that Everchill's 17-cubic-foot model does an excellent job of replicating a 110-volt residential refrigerator in a 12-volt unit with French doors and a full freezer.
How popular is that particular unit?
Kaylor says demand has grown steadily since the company introduced this model and Way is ramping up production and working on speeding up delivery.
Still, interest in bringing 110-volt home refrigerators into some RV units remains.
"Certainly the 110-volt residential refrigerator has its place with some RV owners," Kaylor says. "But now that we've developed larger 12-volt units for the larger RVs, there's less interest. Our units are made specifically for the RV market, they're developed to withstand heat and cold and bouncing around and all the different environmental situations you don't have in a home. The 110-volt units will work fine, but we're built for the rigors of our industry."
A more immediate challenge: For some RV buyers, a 17-cubic-foot refrigerator still isn't big enough.
"We're in development of a 20-cubic unit," Kaylor says. "Again, we're designing on a dedicated 12-volt platform, and we're continuously engineering the products to make sure the compressors are large enough to provide the same rapid cooling our other 12-volt products deliver and to operate them efficiently in the larger size. At that point, we're getting into the larger size of residential refrigerators."
Despite the challenges, Kaylor adds that Way expects to have a 20-cubic-foot unit on the market later this year.
Bringing the Heat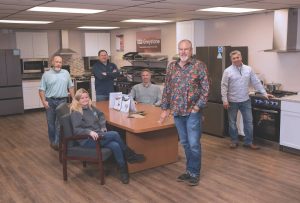 Everchill refrigerators and cooling devices may be Way's most-popular products, but Kaylor says the company's Greystone ranges and cooking devices are also much in demand.
"We've done a really good job of tying our kitchen package together," he says. "The OEM customer can come to us as a one-stop shop where they can get their refrigerator, their range, their microwave and their range hood. We can supply all those components."
Particularly popular is the company's 24-inch, four-burner slide-in gas range. However, Kaylor believes that's about as big as a range will go, and it will continue to run on propane. A reason for the size limitation is the compactness of the average RV kitchen.
"Your home range is 30 inches – and given the size constraints of an RV kitchen – I don't think we'll ever get there," he says. "However, I'm confident the 24-inch will continue to grow in popularity because you can obviously cook a lot more in it and it really gives that residential look."
And, he adds, it would take a tremendous amount of power to make an electric stove practical.
"The power consumption to run an electric cooktop or range is so much that it would be difficult to do unless you had a significant amount of battery power," Kaylor says. "Probably more than many RVs could sustain, to be honest."
Still, he adds that Way has developed an all-electric unit – a two-burner cooktop without a full oven – for some OEMs, and will continue to explore developing efficient, high performance electric cooking appliances. Another cooking innovation from Greystone is a cooktop where, rather than a traditional oven underneath, it has a microwave/convection oven.
"It frees up cabinet space above the cooktop," Kaylor says. "We've gotten feedback from many consumers who don't like to have to reach above their heads to take hot food out of a microwave."
As for other "at-home" appliances in the offing, Kaylor notes that washers and dryers are already an add-on for some units, although at the dealer level. Dishwashers are another story.
"Dishwashers, in general, have been for high-end coaches: Class A motorhomes and luxury vehicles," he says. "We've seen more requests for an 18-inch dishwasher, and we do have one in development currently."
He adds that he's not sure what the take on that will be given that space in an RV kitchen is already at a premium. In the future, it may become part of a Way package, though.
Because the company offers its own brands, research and development has always been a key component of Way's operation, and Kaylor says the company has really expanded its product development and engineering teams in the past two-and-a-half years.
"We see that as the continued driver of our growth going forward," he says. "We have teams both here and in China – electrical engineers and product development teams. And one or the other will come up with a concept or an idea, we'll vet it for the market with our sales team and then literally start from a blank piece of paper and work back."

The other contributor to many of Way's ideas is the OEMs themselves. Kaylor and his team developed the idea of bringing in brand managers in that slow period between Thanksgiving and Christmas to introduce its new offerings.
"A lot of promising ideas come out of those meetings," he says. "An OEM will tell us, 'Hey, we could use a bigger refrigerator,' or 'If you could add this feature, it would benefit both our dealers and retail customers.' It's a lot of learning and listening and then getting our product development team to implement them."
And, yes, sometimes that means developing a whole new product.
"If somebody comes to us with a concept that they want to take advantage of for a period of time, we're definitely interested in working with them to develop that," Kaylor says. "Eventually, it's going to be good for the whole industry, and hopefully it's good for that OEM as well."
Eyeing the Aftermarket
It's an approach that, so far, has paid big dividends for Kaylor. So big that the company is in the midst of building a new global headquarters that will double its existing footprint, currently spread across four different facilities in Elkhart, and will allow Way to grow its employment base by a third.
Groundbreaking on the 800,0000-square-foot building took place last June and construction is expected to be completed late this year.
"It's going to allow a lot more efficiencies for us as a company," Kaylor says. "It's also going to allow us to get into other products that the market has asked us to get into. We just don't have the space today, so this is exciting. We'll have a bigger showroom, and biggest testing lab and much more warehousing capabilities, plus the efficiencies of operating under one roof."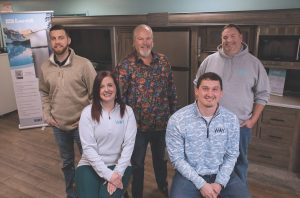 One area that Kaylor is particularly anxious to grow is Way's involvement in the aftermarket. Since late October, the company has added both a new director of aftermarket sales and an aftermarket coordinator. Kaylor admits that, until now, the distributor has done little with the aftermarket.
"We do a fair amount on our website, but we've been really focused on our core OEM business, so that aftermarket was not at the top of our list," he says. "Now, we've got many products in the market, and people either need to refurb it or upgrade from whatever else they have in their units today. This will allow us to work with the STAG's and the Camping Worlds to help them get our products to retail customers."
That's not to say the company has totally ignored the aftermarket, because it does have a network of RV dealerships around the country – as well as mobile technicians – to service Way's products if there are problems.
"We do have a service network set up, and we have tried to make things very easy," he says. "For instance, with our refrigerators, there are very few parts that would ever need to be serviced, and they're all plug-and-play. It doesn't get a lot easier than that."
Regardless of the market segment – but particularly with his OEM customers – Kaylor says the most important thing to know about Way is that it's willing to listen and learn.
"We want to be good partners to the industry, which I think we are," he says. "Our whole team supports the industry and believes in it. That's kind of a mission statement within our organization. We're designing and building product that people need. When we talk about 'Take Your Home on the Road,' that's what the market is requesting from the OEMs, and we want to help their customers do exactly that."
Way CEO Wayne Kaylor was a recent guest on the RV PRO podcast, In Tow with RV PRO. To listen to that episode click here.