Features
The Rise of Rugged B's
Airstream and Pleasure-Way's rugged Class B models join Winnebago in a niche that industry reps say could fill more than a quarter of the Class B market.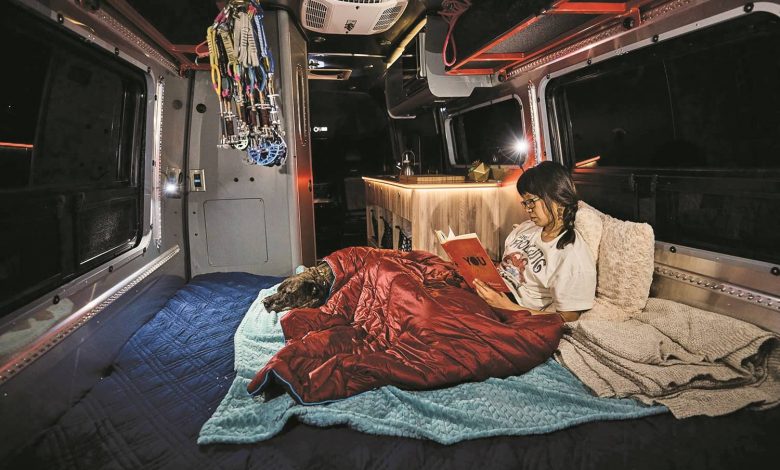 The Class B market has been heading off the beaten path since Mercedes-Benz began offering its iconic Sprinter with four-wheel drive in 2015. Whether they are traveling through a forest, across a beach, or somewhere in between, camper vans are becoming equally at home away from pavement as they are on it. This year, two RV manufacturers – Pleasure-Way and Airstream – introduced all-new Sprinter-based 4×4 models while a third, Winnebago, continues to refine its pioneering product. Perhaps the most surprising of the debuts is Pleasure-Way's Rekon 4×4. The Saskatoon, Canada-based builder, long known for its luxurious, van-based motorhomes, went a totally different direction when it announced its first rugged Class B in May.
"There definitely was a demand in this segment that had started to grow, and we were getting a lot of calls if we were going to come out with one," says Pleasure-Way CEO Dean Rumpel. "So, when we started going into product development, we looked at the segment and wondered what we could do differently and what needs to be available in something like this that isn't currently there. We designed it with that in mind."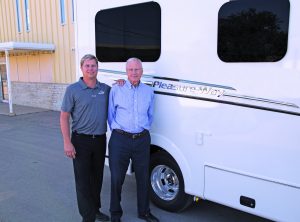 The Rekon, built on the Sprinter 2500 4×4 chassis with a 144-inch wheelbase, visually stands out among its Pleasure-Way stablemates. The only chrome on the 19-footer is the Mercedes star in the grille. The bumpers and side moldings, usually painted on Pleasure-Way's on-road Sprinter-derived Ascent and Plateau, remain in raw black plastic. Also, the Rekon is taller, due to the Mercedes 4×4 system that raises ride height more than 4 inches in front and 3 inches out back. Black Rhino 16-inch off-road alloy wheels, shod in Toyo all-terrain tires, combine with custom running boards to complete the all-business look. Inside, the differences continue. Wood-grain cabinets, for example, are absent, as is residential-style flooring. Pleasure-Way purposefully made the interior more austere yet functional, with easy-to-clean surfaces as befits a van built for the backwoods. There are plenty of attachment points with the L-track tie[1]down system, along with lots of cargo netting for storage versatility. The wet bath, host to a cassette toilet, doubles as a closet and drying area for soggy clothes. Gone, too, is the typical RV fridge and in its place is a Truma C60, a removable electric cooler that can be used as a refrigerator or freezer.
In usual Pleasure-Way style, the Rekon – currently available in a single floorplan – is a true four-season unit, Rumpel says, so there aren't any below-chassis tanks. A pair of portable tanks with a special storage nook handle gray water duties and the company fitted a freshwater tank under the garage's raised floor.
"If you're going boondocking, typically the first thing that goes is your water supply, and once you're out of water, the trip's over, so we went with a 40-gallon freshwater tank," he says. "Plus, it's inside the coach and we duct it with the furnace. The Truma VarioHeat furnace has a duct into the cavity and circulates air around it, so if you are in freezing conditions, your freshwater tank is not going to freeze."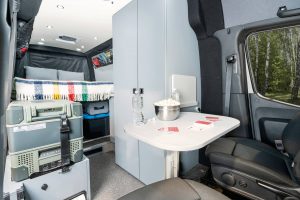 The Rekon has no generator onboard, so it relies on power from a quartet of 100-amp-hour lithium batteries routed through a 2,000- watt pure-sine wave inverter. Four 100-watt solar panels sit atop the coach and a Truma AquaGo comfort plus water heater rounds out the main appliance list. A duet of Dometic Fan-Tastic fans cools the interior. At a suggested retail price north of $170,000, the Rekon is the priciest Pleasure-Way, options notwithstanding, but Rumpel believes buyers will see the value in it.
"Even though it doesn't have some of the content of our other models, the cost is offset by the expense of the 4×4 system," he says. "We look at where the market is, for sure, but we've never been the least expensive at anything and part of that is we're extremely labor-intensive. We also back it with a five-year coach warranty, which nobody else in the industry offers, so we're committed to quality for the long haul." Rumpel expects the Rekon, with its 124 cubic feet of garage space, to appeal to 40-somethings, a bit younger than typical Pleasure-Way customers in their mid-60s. That means the company has additional selling opportunities, as owners age and possibly consider more well-appointed units. "The main thing is keeping customer satisfaction high and then that builds your brand loyalty. So, if they have a good first experience with this vehicle, then it should translate into the future," Rumpel says.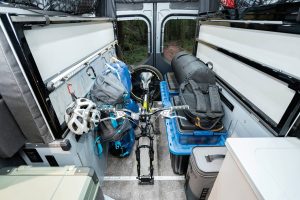 Given that COVID-19 and resulting supply chain issues have severely reduced chassis supply, Pleasure-Way's goal is to ship at least one Rekon to each of its 70 dealer locations in the U.S. and Canada, according to Rumpel. That way, potential buyers can at least see the unit in person, but if that's not possible, Pleasure-Way recently introduced the GoLive Showroom at Pleasureway.com.
"We are the only manufacturer that has a live, one-way video call," he says. "We have built a specific showroom that we staff Monday through Friday, so you can get a tour of any one of our vehicles live. We can't see you, but you can see us and hear us, and you can ask any question you want."
Rumpel expects the unit to account for 20 percent of Pleasure-Way sales in the coming year, equal to between 200 and 300 units, but he admits it's probably not enough, as sales are simply outpacing production.
Airstream Debuts Interstate 24X Adventure B
Sitting at the opposite end of the Sprinter spectrum is the Airstream 24X, announced in June. It's built on the 3500 dual rear-wheel chassis, spans 170 inches between the wheels, and, as its name suggests, measures 24 feet from bumper to bumper. In other words, the 24X is big.
"Traditionally, that platform has been our success formula. A lot of people ask why we built on that first. We're No. 1 in that segment. We sell more extended duallies like that than anybody else. It's our sweet spot," says Tim Garner, general manager of Airstream's touring coach division.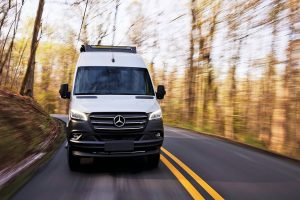 The Jackson Center, Ohio-based manufacturer, whose reputation in the industry began with iconic highline travel trailers, began researching adventure vans about six years ago, Garner says, and he even recalls predicting the segment would eventually account for half the Class B market.
"That's what has happened. It's becoming mainstream instead of a niche, West Coast thing," he says. "What really helped launched a lot of this is when Benz came out with a true 4×4 option for both the short-wheelbase and long-wheelbase models."
Given that Airstream has offered a 4×4 option on its other coaches, it has become a popular choice – even though those models weren't designed to be taken off-road, according to Garner. Combined with the experience gained from the company's wildly successful Basecamp – a lightweight travel trailer line designed for unimproved roads that debuted in 2007 – Airstream had a solid foundation for creating its first adventure van, according to Garner.
"That's part of our research and knowing our customers extremely well," he says. "They want every option standard, and they want everything. On the chassis, we were one of the first ones to check every box. Our customers expected it and they were willing to pay a premium for it because that's what they want. They buy the best.
"There's not a lot of adventure vans out there that have full RV systems as standard in a bigger one," he says. "Ours is a full, turnkey coach. There are really very few options. It even comes with air suspension, for example. That's really who our customer is."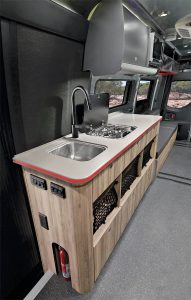 Like the Rekon, the X looks different than the rest of the Airstream motorized offerings. It, too, has black bumpers, side moldings, air dam and wheels, plus a custom roof rack with integrated auxiliary lighting, substantial running boards and a power armless awning. Airstream used bright oak furniture laminate together with Ultraleather seating surfaces, red accents and an aluminum ceiling to make for a unique decor. Airstream also equipped the X with a 400-watt rooftop solar panel system, two 100-amp-hour deep-cycle lithium batteries and a 2,000-watt pure-sine wave inverter. Airstream includes both an Onan 2.5 kW propane generator and a 13,500-BTU air conditioner in the X, as well as a diesel-fired furnace and hot water heater. In addition, there's a separate galley with a two-burner cooktop, a sink, a microwave and ample counterspace.
"Our buyer is probably anywhere from 40 to 60," Garner says. "This isn't just a weekend warrior adventure van going out in the woods. This is really targeted to a wider audience that is very active."
As many Airstream owners have second homes, Garner says the X, which is available in one floorplan, has some serious flexibility The motorhome's European style bathroom combines the shower, toilet and sink in one efficient, versatile space. designed into it. For example, the garage has a 16-foot-long center aisle for carrying items such as kayaks, surfboards and motorcycles, an L-track tie-down system, plus a flexible bedding system that can be used as a pair of twin beds or combined to make a king. Unlike many adventure vans, the X also seats an additional four people in the garage.
Maybe not surprisingly, the combination of features is bringing a new buyer to Airstream.
"We have an onslaught of initial orders and we're trying to determine who they are. We do think it's a new audience for us but there are some that are transitioning over from other Airstream products to this one," Garner says. "We developed the X to grow this new segment."
Yet, one question remains: How far off the beaten path can a Class B dually coach go?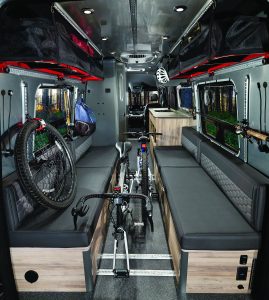 "Ours is a great combination of on-road and off-road," Garner says. "A lot of our customers have cabins and mountain homes and they're going through muddy backwoods roads and it's fine for that kind of thing."
Sales of the X, retailing at just under $214,000, will likely grow to a quarter of Airstream's motorized sales, but Garner says it's not just its capability that will propel the X to such heights.
"It's a very cool look. It's different than most traditional RV looks. It's aggressive, it's cool, and I think that's part of what we are seeing in some of this," he says. "I think it's here to stay. I think there's going to be a lot of growth in this segment."
Like other manufacturers, Airstream is at the mercy of Sprinter supplier Mercedes. As of late summer, 40 X's have arrived at dealers in major markets, so sales staff have something to display and demonstrate.
"We wanted to get inventory out there for people to go look at and then you can make your decision off that and then order one as we get chassis," Garner says. "In general, with an Airstream, it doesn't matter if it's a travel trailer or motorized, there's very little in dealer inventory other than display units.
Winnebago a Pioneer in Adventure B's
Among Sprinter-based Class B's, Winnebago's Revel could be considered a pioneer in the adventure van movement. Entering the scene in the fall of 2018, the Revel was the Forest City, Iowa, manufacturer's second run at the segment; its first attempt, the Era, simply didn't resonate with buyers looking for a van they weren't afraid to get dirty.
"We found that it was not the product that folks were looking for," says Chris Bienert, Winnebago's Class B product manager. "The Revel has been pretty stable. There's really been one big update, and that was for the 2021 model year. We cleaned up the underside, pulling the freshwater tank and the batteries inside the coach. In the process, we changed over to a lithium system."
Based on the Sprinter 2500 like the Rekon, the Revel also has a distinctive look among its Winnebago Class B brethren and its competition. For one thing, access to the roof is enabled with a removable ladder, normally stowed on the rear passenger-side door, that can be temporarily moved to either side of the van, as well as the rear.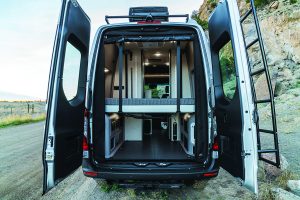 For another, the Revel uses bump-outs, situated in place of the middle rearmost body panels, to extend sleeping space in the garage for its Power Lift platform bed. As on the Rekon and the 24X, bumpers, side moldings, wheels and running boards are black and in addition to three colors, Winnebago offers the Revel with or without graphics along the sides and rear. As do Pleasure-Way and Airstream, Winnebago takes great pains to ensure its Revel is a true four-season coach.
"It's a well-insulated van. We use a floor that provides a good, solid thermal break," Bienert says. "We're using an automotive-grade foam insulation that's CNC cut to fit all the voids in the van and then we cover all of that up with molded plastic on the inside, so we've got a surface that's easy to clean and it forms that vapor barrier."
An optional Coleman-Mach 10 quiet air conditioner can keep that insulated interior cool and the Revel's pair of 125-amp-hour lithium batteries (chargeable via solar, shore power or a dedicated second alternator) and the 2,000-watt inverter has enough energy to power it. The Timberline diesel-fired hydronic heating system is new, too, as is a larger fridge and an induction burner that stores in a drawer when more counter space is needed. The Revel's wet bath includes a cassette toilet that swivels for more space.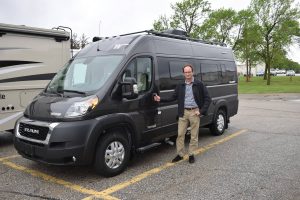 Other new features include an exterior table that folds down from the side of the fridge cabinet, more galley drawer space, redesigned overhead cabinets, and even more durable slam latches. Plus, RAM Tough-Track Mounts have been installed so Revel owners can put electronic devices, cup holders and more almost anywhere.
Its off-road prowess is similar to the like-sized Rekon, but Bienert says its plenty for his customers.
"Obviously, it's not a Jeep, but it's really on par with four-wheel drive crossover SUVs," he says. "We brought the Revel out and offered the BF Goodrich KO2 tires as an option and most Revels ship with them. Those tires really up the Revel's capability. "We pair them with wheels from Method Racing and with our most recent update for '21, those wheels have got some ribs where the bead sits, so that helps lock the bead in. When people go off-road, a lot of times they'll want to air down and so that helps in that situation to keep the bead in place," Bienert says.
Class B's are becoming big business at Winnebago, according to Bienert. The company has two factories, plus an additional assembly line churning out Revels and other vans. Eventually, he believes the Revel will account for a quarter to a third of his van business.
For now, the Revel is available in a single floorplan, the 44E. As for additional designs, Bienert says time will tell.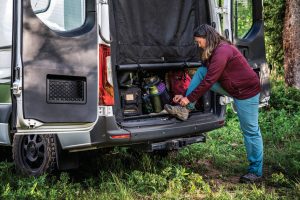 Photos courtesy of Airstream, Pleasure-Way and Winnebago.