RV News
2021 Model Year Preview: nuCamp and Leisure Travel Vans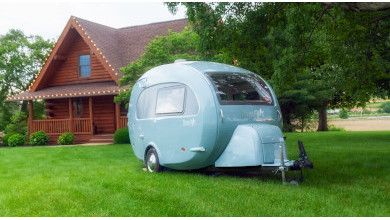 nuCamp's Barefoot
"Editor's note: When the 'Big Three' RV manufacturers announced in mid-July they would not be participating in Open House Week this year, that effectively cancelled the annual event. But RV PRO still talked to 68 product managers, division heads, marketing directors, and C-level executives for this year's 2021 model year preview, which you can find in its entirety in the September 2020 issue. We'll also be sharing those previews in our eNewsletters in the coming days, beginning today."
nuCamp
Ohio-based nuCamp is a company with a lot of history – and most of it lies in making teardrop campers. The company says it is the world's largest manufacturer of these uniquely shaped RVs.
However, its focus broadened with the introduction of truck campers four years ago, and last year nuCamp branched out into the travel trailer market with the AVIA European-styled trailer.
For 2021, nuCamp is all about introducing two "unicorns," it says. Case in point: The Cirrus 620 truck camper, which debuts this fall.
"This is going to be a unicorn because our primary goal with this product is to have its weight be under 1,500 pounds," says Julie McComb, the company's marketing manager. She calls the 620 "the truck camper every half-ton owner has been waiting for, with its lightweight form that doesn't sacrifice quality."
The 620 will be built on the same structural foundation as the Cirrus 820, according to McComb. It offers north/south sleeping featuring a Froli bed system; an Alde heat and hot water system; a full array of kitchen appliances; a comfortable dinette setup; and a cassette toilet. And of course, the "unicorn" factor: It's under 1,500 pounds.
"There is literally nothing on the market right now that sleeps north and south that includes all those amenities, with the size of water tanks that we have – so we're just creating a brand-new product that can slide into that vacancy," says Scott Hubble, nuCamp's CEO. "Right now, if you want to get into something like this with these amenities you'll be getting into a product that's 1,700 pounds, with fewer amenities."
The Cirrus 620 truck camper will be launched at the end of this year.
Another unicorn nuCamp is delivering in 2021 is a product that originated in England, which nuCamp bought the U.S. rights to and will be manufacturing at its Sugarcreek, Ohio, facility: The Barefoot.
"What makes this product unique – it's another unicorn – is it's a fiberglass shell with a Sea Glass exterior color," McComb says. "It's going to provide luxury in a small package.
"Visually this is a going to be a head-turner and a conversation starter."
The first thing one is likely to notice about the Barefoot is its curvy, 1950s retro look with loads of windows, including the aerodynamic curved window at the front. The Barefoot was developed by British designer Cathy Chamberlain, and in a video featured on nuCamp's website, she describes what ultimately became her vision come to life.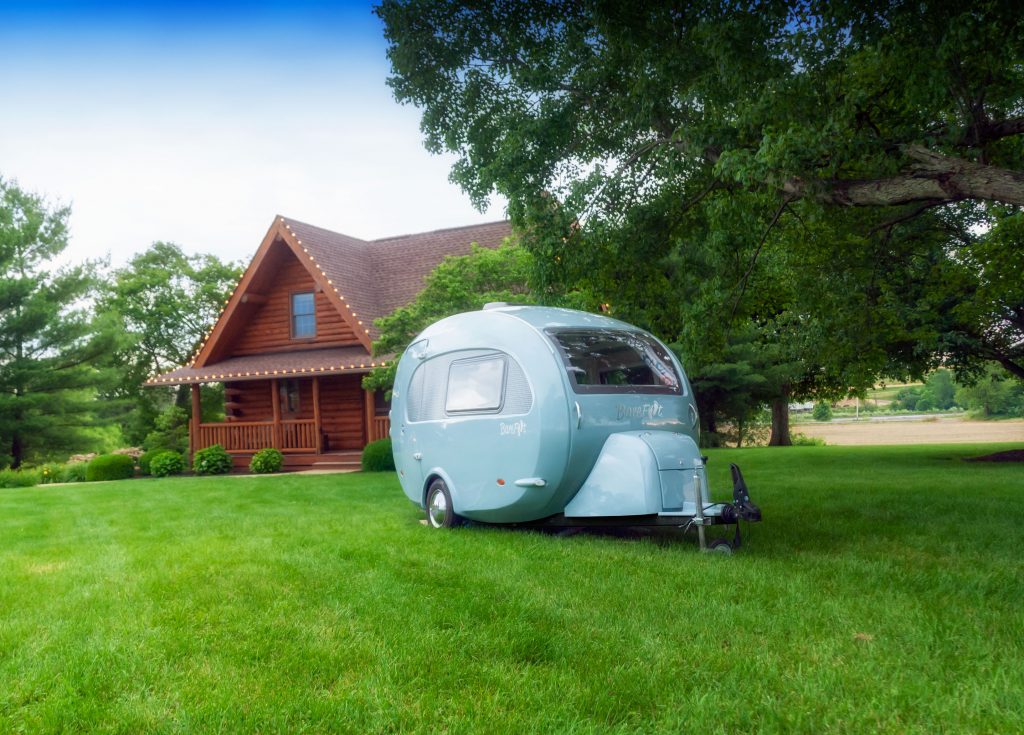 Ironically, Chamberlain says that as she was developing the concept for the Barefoot, the closest thing she found that hinted at what she was envisioning were the TAB and TAG teardrop, trailers made by nuCamp.
To see the nuCamp preview in RV PRO online, click here.
Leisure Travel Vans
Leisure Travel Vans, a brand of Triple E RVs, has introduced its 2021 Wonder Rear Lounge.
Built on the all-new 2020 Ford Transit chassis, the Wonder Rear Lounge boasts a versatile, multi-functional layout, the highlight of which is a rear lounge featuring a sectional sofa, and nearly floor-to-ceiling windows allowing RVers to enjoy immersive views of their campsite.
"We are excited to bring the new Rear Lounge floorplan over to the Wonder lineup," says Ryan Elias, general manager at Leisure Travel Vans. "Between the innovative layout that's been a hit on our Unity product line and the many new fea- tures available on the updated Ford Transit, we have high hopes for the new Wonder."
Inside the compact Wonder, the dual-zone floorplan features a spacious rear living area that emulates the comforts of home while being surrounded by nature. A sectional sofa, equipped with two lounge chairs with built-in footrests, provides personalized comfort while taking in a view or enjoying the sleek, integrated entertainment unit. Three large, expansive windows offer an abundance of natural light and immersive views of the outdoors. At night, a 58-inch by 74-inch Murphy bed transforms the area into a master suite.
The Wonder Rear Lounge creates dual-zone living areas. Up front, the large galley kitchen features a large Corian countertop with flip-down extension and premium appliances, including the Dometic 10 Series fridge. New for 2021, the Ford Transit's swiveling captain's chairs extend the living area, allowing up to four to sit around the removable dinette table.
The Wonder Rear Lounge features a touch- screen control system that makes monitoring and controlling the RV's various electrical components simple. For even more convenience, the system also can be controlled via a mobile app using Bluetooth.
New for 2021, the Wonder comes standard with dual 6-volt AGM batteries and a 2,000-watt pure sine inverter – and starting with August production, optional dual 12-volt lithium coach batteries.
The 2021 Wonder is powered by a twin-turbocharged 3.5-liter EcoBoost V6 gas engine. The new Ford Transit also includes safety features including forward collision warning, pre-collision assist with automatic emergency braking, post-collision braking, lane-deepening system and side wind stabilization.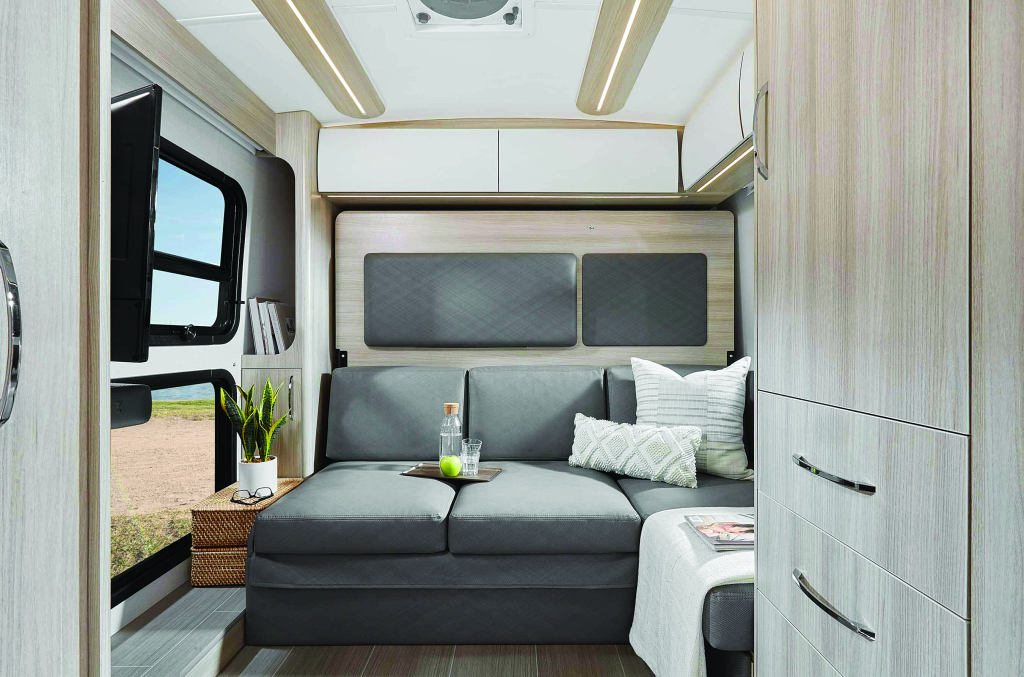 To see the Leisure Travel Vans preview in RV PRO online, click here.