RV News
2021 Preview: inTech RV and Riverside RV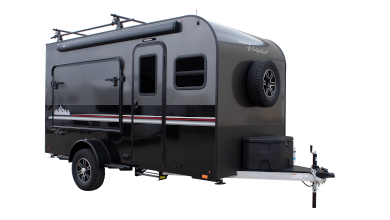 inTech's Discover
COVID-19 cancelled this year's Elkhart Open House Week, but RV PRO still wants to give readers a sense of what to expect in the new model year. Be sure to check out RV PRO's entire 2021 Model Year Preview in the September 2020 issue.
inTech RV
inTech continues to build off the momentum of its Luna trailers, as well as its Sol line – the latter which boasted the Horizon model as a new model last year.
Keith Fishburn, sales manager at inTech RV, says the company's smaller-size offerings remain popular for those interested in a portable, stowable trailer. Still, the RV maker decided to also provide a new option this year with the Terra line.
"Over the past two years, we've been making the Sol line, and that moved us up into the travel trailer market," he explains. Fishburn says the Terra shares some similarities with the Sol line but steps up the size range. "They will be 8-foot-wide units with dry baths in them, and they'll have north/south-facing queen-size beds with room to walk around them."
Fishburn says that the slightly more spacious design makes it suitable for customers interested in a trailer that provides enough comfort for those slightly longer road trips from about one to two months. He adds that inTech most likely will offer an optional slide-out exterior kitchen on the first Terra model, as well as a standard awning.
"On the inside, a 12-volt refrigerator is a starting point with an option to go to a three-way fridge," he says.
inTech plans to release the first version of the Terra's floorplan this month, which Fishburn says will feature a 25-foot length for the overall unit.
"From there, we've got some ideas of where it goes and (we may) open it up to being a family camper," he says, pointing to the possible addition of features like bunk layouts to accommodate families and children. The initial 25-foot model is estimated to have a dry weight of about 4,500 pounds. (Fishburn points out that the cap and windshield are still in the tooling process so, this final number is still approximate) and a GVWR weight closer to 7,000 pounds.
Overall, Fishburn says inTech's typical "tilt-forward" design approach provides additional floor space inside the cabin and a panoramic windshield.
"Whatever size range we find ourselves in, whatever the floor-length is, we're able to gain another foot and a half to 2 feet of space with that design," he says. The Terra will be the largest trailer in the company's arsenal once it is released.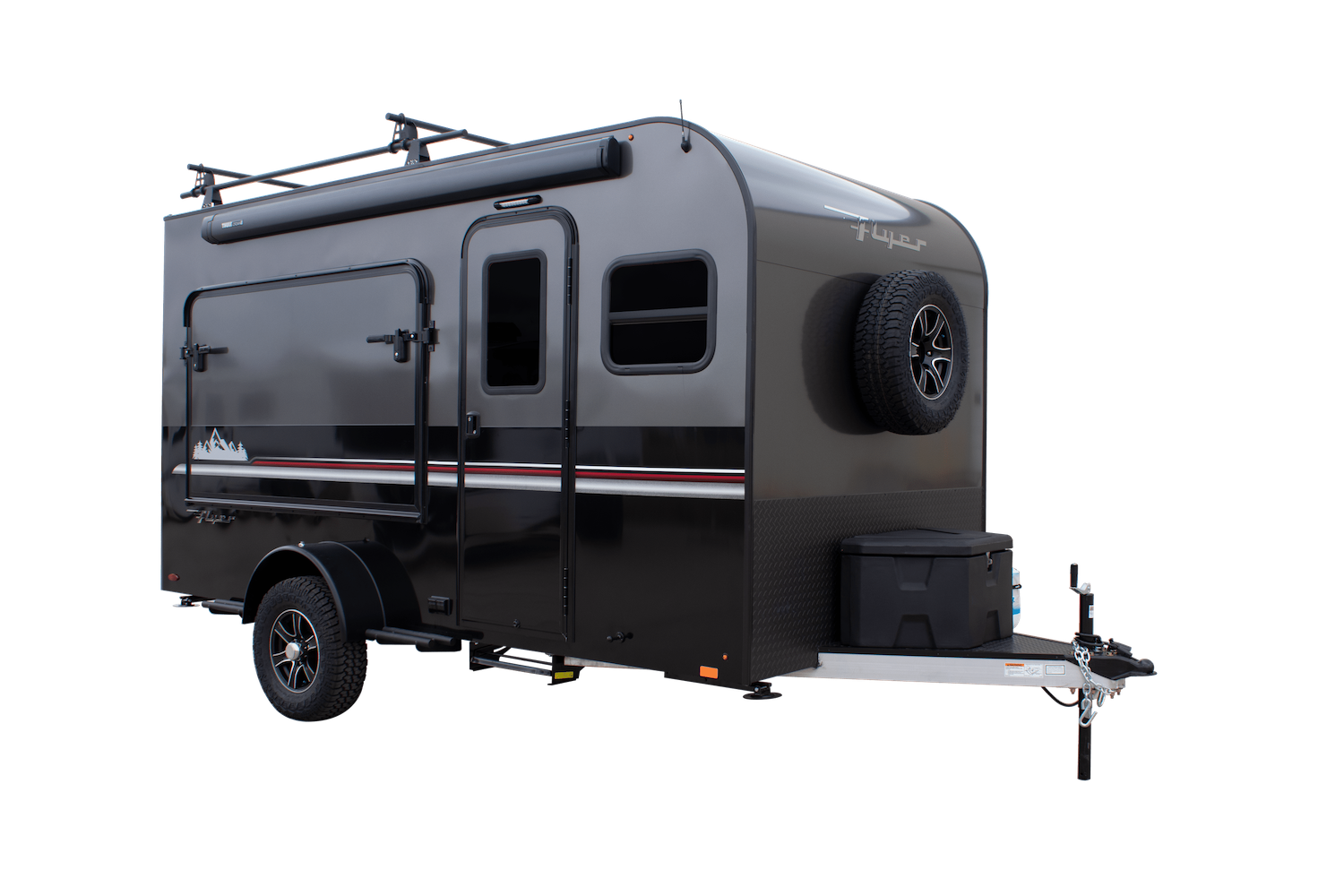 In addition to the Terra, inTech plans to add a new model to the company's Flyer line, named the Discover. Fishburn says most models in that lineup can fit a motorcycle and standard-size ATVs, but don't typically have a lot of extra room. With the Discover, he says the trailer offers roughly 12 feet of floor space and a width of 7 feet.
"Now you can fit your side-by-sides, your full-length motorcycles, in the Discover," he says.
Thanks to an increased head height of 6 feet, 9 inches, Discover also will be the first in the Flyer line to offer an interior kitchen.
"So far, we've used a slide-out, exterior kitchen because none of them have an ideal head-height for standing inside," Fishburn adds. Outside of the Terra and the Discover additions, Fishburn says inTech plans to continue focusing on its launches from 2019. He points to one adjustment on the company's Luna trailer, which has been re-tooled for the new year.
"It'll be the first teardrop trailer to have a plumbed-in cassette toilet on the front end of it," he says. "It plumbs into the 8.5-gallon freshwater tank. The cassette waste tank area has a door that opens from the exterior that slides right out so you can dispose of it."
The company came up with the design after requests for RVers traveling in slightly more remote areas who wanted a portable toilet option even if there wasn't as much room for extra privacy.
Even with the cancellation of the in-person Open House, Fishburn says inTech expects plenty of demand into 2021.
"If you look at orders, we're already very booked out through the end of the year, into next year on most of our lines. From the ordering standpoint, it didn't really change much for us," he says, adding, "(It's been) a year where dealers are busy and under the gun as it is. Having to stay at home and being able to keep moving product may even perhaps turn out to be a positive."
To see the inTech RV 2021 preview in RV PRO online, click here.
Riverside RV
Branch out.
That's what Riverside RV did last year with the introduction of its Intrepid brand, which it is doubling down on in 2021.
According to Chris Daniels, president and chief operating officer, the Intrepid was a bit of a "culture change" for the company, which launched in 2008 focusing on retro-style trailers.
"We've always been known for the Retro," Daniels says, referring to the company's flagship brand. "We're trying to become more competitive in the industry, a little more mainstream outside of just that niche with the Retro product."
But there's a reason Riverside is known for its Retro brand of travel trailers. They are immensely popular.
And it's not a formula Daniels wants to mess with too much, although for the 2021 model year some exciting changes are coming to the Retro.
First are the new color options.
"We are doing some different color combinations – yellow, royal blue and an aqua with a navy we've never been able to do before," says Vice President of Sales And Marketing Bobby Fish.
New standard features include a black tank flush and a power tongue.
Floorplans are something that do get shuffled around quite a bit in the Retro, and that's especially true for the 2021 model year. "We're adding some new, more family-friendly floorplans," Fish says. "Historically, the Retro's been a trailer that's basically been designed for two people – we just haven't had a lot of 'family' units. The 231 (floorplan) opens the door for a lot more families." He's specifically referring to the 231 EABH, which is the model that Riverside RV donated to Ellie Art and her family through the Make-A-Wish Foundation.
Ellie is a little girl who had been battling Acute Lymphoblastic Leukemia. Her parents contacted Make-A-Wish and when they went in to meet and find out what Ellie's wish was, it was that the family could all travel together having adventures in an RV. The Foundation contacted Daniels about the Retro, and he was thrilled at the chance to help.
Out of that donation came a new floorplan – the 231 EABH, which stands for "Ellie Art Bunkhouse."
The trailer has double-bunks in the back, a sofa and Murphy bed upfront, plus a dinette and outside kitchen. And the bunks fold up to make room for extra storage.
The Art family loves it, and Daniels thinks other families will as well.
As for the 2021 models of the Intrepid, let's just say the boys at Riverside were more than a bit disappointed when Elkhart Open House Week had to be cancelled.
"We would have had the full line at Open House," says Fish.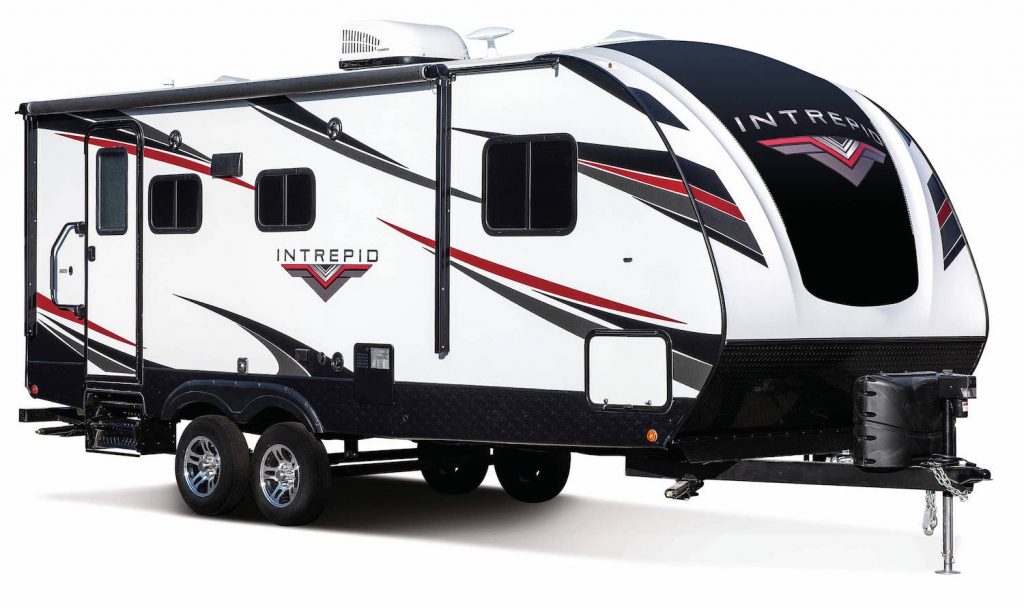 The exterior of the Intrepid was not changed much from its debut look in 2020, but inside there are some new things happening for the 2021 model year. For example, all-new Furrion appliances, including an optional 12-volt refrigerator. Buyers who opt for the 12-volt also will receive a 50-watt battery maintainer, for when they are boondocking.
"We're also going to be adding three or four toy hauler floorplans into the Intrepid product line," Daniels says. "All 102 (inches) wide, so they'll be wide-bodies. We're pretty excited about that. That's something we're really looking forward to."
There also are five new floorplans coming out for what Riverside is calling its Intrepid Explorer. Daniels says the Explorer is in the 18- to 25-foot range, smaller and lighter than a typical Intrepid, that people can tow with a smaller vehicle.
"It's still going to have the same amenities, it's just kind of a smaller trailer," he says. "Small and light is the way the industry seems to be still heading at this point. I know there's a lot of big stuff that's doing better than before, but you keep seeing the emergence of smaller companies coming out that are basically in direct competition to us in small, lightweight stuff."
Another sign of Riverside branching out?
"We've hired a Canadian sales rep," says Fish with a smile.
To see the Riverside RV 2021 preview in RV PRO online, click here.
Previously:
Chinook RV and Gulf Stream Coach previews here
Roadtrek and Xtreme Outdoors previews here
TAXA Outdoors and the Vanleigh previews here
Alliance RV and Nexus previews here
nuCamp and Leisure Travel Vans previews here