News
ATC's New Limited Series 'Dramatically' Reduces Delivery Times
In an effort to address extended delivery times impacting the entire trailer industry, Aluminum Trailer Co. (ATC) introduces its new Limited series lines, reducing production and delivery times. The new Limited series models, rolling off ATC production lines now, offer a full complement of popular pre-set features for each trailer type. Specific features included with individual Limited series models are based on historical data tracking the most frequently ordered features requests from consumers.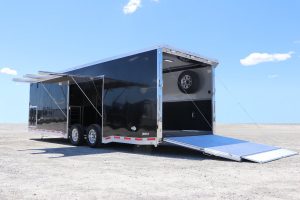 By packaging a pre-set collection of features into Limited series trailers, ATC is able to streamline its manufacturing processes. Dedicated Limited production lines can rapid-assemble Limited series models at accelerated rates with great precision, maintaining the company's high-quality standards while delivering trailers much more quickly than other trailer makers or custom builds.
The initial three models available in the Limited series are:
The exceptionally durable, Quest Car Hauler Limited with state-of-the art welding of ceilings, walls, and floors to ensure precision alignment.
The sturdy, dependable Raven Car Hauler Limited featuring a lightweight aluminum frame for hauling race cars, show cars, and other vehicles.
The Raven Cargo Hauler Limited outfitted to safely and securely haul vehicles, motorcycles, and ATVs for weekend outings.
Like all ATC products, Limited series models feature all-aluminum construction which the company said is, pound-for-pound, twice as strong as trailers with industry-standard steel construction.
"We know that customers want great trailers that they can depend upon and trust to haul precious items; but they also want to take possession of great trailers for use this summer, not in months or even next year," said Kathy Adams, vice president of marketing for ATC. "The ATC Limited series models give customers the option of getting a premium-outfitted trailer delivered quickly, or ordering a completely customized trailer that will be delivered on a longer timeframe."