RV News
Gallery: The Evolution of Stoltzfus RV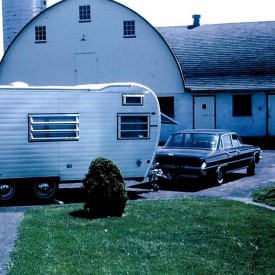 Adamstown, Pa.-based dealership Stoltzfus RV originally began on an Amish farm in 1967 with a handful of pop-up trailers.
"The Amish are not allowed to do that," Colleen Staley, Stoltzfus RV's department manager, said about her grandfather. "Obviously, it caused an issue."
Staley said he later bought an old maintenance facility, also in Honey Brook, Pa., that used to sell stone. It became the first Stoltzfus RV hub and had two bays. The dealership then moved to Adamstown around 1985, and Staley's uncle Earl Stoltzfus started a dealership in West Chester, Pa.
The Honey Brook dealership went to Lester Stoltzfus who, like Staley's grandfather, enjoyed helping people attracted to the outdoors.
"I also like coming in and hearing the customers' stories," Staley said, explaining how she plans on taking her own kids west across the U.S.
Stoltfus RV recently relocated about a stone's throw away from the location it originally moved to 33 years ago.
The new building has five bays – an upgrade from the four smaller ones – and a larger parts and accessories store. Staley mentions how the dealership occasionally had to turn away work at the original location due to its size and customer activity.
Now the plan is to bring on more salespeople, RV techs, as well as some 21st century technical upgrades with new computers and scanners, moving past the "dinosaur-era" handwriting.
"In these past couple years, we've been so extremely busy, and so extremely blessed, so it has to happen," said Staley.