News
Manufacturers Prepare Open House Surprises
This article is from our older website archives. Some content may not be formatted or attributed properly. Please
Contact Us
if you feel it needs to be corrected. Thank you.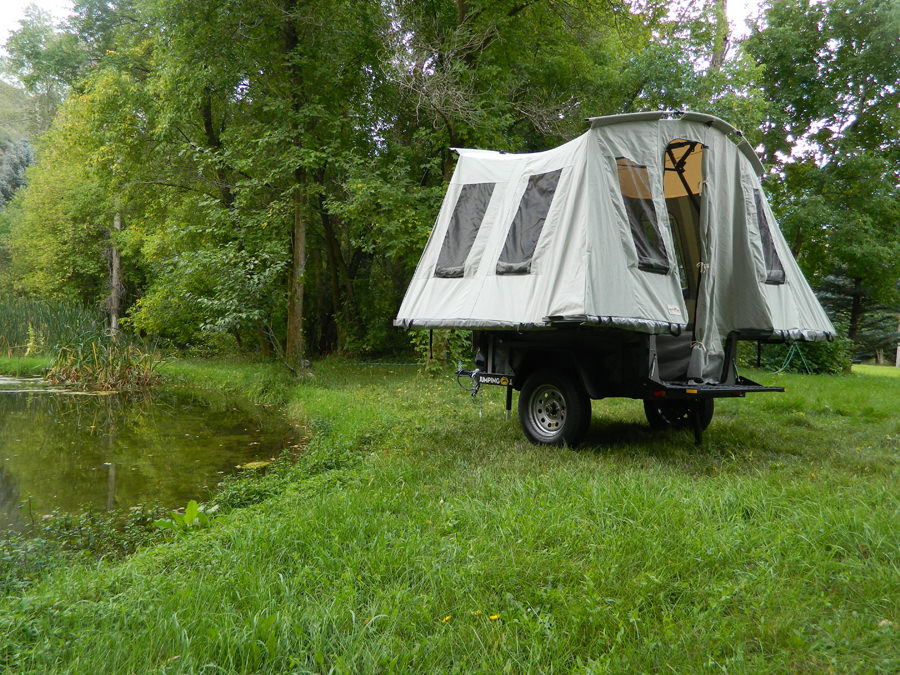 Many manufacturers are working to give dealers something to look forward to at this year's Elkhart Open House on Sept. 22 to 24.
---
The Jumping Jack Camper Trailer fully deploys into a pop-up camper, above, and folds down to a cargo trailer and toy hauler, below.
---
For some, the Open House is a place to introduce new product, find new dealer partners, or catch up with repeat customers, but for Jumping Jack Camper Trailers, the event will be the company's debut to the RV dealership market.
The company, which has made its multipurpose, utility pop-up campers for several years, will introduce its product to the dealer body for the first time this year, according to a company spokesperson.
"This is a toy hauler, camper and utility trailer that sells for under $7,000," he said. "It's a tank, not a butterfly. A traditional pop-up camper is stick and glue, lightweight axle, but you can't take anything with you. With this, you can bring the toys for the kids. Our product has a 3,500 pound axle."
The Jumping Jack Camper trailer is a pop-up camper that, when fully optioned, includes a stove, water source and lighting. It folds down into a cargo trailer that can be used to haul toys, such as quads and motorcycles, along for the camping trip.
The company sells three sizes of its traditional camper trailers, ranging in size from the 6-by-9-foot, 1,400-pound model, to a 6-foot-by-17-foot model. The 6-by-9-foot model has a manufacturer's suggested retail price that starts at $6,995.
"It's priced right so that even a young family starting out, who just wants to camp – firstly, they can afford it, but it's also a multipurpose unit," the company spokesperson said. "They can take the lawnmower to the shop or they can haul leaves from the yard, when it's in utility mode."
Jumping Jack Campers will be located on the north side of Executive Parkway.
Gulf Stream
For this year's Elkhart Open House, Gulf Stream Director of Marketing Paul Campbell decided to test the maxim that the fastest way to a dealer's heart is through his stomach.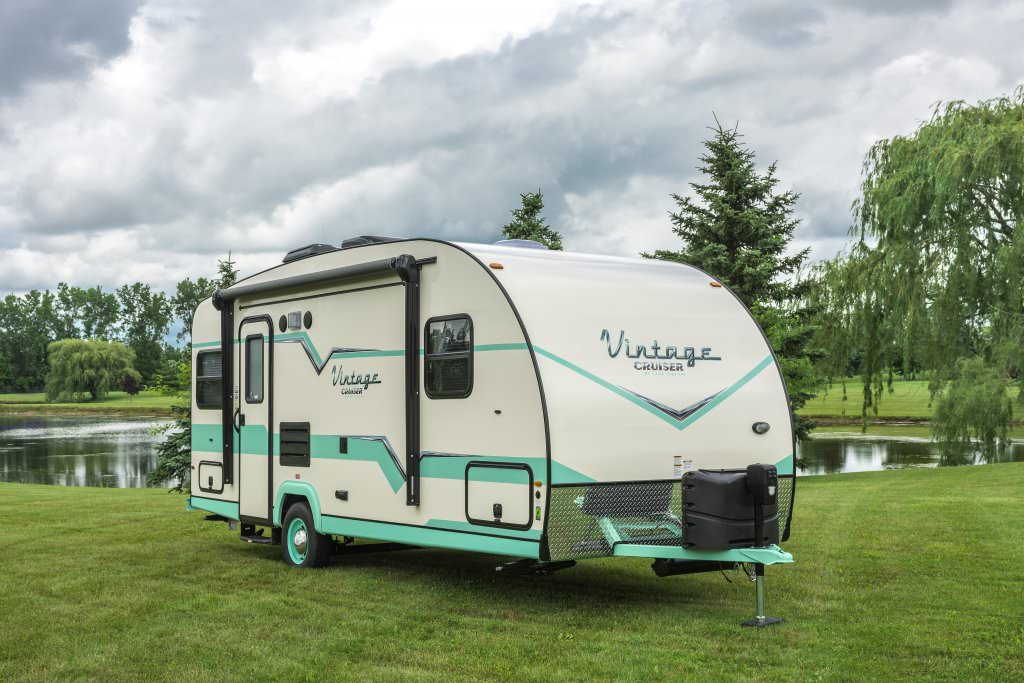 Gulf Stream's retro travel trailer will be featured at the company's Open House display.
The company, which will be displaying "dozens" of units from its 2016 lineup on the RV/MH Hall of Fame Display Lot (where Executive Parkway and Independence Court meet), will kick off the Open House event with a hog roast open to attendees.
"We're going to be open for business, show-ready at 9 a.m. Monday (Sept. 21)," Campbell said. "We'll be open all day, and we're going to do a hog roast in our booth space. We've got a huge circus tent and stadium lighting coming in. We're going to roast a huge hog and serve everybody who's there for dinner with all the fixin's, too."
The hog roast is expected to begin about 6 p.m. Monday.
Gulf Stream plans to serve breakfasts on Sept. 22 and 23, followed by lunch events. Since they'll have the grills on hand from the hog roast, Campbell said the company will have a refrigerator full of steaks to save dealers from having to shop on an empty stomach.
The selection will include "dozens" of units featuring all-new floorplans across the company's stick-and-tin and laminated lineups.
Among the units they'll be featuring, Campbell said the company's new retro cruiser has generated the most buzz.
"It's a laminated fiberglass, super-lightweight, aerodynamic towable that has a retro look on the outside with the color scheme and graphics, and we've carried that inside, too," he said. "It's the best of the old and the best of the new."
The interior features a retro color scheme, styles and custom bedding, alongside modern comfort items such as high-definition television, microwave and air-conditioning.
"We've got great new floorplans," Campbell said. "I'm really excited about what they've put in, from some entry level price points to some mid-level price points with some exciting new floorplans, there's something new for everybody to see, both our dealers, and the prospective dealers, who aren't already doing business with us."
Roadtrek
Roadtrek will be showcasing at the Open House in Elkhart, displaying new models on some of its most popular motorhomes.
"We will have a full assortment of models on hand, including two new units, the Zion SRT, which is our second unit to be built on the Ram ProMaster, but the SRT is on the shorter chassis," Roadtrek Director of Marketing Karyn Torcoletti said.
The SRT can sleep up to three, and seats up to four. The motorhome is designed to include plenty of storage, alongside its permanent bath with shower and extensive galley.
"We will also have on hand our newest features being showcased on our E-Trek extended chassis model and includes our EcoTrek lithium power modules, our proprietary auto-start technology called Volt Start, rear sleeping quarters headboard and legless outdoor awning," Torcoletti said.
Riverside RVs
Riverside RVs plans to debut its latest retro slide unit along with a new traditional travel trailer at the company's display northwest of the County Road 6, Northland Drive intersection.
For more coverage on the Elkhart Open House and to view a map of manufacturer display locations, visit our magazine's online edition, here.