RV News
Quartzsite RV Show Reveals Event Dates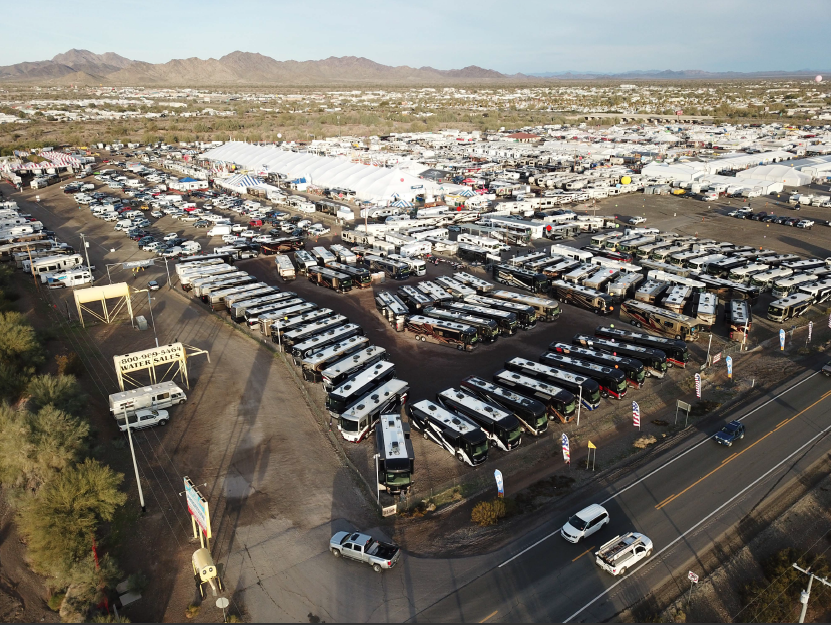 The Quartzsite Sports, Vacation & RV Show is coming back to the Sonoran Desert hamlet of Quartzsite, Ariz. The consumer-driven RV show is slated Jan. 22 – 30, 2022.
Located 125 miles west of Phoenix and 20 miles from the California border, show coordinators said the world's largest gathering of RVers "on the planet" started 39 years ago. Roughly 150,000 RVers from all over the country and the Canadian provinces are expected at the 2022 show.
"This little town goes from hibernation to a full-blown party," says Kimmy King, promoter of the nine-day RV showcase. "My father, Kenny King, who passed away last April, came up with the idea back in 1983 and a year later, he made it happen. It didn't take long for RVers from all over America to discover the largest celebration of RVers in the world. We sorely miss Dad, but we can smile knowing his legacy will last forever."
The Quartzsite Sports, Vacation and RV Show is a destination, a rocks and mineral show and a people-watching venue, show coordinators said. Attendees will be able to walk through hundreds of new and pre-owned RV models and there will be over a dozen, fully staffed RV service bays offering repairs and service, plus immediate installation on many of the items exhibited and sold at the show. Numerous tourism-related exhibits from around the world are scheduled to participate, as well as representatives from dozens of RV resorts and campgrounds. In addition, many "workamper" recruiters from National Parks and private campgrounds will be in attendance.
The show is expecting more than 400 exhibitors within a 70,000-square-foot structure, selling everything from the latest RV gadgets to fashion jewelry and local honey. The show is billed as "The Largest Consumer-Attended RV Show in the US."
"If you're looking for anything related to RVs, you'll find it at our show in Quartzsite," said King. "It's something every RVer should have on their bucket list and experience at least once in their lifetime." Progressive Insurance is the show's naming sponsor.