News
Thor-Jayco Tie-Up: It's Not About Being 'Big'
This article is from our older website archives. Some content may not be formatted or attributed properly. Please
Contact Us
if you feel it needs to be corrected. Thank you.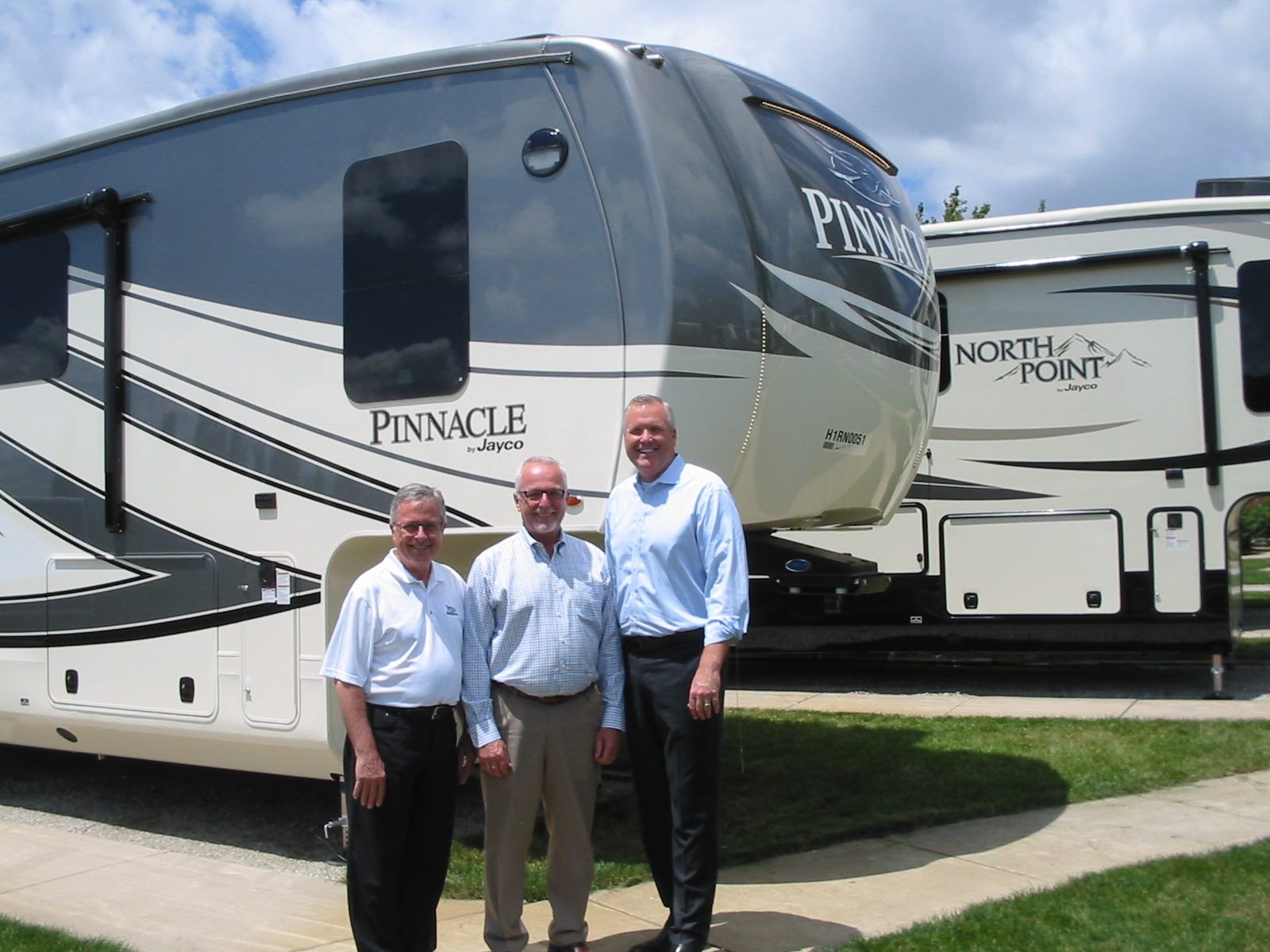 MIDDLEBURY, Ind. – A sign in front of the leading restaurant in Middlebury ominously proclaims, "A Change in the Wind."
After the announcement on Friday (July 1) that Thor Industries had bought Jayco for $576 million in cash from owners Wilbur and Derald Bontrager, the sign took on special meaning for what had been – until the completion of the sale a day earlier – the RV industry's largest privately owned RV manufacturer.
The deal merges Thor's 11,000 employees at 148 factories and $4.07 billion in annual sales with Jayco's 3,300 workers at 31 factories and $1.5 billion sales. It also consolidates 47 percent of the U.S. RV retail market share under Thor – making it the clear industry leader.
The purchase also likely will thrust Thor – which stood at No. 596 on Fortune magazine's list of top public corporations in 2015 – into the prestigious Fortune 500 by year-end. (Thor's and Jayco's combined 2015 sales would have put the firm at No. 468 for this year's listing.)
The Bontragers circulated a companywide email Friday morning announcing the sale. Derald Bontrager said the response he received in face-to-face talks with staff and in more than 100 emails by lunchtime was overwhelmingly positive.
"People have been affirmative and positive. That feels good," he said at a press event at Jayco's Middlebury, Ind. facility Friday afternoon.
Wilbur Bontrager also reached out to some of Jayco's 800 dealers, alerting them of the sale and allaying any immediate uncertainty.
For its part, Thor stated, "Jayco Corp. will continue to operate its business independently, just as it has over the past 48 years, and its current management team will remain in place. We do not have plans to integrate Jayco into any of our other subsidiaries. As with our past acquisitions of private companies, there will be some modest changes associated with Jayco becoming a subsidiary of a public company."
The purchase is the largest since Berkshire Hathaway bought Forest River for a reported $800 million in July 2005. Unlike that negotiation, which, according to the Wall Street Journal, lasted around 20 minutes, the Thor/Jayco talks began about a year and a half ago when Thor CEO Bob Martin broached the idea to Derald Bontrager.
Martin called that initial overture "just casual conversations."
"We had significant conversations at the end of last year," Martin continued. "This is a different industry and because it's so relationship-driven. I think I talked with Derald at a show and just asked them if they ever had interest, we would love to talk."
For his part, Derald Bontrager said, "When Thor approached us, it just felt right. The more we talked, the more we were comfortable that our values and operating styles were very similar. Knowing that gave us great comfort."
Martin added, "Many companies this size have limited options (buyers). Maybe it's private equity. There are only a few other manufacturers in the area that may have an interest in it. The way we run our companies really was attractive to them because of our decentralized nature."
Martin said other factors included "the fact that Derald and Wilbur want to stay and the fact that we're not going to come in and change everything on Day 1. It's a different business model. A lot of people don't understand it, but it's been very successful for Thor. We buy companies with strong management and they are the secret to our success."
Though Forest River's annual sales are no longer a matter of public record, the Jayco deal would appear to put Thor back into the No. 1 RV manufacturer spot. Still, Martin said he's unconcerned about the return to the top spot.
"For me, it's not about being big. I've not even done the math … I swear I haven't. … To me, it's not about that. They're (Forest River) aggressive and will continue to grow. … They are a formidable competitor.
"In this industry, sometimes our biggest competitors are little companies; they can be very nimble and aggressive," he added. "That's the beauty of the RV industry. It's a non-franchised industry that's all about relationships and the products and that's what keeps us all going. My companies all compete. These guys will compete with the rest of Thor and the rest of the industry and that will drive them all to be better."