News
2021 Preview: Newmar and Winnebago Towables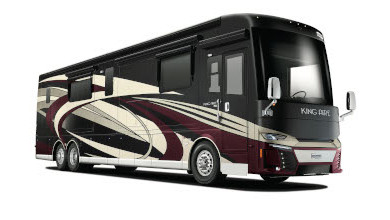 Newmar's King Aire
COVID-19 cancelled this year's Elkhart Open House Week, but RV PRO still wants to give readers a sense of what to expect in the new model year. Be sure to check out RV PRO's entire 2021 Model Year Preview in the September 2020 issue.
Newmar
Newmar is introducing its all-new 2021 Canyon Star front-engine diesel, and its brand will feature an entirely new look and new chassis platform. The new look is delivered in every aspect of Newmar's Canyon Star, says John Sammut, vice president of sales and marketing.
"Not only has it gone through a life-cycle change, but we've also transitioned it to Freightliner's MC front-engine diesel chassis. Unless another manufacturer has done something similar for 2021, we're the only front-end diesel Class A motorhome available," he says.
He adds that the 2021 Canyon Star 3927 model is of particular interest as it is the only diesel-powered toy hauler in the Class A motorhome segment.
Canyon Star's Cummins B engine provides 340 horsepower and is paired with an Allison 2500 series transmission. The new chassis is rated at 30,000 GVWR and is equipped with a tow hitch rated at 6,000 pounds. The standard generator is an Onan 6.0 kW diesel-powered generator with an option for an 8.0 kW Onan unit.
As with all life-cycle changes, the RV has new front and rear caps and a completely redesigned cockpit and instrument panel offering a larger 9-inch Xite radio and 9-inch monitor system.
"Perhaps more stunning," says Sammut, "is the all-new interior design, which includes new cabinet doors and drawer fronts, new feature ceiling, new slide-out fascias – even new furniture styling."
As furniture manufacturer Flexsteel suddenly announced its exit from the RV market this year, Newmar pivoted quickly to source products from its other partner, Williamsburg Furniture.
"Williamsburg and Villa will afford us a more residential look. The marketplace also views Villa as a higher-end line – we've received very positive feedback. All units will feature the new furniture," Sammut says.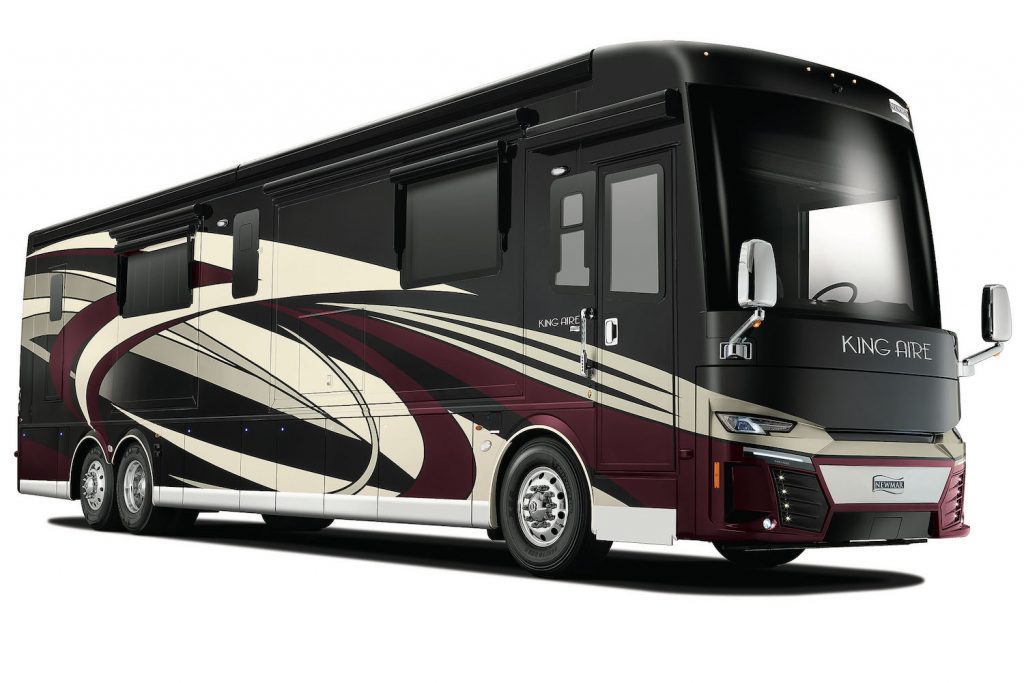 Newmar's flagship diesel, King Aire, has not only undergone a major life-cycle change, but also is introducing a lot of new features to the high-end motorhome market, according to Sammut. The goal was to further separate the King Aire from Newmar's other high-end brand, the Essex, with content that could not be replicated in any other Newmar product.
"Dealers and customers were telling us the two products were too close together in features and price. They wanted the King Aire to get a purpose and definition of its own," Sammut says. Some of those unique features include luxury residential appliances from Viking and Miele; a Samsung 8K TV in the living area and QLED Samsung TVs in all other locations; European-style cabinetry with flush-mounted, flat-panel doors treated with a high-gloss finish; quartz countertops with newly designed edging not offered in any other Newmar brand; new leather-covered instrument panel with detailed stitching; bonded windows with chrome interior trim and square corners; and a taller interior ceiling height, among many other new features.
"There was a lot of content added to the King Aire to justify an increase in price," Sammut adds.
Over the last several years, Newmar has been successfully introducing products designed specifically for the wheelchair-accessibility market with its Canyon Star RV. More recently, Newmar's Ventana Dutch Star diesel brands have offered a dedicated footprint to accommodate wheelchair passengers.
"This year, we've added two additional wheelchair accessible floorplans," Sammut says. "The Bay Star 3811 brings wheelchair accessibility with a lower price-point than we had with the Canyon Star, knowing that the Canyon Star went up in price this year with the transition to the front-engine diesel chassis."
The new Kountry Star 4011 is Newmar's lowest-priced wheelchair-accessible model, which brings the manufacturer to five different brands that offer the amenity at five different price-points.
To see the Newmar preview in RV PRO online, click here.
Winnebago Towables
The Winnebago towable line up starts with the Hike trailer.
Introduced last fall as a concept with production in January of 2020, this trailer is built for beyond the beaten path and is making a splash with a more off-road look and off-the-grid, ready-for-adventure features.
It offers a sleek interior with a note to European styling and the newly patented exterior exoskeleton that lines the fiberglass front, roof and rear with powder-coated metal racks. This system is built for hauling all manner of kayaks, bikes and other toys.
The Hike also has a rear two-inch receiver integrated in the trailer frame for more storage/cargo options. An additional gear box on the tongue holds LP-gas cylinders and batteries with room to spare.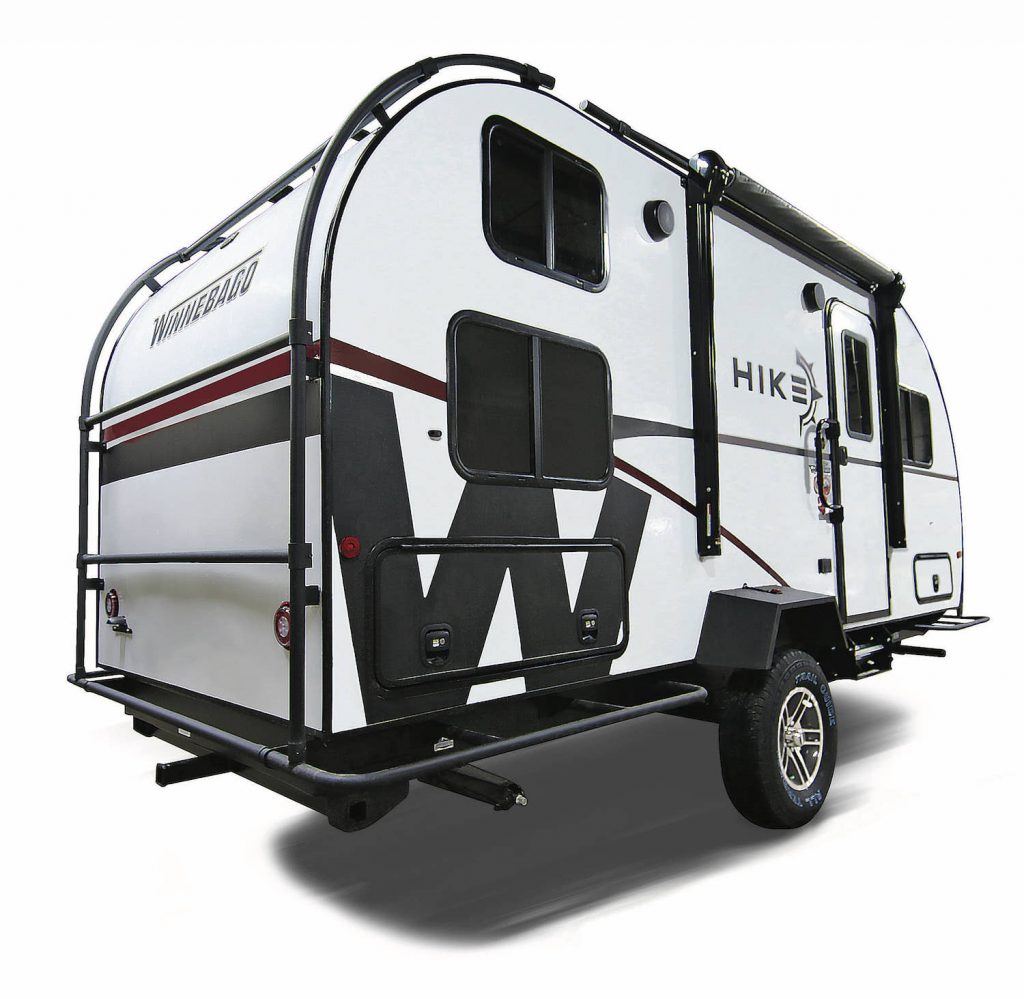 This fall, there are a few updates to the Hike: a spare tire will be standard and the gear box has been updated to more easily accommodate various sway control options for retail customers.
Meanwhile, the Minnie series is Winnebago's foundation for travel trailers and has been the key focus for change by Winnebago Product Manager Adam Christoffersen and General Manager Joel Eberlein.
Leading with Micro Minnie, these models are all 7 feet wide and average a 3,500-pound dry weight. This product has gone through an extensive design update for both the interior and exterior.
Starting on the outside, the brilliant Silver Max fiberglass from Crane will be standard throughout the Winnebago towable line, complemented with new graphics, rims and more aggressive tire package. Larger outside awnings and improved window locations enhance the basic features from prior models.
The interior with modern colors are highlighted by the new full overlay cabinet design
and hidden style hinges, continuing the sleek Euro-styling introduced in the Hike through both the Micro and Minnie trailer.
The Micro Minnie list of new interior features is extensive: the Dream dinette table and bracket, pocket-style doors for the bathroom to improve ease of entry/exit, a new Murphy bed design with flush fold-up and storage drawers in the base. Most models also will offer an option for a pull-out sleeper sofa to replace the old Jacknife-style or standard dinette.
"This is a significant feature for the Micro Minnie and one that consumers have been asking for. Until a recent design change by one of our furniture partners, this was not able to be done before," says Eberlein.
The Micro also has a number of new appliance changes. Standard will be Dometic's 10.3 12-volt refrigerator; an option will be an 8-cubic-foot gas/electric type. Other features include a 1.1-cubic-foot convection microwave and Suburban two- or three-burner cooktop stoves and upgraded faucet w/pulldown sprayer and larger sink complete the kitchen updates.
There also has been an update to hardware and faucets for the bathroom sink, shower and exterior kitchens. Winnebago also will be introducing Coleman-Mach products on all brands this fall.
For its part, the Micro will come standard with 13.5K-BTU Quiet Series A/C and offers an optional 15K-BTU Quiet Series. The Minnie trailer, a traditional 8-foot-wide laminated trailer, has many of the same styling changes as the Micro with new déco and interior, including a full overlay cabinet design throughout. Appliance and furniture updates are also the same.
The more significant change is the overall interior presence of the trailer with an increase of interior height to more than 76 inches. However the exterior height will remain the same. The addition of low pro A/C keeps the trailer at 11 feet and maintains the flexibility for a transport to double haul to dealers. The Minnie will come standard with a second A/C prep and an optional second A/C will operate on 30 amps with an integrated EMS.
Meanwhile, the Winnebago Voyage trailer and fifth wheel also will see all new interiors and enhancement to the front caps with partial paint feature.
The focus for Voyage is new floorplans to complement the series overall lineup. For the fifth wheel, there will be five floorplans in the 2021 lineup, all built on the W-Series frame. Eberlein says the W Series has a best-in-class suspension plus the combination of a 7,000-pound axle, Road Armor equalizer and 16-inch G-rated tires. It also features a drop-frame design for more maximum pass-through storage.
Floorplans for the Voyage FW start with the 3134RL. This model is just under 35 feet with a rear lounge. The second model is a 2932RL, also a rear lounge; however, the overall length is 32 feet and appeals more for those customers looking for high-end amenities in a more compact fifth wheel.
At Winnebago's dealer meeting in March, the company introduced the 3436FL, offering a full-featured front living at 36 feet, pin to bumper. The RV sleeps six, has a U-shape kitchen for maximum counter space and storage, and has a king bed option. The 3639BH and 3739RK will be in production this fall.
To see the Winnebago Towables preview in RV PRO online, click here.
Previously: 
inTech RV and Riverside RV previews here
Chinook RV and Gulf Stream Coach previews here 
Roadtrek and Xtreme Outdoors previews here
TAXA Outdoors and the Vanleigh previews here
Alliance RV and Nexus previews here
nuCamp and Leisure Travel Vans previews here