RV News
Mobile RV Repair Service Expanding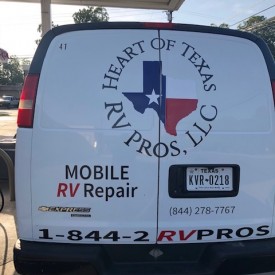 Getting stranded in an RV under the hot Texas sun can be miserable. The heat bears down on RVers, the battery life is waning, and they're likely to need repairs before the unit can move again.
Enter mobile RV repair services. For many RVers stuck on the road, these companies can be a knight in shining armor. For three men in Temple, Texas, playing hero has become a true calling.
"That's a good feeling on our part," said Shawn Willhoite, cofounder of Heart of Texas (HOT) RV Pros. "You kind of never get tired of someone being completely thankful. You know that you helped them out. And it's a good feeling that you hope to keep recreating."
Whether it's repairing fiberglass, ripped out jacks (a common issue), floorboards, water heaters, refrigerators, and, even, slide-outs, HOT RV Pros springs to action like an emergency response pit crew. Since its founding in 2018, the company has been a quick call from a campsite. Minutes later, certified – or-soon-to-be certified – technicians are on the spot.
Scroll down for more photos of the team in action.
The only off-the-table issues are anything related to transmissions or engines. Otherwise, mobile repair unit is ready to respond rapidly, answering anywhere from 15 to 40 calls a week within a 100-mile radius. The mobile service startup was founded by industry vets from Crestview RV. Unlike other mobile repair services, HOT RV Pros comes in a branded van and recognizable uniform.
"(Sometimes a repairman) will just look like a regular guy, driving their personal vehicle," said Shawn Willhoite. "We wanted to put all of our guys in a Heart of Texas RV Pros T-shirt. Put a hat on, wear a jacket. Our van, our trailer. They have a logo. They have a phone number, a website. We want to look like you called the air conditioning guy to come to your house."
That brand recognition has paid off for the company. Originally beginning in an old dealership in Waco, Texas, in 2018, HOT RV Pros moved to a new site in Temple where it is expanding to a location that will include 18, 50-foot long covered storage bays, as well as another acre dedicated to uncovered storage.
HOT RV Pros plans to move into the new site by the end of the month. In the future, the company would like to work with the RV Technical Institute to be able to certify techs themselves. In the meantime, the mobile RV service repairmen continue to promote their services by participating at charitable events like Ribs and Rods and engaging with their community.
"We were actually able to fix several of the RVs used in local barbecue cook-offs during the (event)," said founder Daniel Moody. "And so that was that was a really, really big boost for us here."
Word of mouth has gotten to the point where vacationers or full-time RVers will plan their road trip that includes a stop in Temple, Texas, for some quick service. By working with local RV dealers and NTP-STAG for ordering parts next-day, the HOT RV Pros are on call, ready to set up a temporary workstation to get those RVers back on the road. Whether it means on-site welding or bringing Genie lifts, rescue is on the way.