Features
Open House 2024: Ember RV, Sunset Park RV, Travel Lite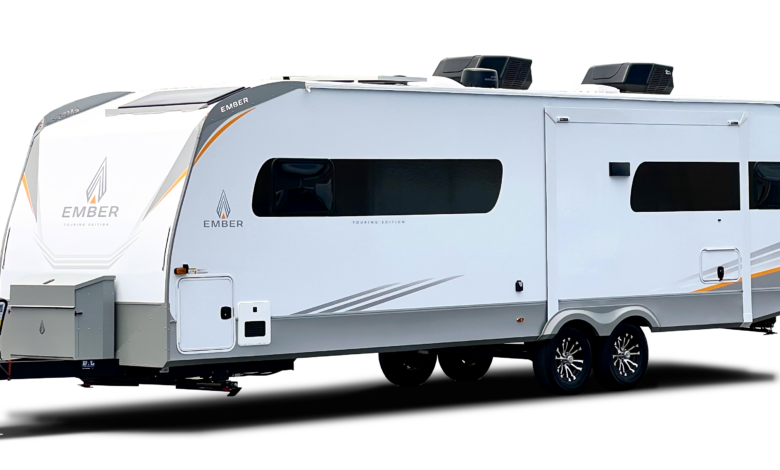 Ember
Multiple new floorplans in Ember's Touring Edition and Overland Series product lines, and even expansions into other segments, will be featured at Ember's New Product Expo this year.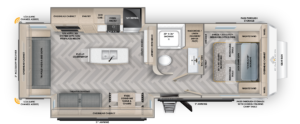 "We're excited  to once again introduce innovative, intentionally designed, 'camping correct' floorplans for our customers for 2024. Our product development team took special notice to feedback from our owners and fans, listening to their specific details and wishlist items," says Chris Barth, Ember co-founder and COO. "When the attributes or features they requested didn't exist, our team of designers and engineers created brand-new variations or even wholly new ideas, so we have multiple projects in patent-pending status that truly set Ember apart in the marketplace."
New for 2024, Ember will introduce their first luxury travel trailer floorplans aimed at "full-time RVers," with multiple slide rooms and washer/dryer prep in the Touring Edition line. The 29RS and the Murphy bed Flex-Suite variation 29MRS feature a large rear sofa, island kitchen, theater seating and dual opposing slides for maximum living space.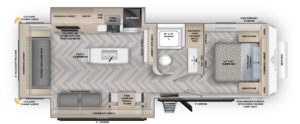 "Last year, we introduced Flex-Suite floorplans, which allow our customers to convert their Murphy bed bedrooms into multifunctional living and working spaces with built-in adjustable tables. We're expanding this exclusive feature to even more floorplans this year," Barth says.
The Touring Edition will see the 33KS, the addition of Ember's first bed-slide floorplan, which features a king bed and large front wardrobe storage. "We'll have a few other surprises to share with dealers and customers that need to be seen in person at our expo," Barth says.
New to the Overland Series, Ember will debut the 240TKR, the RV industry's first trailing-arm, independent suspension off-road capable toy hauler, the company says. Featuring a tandem CURT Independent Suspension setup, this ramp door-equipped toy hauler features an extensive application of repositionable EmberTrack E-track storage system throughout the interior.
"The entire door side of the unit is an open floorplan for toy and cargo storage, which is convertible into sleeping or living space using our EmberTrack system," Barth says. An exclusive, patent-pending front twin/king Murphy bed concept in this floorplan creates more cargo space, room for a mobile office, and expandable dual twin or king bed sleeping configurations, the company says.
"This floorplan is an absolute Swiss army knife, providing maximum flexibility and versatility," Barth adds. "When we introduced the Touring Edition at last year's expo event, we offered a number of industry-exclusive optional upgrades like the CUB lane change assist feature for safer highway travel and our special front aluminum gear box that houses LP tanks, batteries and a built-in toolbox. We've delivered those popular options as standards for Touring Edition in 2024."
Ember has also added a convection microwave/air fryer upgrade, full-coach water pressure regulation, a 2,000W inverter, LED hitch lighting, 12V fans in all living areas, and wiring prep for Starlink standard across all products.
"Based on the overwhelming popularity of our Overland Series' optional Max Solar Package, we feel we fulfilled our customers' requests for electricity independence while camping off-grid. But there's always room to do better – and we're listening to our fans. Working closely with our vendors and engineers, we've upgraded our solar build again for 2024," Barth says.
Ember's newly upgraded Max Solar Package features a 3,000W Victron inverter with a Cerbo GX Communication Center, 270Ah 12V Battle Born Gamechanger lithium-ion (LiFePO4) battery (with room for an additional battery for a total of 540Ah), two additional roof-mounted 200W solar panels (for 800W total), an upgraded Victron Bluetooth MPPT controller, cold-weather battery disconnect, and a REDARC DC to DC trailer battery charger.
Sunset Park RV
Sunset Park RV Manufacturing plans to offer three new limited-run floorplans at a new price point.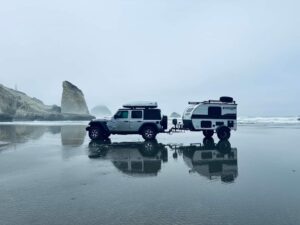 The floorplans are slightly more than 21 feet and run just over 3,000 pounds. The company says it will have two floorplans that include a bunk and a couples coach, along with a unique rear kitchen that features a bar top with stools.
"All three floorplans are priced identically while keeping the consumer in mind," says Bob Fish, vice president of sales and marketing for Sunset Park RV. "The LTD's will still give the consumers a gas furnace and cook top, an air conditioner, and a double-door refrigerator, which are some amenities that get sacrificed when building a limited trailer."
"During this year, we have experimented with 270-degree awnings and rooftop tents," adds Damon DeJesus, national sales manager for Sunset Park RV. "We have found some combinations that work with our unique floorplans and are excited to get them in front of the dealers.
"We also added a patio option with a rear awning on Sun Lite Toy Haulers. That same awning works well on our SUNRAY 149, enabling a power awning option on our most popular SUNRAY. Things seemed to work out well when we looked at improving our trailers and we are excited to be in Elkhart this year."
Sunset Park is planning a bowling night on Monday, Sept. 25, of Open House Week and will announce more details as the time gets closer.
Travel Lite
At Open House, Travel Lite says it will introduce its Up Country Truck Camper, Atom Truck Camper, Cent Truck Camper and Falcon 2.0 Travel Trailer.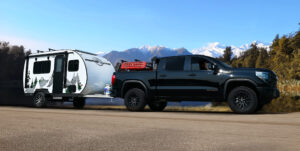 The company says it listened to the market in introducing these new products, adding to its line of affordable, lightweight products that can be enjoyed for years.
Travel Lite's truck campers that will be on display in Elkhart will be the Up Country 850, Up Country 900 and Up Country 950. Also on hand will be the company's Atom 600 travel trailer and its Falcon 2.0 21RB travel trailer.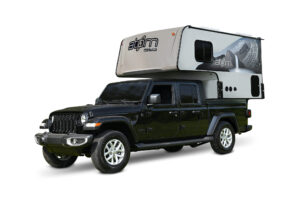 2024 features include 200-watt solar power with maximum power point tracking (MPPT) expandable charge controller, new exterior graphics and new interior decor on all models. Also featured are single-pin removable jacks on all truck campers, the E-Track tie down system on all truck campers, a redesigned aluminum structure on all truck campers, and a new offroad package available on all Rove Lite floorplans. A side and rear awning option on its Up Country truck camper series will now be included, and the new Up Country 950 comes with rooftop tent standard. Larger tank sizes will be included as well.